Chelsea do not need 'miracle' to progress from Champions League insists Rafael Benitez
Champions League fate out of Chelsea's hands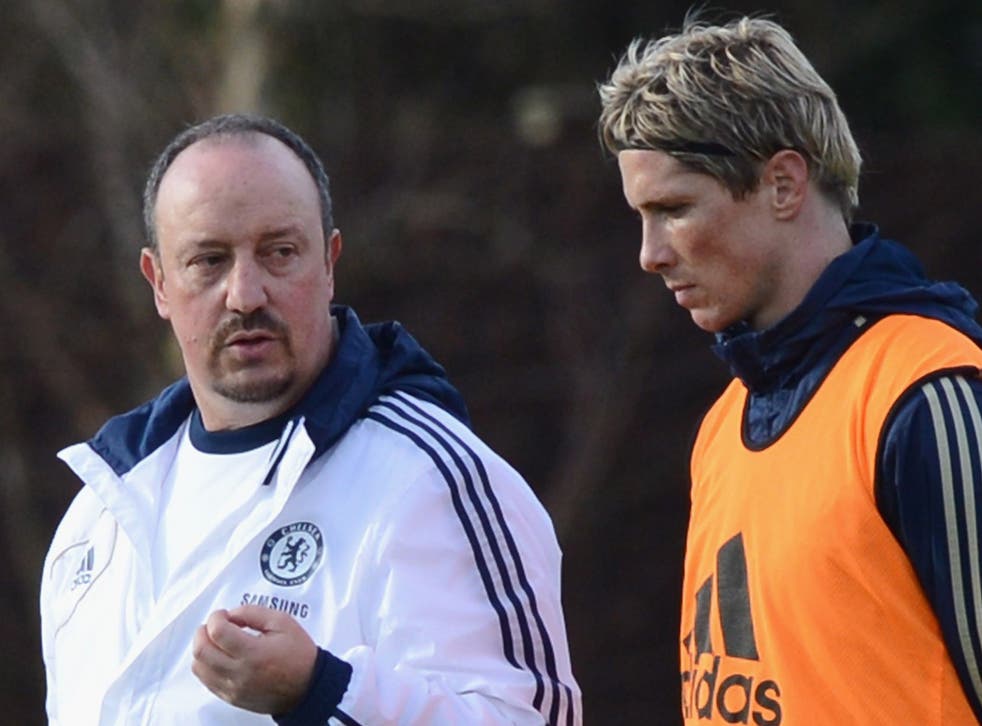 Rafael Benitez today insisted he did not need another "miracle" to rescue Chelsea from Champions League humiliation.
Benitez famously masterminded what was dubbed 'The Miracle of Istanbul' seven and a half years ago when Liverpool produced one of the greatest comeback in European Cup final history to beat AC Milan.
But he declared this afternoon that Chelsea did not require divine intervention to avoid becoming the first Champions League holders to crash out of the competition before Christmas.
That is despite the Blues going into tomorrow's final Group E game needing to beat Nordsjaelland while hoping Shakhtar Donetsk produce the same result against Juventus.
Anything else and the team which ended their agonising wait for Champions League glory just six months ago will suffer the indignity of continuing their European campaign in the Europa League.
Interim manager Benitez acknowledged Chelsea might need "a bit of luck" tomorrow night but said: "I don't think it's a miracle.
"We have to do our job and wait for the other teams."
Benitez reiterated he had no fears of a Shakhtar stitch-up, despite a draw suiting both the Ukrainian champions and Juve.
The Spaniard arguably should be less concerned about the mentality of the group leaders and more worried about that of his own side, who are on their worst run in the Barclays Premier League for 15 years after failing to win any of their three matches since he took charge.
That has piled on the pressure for the former Liverpool boss, whose appointment sparked a huge supporter revolt, something which may intensify at Stamford Bridge tomorrow.
Benitez remarkably admitted after Saturday's defeat at West Ham that he was "not 100% sure" his job was secure.
But he was more relaxed today, insisting he felt "no" pressure from owner Roman Abramovich and that he had been assured the Russian was not about to parachute in Avram Grant to assist him.
"I know Avram Grant is a nice person and a good manager, but all the information I have is he's not coming," said Benitez, who admitted he and Abramovich had not spoken since Saturday but confirmed the Russian's thoughts had been relayed to him.
If Benitez was "angry" with his players' second-half capitulation at Upton Park, Abramovich must have been furious with such a limp surrender from his expensively-assembled squad.
A similar capitulation culminated in Roberto Di Matteo's sacking in Chelsea's penultimate Champions League group game at Juventus, which left them with only two European victories since their Munich triumph.
Benitez, who had an ill-fated spell in charge of Inter Milan after they won the competition, admitted it was "normal" for teams to lose some of their hunger the following season.
He said: "It's like, 'Okay, we have done the most difficult thing'.
"It changes a little bit the perception, changes a little bit the approach for the next competition.
"That is the difficult thing, to manage the hunger of the players and the hunger of the staff.
"It's part of our job to push them and try and try to keep the competition."
Benitez backtracked when pressed on whether there was a lack of commitment from his players but he did once again admit they were in search of "character" in the absence of the injured John Terry and Frank Lampard, who will miss out again tomorrow.
With Daniel Sturridge also still injured, Fernando Torres will lead the line once more, Benitez again leaping to the defence of the misfiring £50million man today and insisting the whole team had to become more ruthless.
However, Benitez appeared to be clutching at straws in praising the striker's contribution when Chelsea were defending from corners, saying: "Two or three times he's cleared the ball."
He added: "As a striker, he's helping the team. I wouldn't mind him not scoring but the team winning."
Benitez has admitted that is also his only chance of getting supporters off his back.
Asked if he had a message for them, he said: "The message is always the same.
"I will try my best, I will try to win games for the club and them, and for everyone around, and hopefully that will change the perception.
"If not, I'll try winning more games."
PA
Join our new commenting forum
Join thought-provoking conversations, follow other Independent readers and see their replies