Teenage talisman, poster boy and the hope of a nation - life isn't easy being Christian Pulisic
Exclusive interview: At 19 Pulisic, less than two years on from his first-team debut, is already the great hope of his club and his country
Jack Pitt-Brooke
Dortmund
Monday 20 November 2017 12:56 Comments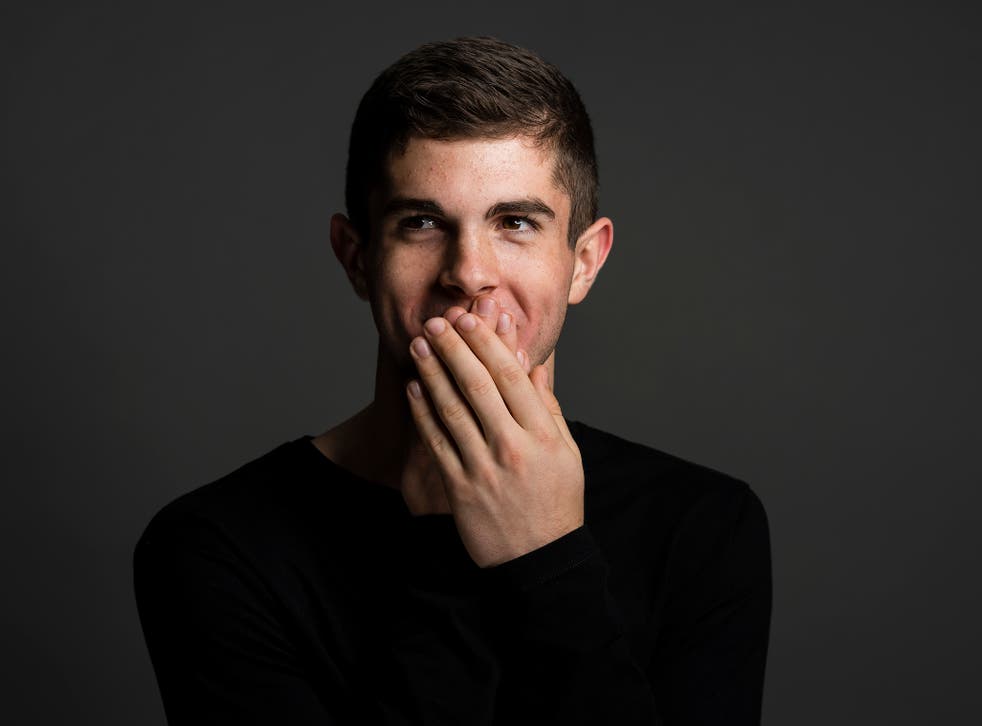 How would you cope with being one of the most important footballers in the world at the age of 19? That is what has been thrown at Christian Pulisic, 11 months younger than Marcus Rashford, three months older than Kylian Mbappe, but having to bear more public pressure than either of them.
Pulisic is Borussia Dortmund's best and most important player, the creative brain of a young team going through a painful transition. Dortmund have taken one point from their last five Bundesliga games and are on the brink of getting knocked out of the Champions League. Pulisic, less than two years on from his first-team debut, is their great hope.
That is pressure enough, but pales compared to what he faces at international level. Pulisic only has 20 caps for the United States and yet he could reasonably be described as the greatest American soccer player of all time. Of course others have achieved far more in the game, but no American has even been this gifted or this good.
Champions League 2017/18 contenders

Show all 15
Rarely has so much hope been invested in a player this young, and this is only the very start. Things are already moving very quickly for Pulisic, who now finds himself with public responsibilities under which most 19-year-olds would buckle. Especially when it comes to being the voice not just for the US team, reeling from failing to qualify for the World Cup, but for the whole future of the sport in America.
Speaking to The Independent at Dortmund's training ground last week, Pulisic was clearly more comfortable discussing some topics than others. But he came across as modest, softly-spoken and the opposite of brash. He certainly does not project the fact that he is going to be one of the most famous athletes of the 2020s. If Lionel Messi was born great, and Cristiano Ronaldo has achieved greatness, then Christian Pulisic is having greatness thrust upon him.
It is an unlikely combination of circumstances that has propelled Pulisic into this position and into these responsibilities. Born in Hershey, Pennsylvania in September 1998, the son of two footballers, Pulisic took to the game and instantly stood out for his remarkable vision, two-footedness and change of pace. He played for PA Classics, the best boys' club in Pennsylvania, and soon enough for the United States Under-15s, before joining the U-17's residential program at Bradenton, Florida.
In January 2014 Pulisic, 15 and a bit, was playing for the USA U-17s in a tournament in Turkey. Borussia Dortmund scouts went to watch his team-mate Haji Wright but they discovered Pulisic instead. So they moved quickly and within months Pulisic was in Dortmund, training with their U-17s. Fifa rules barred him from signing for a foreign club before the age of 18, but there was a lucky contingency on his side.
Pulisic's paternal grandfather Mate is from Croatia and lived most of his life there before moving to the US. That makes his grandson eligible for a Croatian passport, which as of 2013 is an EU passport. The Croatian football federation helped Christian to get one, and once it came through in January 2015, he could formally sign for Dortmund as if he were any other 16-year-old from the EU. And from there he could start to play.
Looking back almost three years on, Pulisic knows how fortunate he is that one biographical detail sped up his career. "I knew I would need that passport, but I knew I had the chance to get it," he says. "It was a little bit of a process, but luckily it went through when I was still 16. That gave me the ability to play, so it has helped me so much."
Pulisic admits that he was "antsy to play", training at Dortmund, waiting for the paperwork to come through. But as soon as he did he was starring for the U-17s, then the U-19s, then sure enough the first team. Without it he would not have been able to play a competitive minute until September 2016, his 18th birthday. By which point he was already playing for Thomas Tuchel's first team.
"I wouldn't have been able to play Bundesliga until I was 18, I wouldn't have been able to play U-17, U-19, I wouldn't have been able to play for any of these teams," he says. "And I made my pro debut when I was 17. Obviously you imagine: what if I had to wait to show my abilities until I was 18, how far behind I would have been. As opposed to how it actually happened for me."
What is clear is that he was in the perfect learning environment for a brilliant teenager. For years Dortmund have specialised in talent ID, coaching and providing the pathway into the first team. Pulisic is a triumph of the Dortmund system. And he admits that leaving the US U-17 set-up, where he was a star, for the ultra-competitive academy was the best thing that could have happened to him.
"When I came here, nobody knew who I was, nobody really cared. It was me against all the other players fighting for positions. Of course I went as far as I could in the US system, and I really feel that it helped me. But coming here, nothing was easy, and I worked for it all. What I learned is that nothing is given easy to you. Nothing was going to be spoon-fed to me. That's why it was a huge step in my development, and the perfect environment for me."
Pulisic was competing with boys like Jacob Bruun Larsen and Felix Passlack, who still part of the Dortmund set-up now, though Passlack has just gone on loan to Hoffenheim. He was being coached by visionaries like Hannes Wolf, who looked after the U17 and U19 teams but who now manages Stuttgart. "If I made a mistake, the coaches were going to let me know, and tell me right away what I can do better," he says. "Hannes was a great guy, he cared about my development a lot. Strict when he needed to be, firm with our team. He was a good coach for us."
Soon enough Pulisic was invited to go and train with the first team, in the final months of Jurgen Klopp's spell there. Hannes Wolf told Pulisic to go not as a fan, but as his own person, his own man, and to earn it. It was Klopp's successor Thomas Tuchel who gave Pulisic his first-team debut and he quickly settled in. Now under Peter Bosz he effectively leads the attacks, especially with senior winger still Marcos Reus recovering from a bad knee injury.
Coaching is helpful but Pulisic knows there is no better way to develop than playing games. "I am playing every week in the Bundesliga, in the Champions League, against top teams," he says. "When you do that every week, you are going to improve. When you play against the best players, you're going to grow. I'm learning a lot: tactically, technically, gaining strength."
Youngsters the world over have noticed how Dortmund have turned Pulisic from a gifted 16-year-old into a decisive top player already. That is why Jadon Sancho turned down a £30,000 per week contract at Manchester City – the most money ever offered to a 17-year-old – to come here. Or why Alexander Isak, the 18-year-old Swedish striker, made the surprising decision to say no to Real Madrid to join Dortmund this summer. He did not want to be the next Martin Odegaard, he wanted to be the next Christian Pulisic.
Isak and Sancho are big talents – Pulisic says they have "all the pieces" and that "the sky is the limit" for them – but for now he is the man tasked with turning their season around. It has been a steep learning curve so far, as Dortmund's youngsters learn Bosz's Cruyffian pressing system that was so exciting at Ajax last year.
Pulisic says they are "starting to build an understanding" of what Bosz wants them to do, but the team is still struggling to string results together. They lost 2-1 to Stuttgart on Friday – Pulisic was absent with a muscle injury – and the team is still conceding goals. When they have the ball, though, they can still thrill, especially when they give to Pulisic.
That first touch and burst of pace through tight situations have earned comparisons with Eden Hazard, and clearly Pulisic relishes taking on the hardest of challenges. "I love having the ball, just running with it, and going through difficult situations," he smiles. "It's just fun for me whenever I have it." He still rolls off a long list of things to improve. "I'm working on my final ball, my precision in front of goal, my one-on-one attacking ability, just new ways to beat defenders and help my team."
As good as Pulisic is, and as hard as works, he could not drag the United States to the World Cup in Russia next year. Their faltering qualification campaign ended in Trinidad on 10 October, with the US needing to win but failing to, one of the worst nights in their football history. Pulisic, their best player through the campaign, scored on the night but could not prevent a 2-1 defeat, and broke down in tears at the end. Next summer he will likely be watching the World Cup with his grandfather in Virginia, supporting Croatia. He will have to wait for Qatar 2022 to play in one.
Pulisic did not want to speak about the defeat afterwards but broke his silence with a thoughtful 2800-word article released on the Players Tribune last week. It is not just a reflection on the USA's failed campaign but also on the deeper problems on American soccer. The fact Pulisic offered his diagnosis shows the role he has been given: not just the US's best player, but America's first superstar and therefore the voice of the game.
"I sat down with some of my close people around me," he said. "I had wanted to say something because I hadn't said much after the qualifying defeat. I put down every idea I had, everything I thought I could say to send a message. It seems like a lot of people appreciate that I did that, and I think that they agree with some of my ideas. Obviously I don't have the solution to it, nobody really does, but that's what I tried to do."
The World Cup failures XI

Show all 12
What Pulisic wants, and what the US needs, is for more American teenagers to be able to develop like he has, at one of the best academies in the world. He is thrilled at the rise of Weston McKennie, the same age as him, who has just broken through at Schalke 04, recently making his Bundesliga debut: "It's amazing for me to see a kid my age do the same thing."
But for those youngsters who are not lucky enough to come to Schalke or Dortmund, Pulisic knows the USA has to do better. "Obviously for some people it's just not possible [to come to Europe], I understand that," he says. "In that case, it's about finding the best possible situation for yourself to develop. That's the one thing the US could improve on. To give the platform for kids that age to really develop in the US. Let's try to find ways we can improve on that."
Not many teenagers are asked to solve problems in youth development but then not many teenagers have to carry the burdens of Pulisic. But what he really wants to do is play football. 2018 will not be his year with the US, but it still could be with Dortmund. "Of course it happened, nothing you can do now," he says. "All I can do is continue to give the best I can with Dortmund. I think we can turn things around quick."
Register for free to continue reading
Registration is a free and easy way to support our truly independent journalism
By registering, you will also enjoy limited access to Premium articles, exclusive newsletters, commenting, and virtual events with our leading journalists
Already have an account? sign in
Join our new commenting forum
Join thought-provoking conversations, follow other Independent readers and see their replies