Is Clarence Seedorf the man to save AC Milan? There are doubts in Italy
Milan's decision to appoint as coach a former player with no experience has raised many eyebrows. Glenn Moore reports on Berlusconi's latest bombshell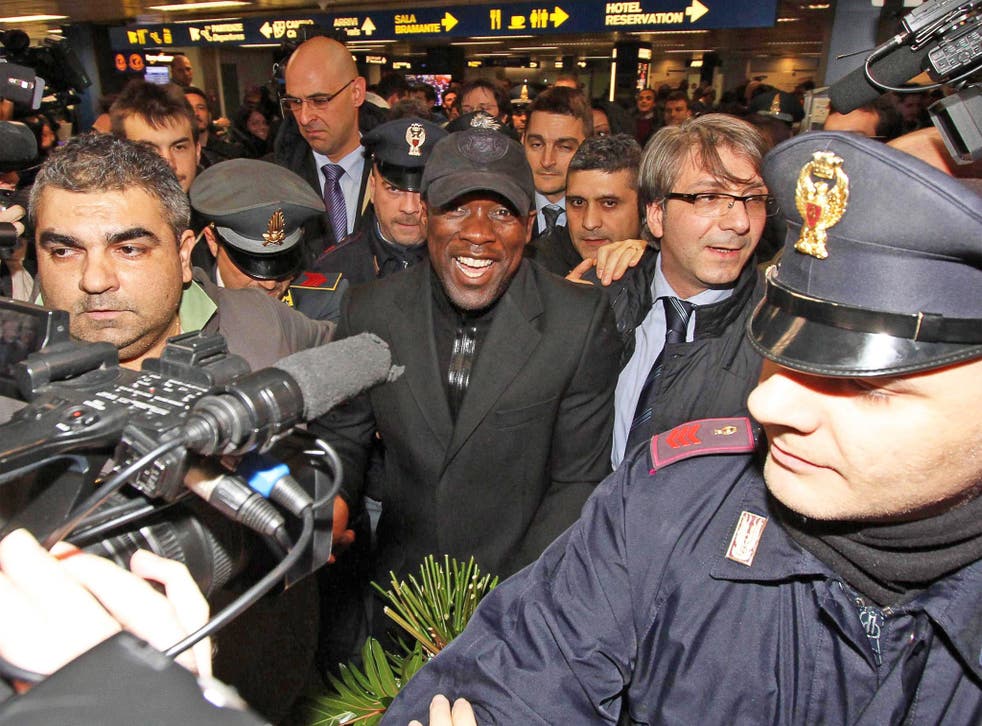 There is a clip on YouTube of Clarence Seedorf, a month past his 19th birthday, walking out of the tunnel for the 1995 Champions League final. Alongside him is Marcel Desailly, seeking his third successive winners' medal, already established through brains and brawn as a key contributor to Milan's majesty.
Seedorf's Ajax, with only two players over the age of 26, went on to dethrone Milan that night in Vienna. If that was a surprise, the fact that, of all the players at the Ernst Happel Stadium, it is Seedorf, the Surinamese kid, who is the first of them to coach his opponents is extraordinary.
Not Desailly, not Franco Baresi, Milan's general, nor his defensive side-kick Alessandro Costacurta. Not Demetrio Albertini, the Nineties' Andrea Pirlo, the great Paolo Maldini or the inspirational Croat Zvonimir Boban. Milan legends all, but a curiosity about that Milan XI, which was coached by Fabio Capello, is that only one, Roberto Donadoni, has gone on to have a successful coaching career, and while he coached Italy he has not been entrusted with the reins at Milan.
Instead, in his hour of need Silvio Berlusconi – now focusing again on Milan after being ejected from government – has turned to Seedorf. "I could not turn down the president," said Seedorf. There is an irony in the founder of two centre-right political parties and a supporter of anti-immigration legislation appointing the first black coach in Serie A in more than 20 years.
What concerns those Milan fans who are objecting to the choice is not Seedorf's colour but his lack of experience. His playing pedigree is not a problem – he is a Rossoneri legend too. He did not arrive at San Siro until 2002, having played for Sampdoria, Real Madrid and Internazionale after leaving Ajax, but then spent 10 years there, making 432 appearances and adding two more Champions League winners' medals to the ones he won at Ajax and Madrid.
He left 18 months ago, partly on Capello's advice, to further his football education in Brazil with Botafogo. That showed the same inquiring mind that has infuriated many coaches, led him to take a masters degree in business studies, develop a pioneering educational charity and run a motorcycle racing team.
On Tuesday, he announced he was retiring as a player and last night he flew via Amsterdam to Milan, where his new team were playing a Coppa Italia match with Spezia. On Thursday he is expected to be unveiled as the successor to Massimiliano Allegri, who was fired on Monday, less than 24 hours after the Rossoneri's humbling 4-3 defeat to promoted Sassuolo.
There is no question it is a gamble. Allegri steered Milan to the Serie A title in 2011, their first scudetto for seven years, but they have since been in decline. This was obscured by two Champions League qualifications but this season there is no escaping the reality. Milan are 30 points behind the leaders Juventus, 20 off Champions League qualification, and six points from the relegation zone.
Capello recently said he felt Allegri had done well with the hand he was forced to play and Milan have too many players on the downward slide. Seedorf inherits Mario Balotelli, Kaka and Robinho, but that is not a forward line guaranteed to produce consistency. Keisuke Honda has just joined, and there are Nigel de Jong, Philippe Mexès and Christian Abbiati, but Zlatan Ibrahimovic has never been adequately replaced.
As well as rebuilding on a limited budget, Seedorf must cope with a power struggle between Berlusconi's daughter Barbara and long-time lieutenant Adriano Galliani.
It is a lot to deal with for any coach and reaction is mixed. "Milan is a massive club that is suffering from a lot of problems," said Marco van Basten. "I think they could have rather used an experienced coach. It is a big risk. You never know how he will cope."
Van Basten and Seedorf have history but the former Milan striker does know the perils – his first management job was the Netherlands. Another Dutch former Milan player who struggled to match his playing success in the dug-out, Ruud Gullit, was surprised but added that it could be a shrewd appointment.
However, Boban said he did not believe Seedorf was ready, as did Capello. When Gianluca Vialli was appointed manager of Chelsea, Capello said it was "like putting a racing car in the hands of a learner driver". The former England manager was more polite in referring to Seedorf, whom he signed for Real Madrid and won La Liga with, but his reservations were clear. Milan's caretaker coach Mauro Tassotti was cautious: "There have been fantastic footballers who have coached for a couple of years only to then realise they're not up to the job."
There are some positive precedents from Seedorf's former Ajax team-mates. While Danny Blind failed at Ajax, Ronald de Boer, also in his first job there, has been hugely successful while Frank Rijkaard took the Netherlands to the semi-finals of Euro 2000 in his first job.
Throughout his playing career coaches said Seedorf acted and thought more like a coach than a player. Now he will have to put that theory into action.
Join our new commenting forum
Join thought-provoking conversations, follow other Independent readers and see their replies