Dortmund bus terror arrest: German-Russian man 'carried out bomb attack to make money before blaming Muslims'
The Borussia Dortmund team bus was targeted with three bombs last Tuesday ahead of their Champions League quarter-final against Monaco, leaving one player and one policeman injured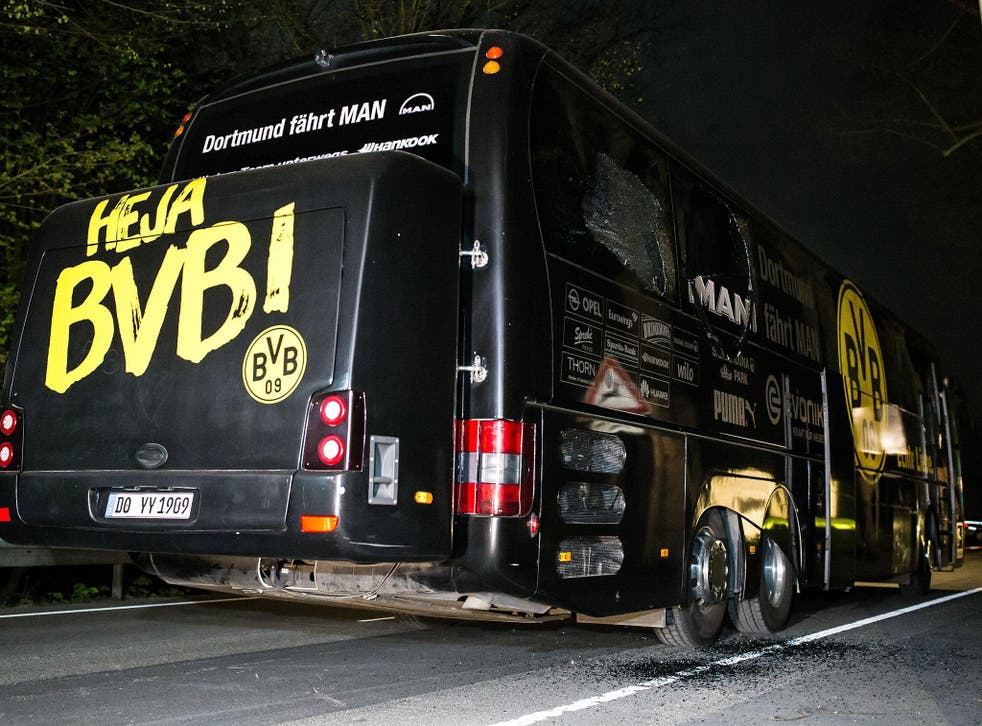 Police arrested a German-Russian citizen on Friday morning on suspicion of carrying out the attack on the Borussia Dortmund team bus last Tuesday, with prosecutors alleging that the bombing was motivated by financial greed.
The Dortmund team bus was targeted with three bombs after it left a hotel to travel to the Westfalenstadion for the Champions League quarter-final first leg against Monaco. Defender Marc Bartra and a policeman were injured in the blasts, which saw the match postponed until the next day.
Investigators found a letter close to the crime scene that appeared to claim responsibility in the name of Islamist extremists, but German police doubted the authenticity of the note.
Monaco fans sing Dortmund songs after hearing of team bus explosion
Police confirmed on Friday morning that a police tactical response unit had arrested a man named only as 'Sergej W' in the Tuebingen area, 30km south of the city of Stuttgart and 450km south of Dortmund.
He has been charged with attempted murder, causing an explosion and serious bodily harm, police said.
Borussia Dortmund Team bus attack

Show all 8
After dismissing the Islamist extremist link, prosecutors accused the man of carrying out the attack in order to gain financially.
The suspect took out a loan of "several tens of thousands of euros" days before the attack and bought a large number of so-called put options for shares in Borussia Dortmund.
This would have entitled him to sell the shares at a pre-determined price, even if they fell dramatically in the event of an attack.
"A significant share price drop could have been expected if a player had been seriously injured or even killed as a result of the attack," prosecutors said.
It was also confirmed that the suspect had booked into the same hotel as the team, and placed three explosives that were packed with shrapnel along the expected route that the bus would take to Dortmund's home stadium.
"The explosive devices were detonated at the optimum time," prosecutors added.
Join our new commenting forum
Join thought-provoking conversations, follow other Independent readers and see their replies