The Independent's journalism is supported by our readers. When you purchase through links on our site, we may earn commission.
Ferguson pledges to test Athletic fitness
United manager calls on players to 'run harder' to overturn deficit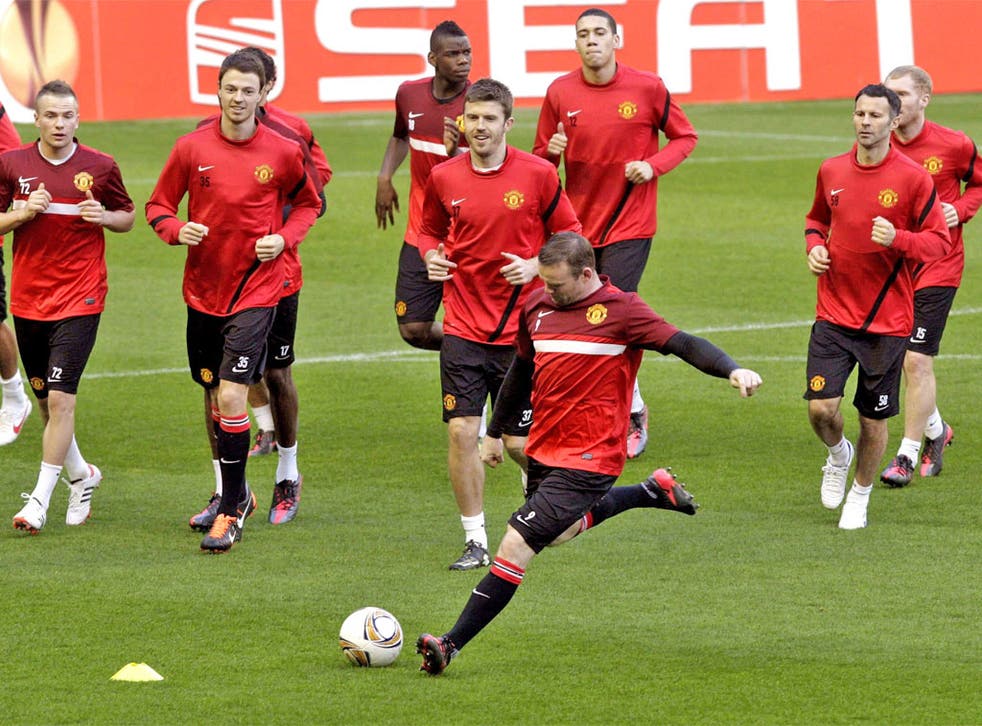 The grainy film playing on a loop in the Athletic Bilbao museum yesterday evening revealed that it surely can't be as tough as it was last time around. It revealed Sir Matt Busby's Manchester United losing 5-3 here in a near-blizzard in 1957. Not even a Spanish performance to match last week's at Old Trafford can be quite like the one those of a certain generation here know as "the snow match".
Sir Alex Ferguson, the current Manchester United manager, arrived with a more positive sense of history. An image of Athletic's great goalkeeper Jose Iribar, in his line of vision in the press room, prompted him to offer the reminder that "I scored against him actually" – the goal which set Rangers on their way to a 4-1 win at Ibrox in a Fairs Cup quarter-final, 43 years ago this week.
"I came with Dunfermline and we lost 1-0 here and won 1-0 in Dunfermline," Ferguson continued. "They tossed the coin in those days and the third game had to come back here and we lost in extra time."
He vividly recalled the statue of the striker Pichichi, Rafael Moreno – the club's iconic player, who scored the first goal in tonight's stadium – and the away second leg with Rangers, though the 2-0 defeat and his own absence from the team were not part of the recollection, the underlying theme being that things are never easy at a club which, with great pride in the fact that British quarrymen were its founders, always raises its game when the mother nation is in attendance.
Also stacked against Ferguson is his club's failure to progress in a European knockout tie – without or without him at the helm – on the two occasions when they have headed to the continent after a first-leg defeat at Old Trafford. Last Thursday's 3-2 defeat revealed the technical and physical qualities of a side who might perhaps be described as the Liverpool of La Liga – generally inconsistent but inclined to reserve their best performances for the top sides. It was their sheer distance run which left Ferguson astonished when he scanned the stats sheets.
"It was an outstanding performance by them, not only in their ability but their energy was unbelievable," he said last night. "The highest stats of any team that has played at Old Trafford in the last 10 years, in terms of the distance run. That is great credit to the desire of the team."
The weakened side Marcelo Bielsa fielded in a weekend defeat at Osasuna revealed where his priorities lie, though Ferguson hinted for the second time in seven days that he wonders if the Basque side can really maintain their workrate.
"They had a great motivation last week, coming to Old Trafford, and whether they can sustain that seven days later is difficult to say but we expect that," he said. "So I think the most important thing is our performance level has to step up, in terms of our possession of the ball." And how do you deal with such energy? "Run harder!"
Ferguson , who said he would be without Anderson for up to five weeks, is still not entirely convincing in his claims that this competition is not an inconvenience, or an afterthought at least. The topic of domestic ascendancy was the one which animated him last night.
"We have found it difficult handling the Thursdays and Sundays. In the Champions League you get a two-week break and you don't get that in the Europa League and that certainly had made a difference, I think," he said. "I'm not sure whether [the Europa League] will make any difference or not [in the title race]; I just hope we get through because when you are in a tournament for our club, you have to try and win it. I think we've done really well to hang in and that's more or less what we have done."
Another distraction is the unhappiness of Dimitar Berbatov, who in his club's own match programme last Sunday expressed frustrations at a mere 11 starts all season. Significantly, Ferguson finally acknowledged that there may be a parting of the ways this summer with the £30.75m player he was obsessed with buying four summers ago.
"We will be taking up the option [to extend] his contract but having had chats with him [we] understand that he wants to get first-team football, which is something we need to consider at the end of this season. It's difficult for me to guarantee that, so it could lead to him looking elsewhere."
Before that, there is history to attend to. That Busby side cut apart in a blizzard won the return leg 3-0, asFerguson will know only too well. "We will try to win," he concluded. "There is no question about that."
United's Euro mission: How to turn it around
Point Rio Ferdinand at Fernando Llorente
Sir Alex Ferguson said after Llorente handed out a harsh lesson to Chris Smalling last Thursday that he was considering resting Rio Ferdinand against West Bromwich Albion in readiness for tonight. He did not, but Smalling's head injury means Ferdinand will face the tall 27-year-old striker. His task may be made easier by the fact that Llorente is carrying a slight hamstring strain too, though he will probably start.
Command central midfield
Ferguson admitted after last week's 3-2 defeat that he had initially lost midfield where, with Phil Jones and Ryan Giggs overrun, his side ceded control. When Michael Carrick arrived things improved and United ran that area. Carrick is likely to start tonight; United must set a higher tempo to match Bilbao's running and also maintain better ball possession. "Our performance level has to step up," Ferguson said last night.
Get an early goal
United will face a heady atmosphere in the stadium that goes by the nickname of La Catedral for a reason. The fervour is unlike anything else found at a Spanish football stadium and if they cannot find an early goal to dampen the belief under San Mames' iconic arch, which dates to the 1950s, then they will be climbing a mountain.
Don't believe all the hype
History weighs against United, who have been knocked out on the two occasions they have carried home first-leg defeats into Europe: the 1-0 home defeats to Bayern Munich (2001) and Milan (2005). But while Athletic Bilbao have the ability to raise their game against top sides (draws with Barcelona and Valencia and victory over Malaga), they can be inconsistent and are 33 points off top spot in La Liga. Their centre-backs, Javi Martinez and Fernando Amorebieta, can be a weak link if pressed hard in possession.
Join our new commenting forum
Join thought-provoking conversations, follow other Independent readers and see their replies