Fernando Torres credits Jose Mourinho for his revival at Chelsea
Striker scored twice in 3-0 win at Schalke this week
Simon Johnson
Thursday 24 October 2013 14:55 Comments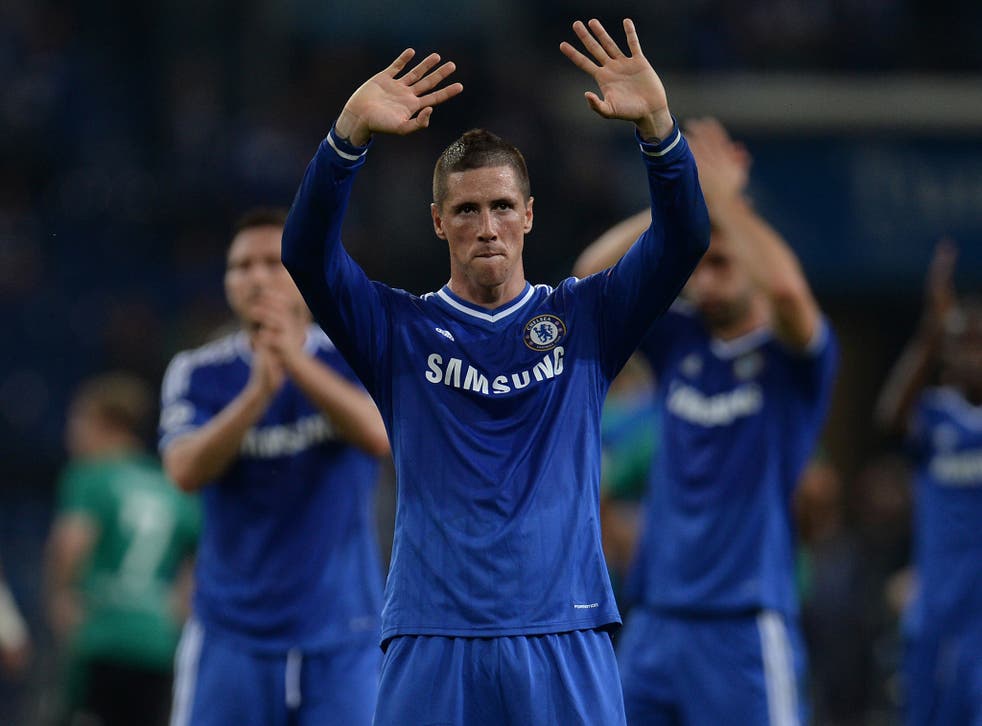 Fernando Torres should be forgiven if he feared the worst when Jose Mourinho returned to Chelsea as manager this summer.
After two and a half years of underachievement in a blue shirt, the arrival of such a demanding coach may have led him to believe his future at Stamford Bridge was in question.
Such concerns would not have been eased even after he scored in the Uefa Super Cup final against Bayern Munich in late August. Mourinho then signed one of his former disciples, Samuel Eto'o from Anzhi Makhachkala, and straightaway started the Cameroon international in three successive matches.
However, while Torres's form since joining from Liverpool for a British record £50m will always come under scrutiny, his determination to succeed should never be questioned. His two goals in the 3-0 win at Schalke on Tuesday means he is the top scorer among the strikers at Chelsea with four goals – Eto'o has one and Demba Ba none –and seems to be thriving under Mourinho's guidance.
Far from being strained, their relationship is actually one of strength, as Torres explained: "He talks with me like he talks with everyone else. I know he likes people who work and it's all about work. With him, work hard and you will have the reward.
"We all know him, every team he's managed gets success and goes on to the last round in the competitions they play. It's going to be great to have his experience. He knows how to motivate the group."
Torres added: "I'm feeling well. I think working hard helps everything come. It sometimes takes lots of time, but at the end it will come. I was happy with the Schalke game. Hopefully it's the start of many games in a row of scoring goals.
"I am ready to play if I have to play, ready to help from outside if I have to be on the bench. We are in a squad and we need everyone together to reach the target."
Chelsea's victory in Germany means they are now top of Champions League Group E after three games and puts the woeful opening defeat to Basel firmly behind them.
That setback, Chelsea's first loss at home at this stage for a decade, sparked concern that they could drop into the Europa League for a second successive campaign. It also raised doubts in some quarters that Mourinho was struggling to inspire the squad.
Torres feels what happened against the Swiss side could prove to be a blessing in disguise in the context of their campaign and pave the way for a strong bid to win the European Cup like they did last year.
He added: "These kind of things [the Basel defeat] are good when it happens at the beginning of the season, when the games are not crucial and we have time to fix it, like we have done now.
"When these kind of things happen at the end of the season, you lose competitions, you lose titles and it's not good. But this is a young squad, with a new manager, new style, new players. It's not easy to settle quickly, but we are on the way. We're improving, we're building up, we're learning as a group. Hopefully we've learnt the lesson and it won't happen again.
"The Champions League is what Chelsea has to play; we don't want to be involved in the Europa League again like last season because we want to win the Champions League."
Register for free to continue reading
Registration is a free and easy way to support our truly independent journalism
By registering, you will also enjoy limited access to Premium articles, exclusive newsletters, commenting, and virtual events with our leading journalists
Already have an account? sign in
Join our new commenting forum
Join thought-provoking conversations, follow other Independent readers and see their replies