Fifa presidential election: Six in 10 of fans want 'none' of the candidates
Sheikh Salman bin Ibrahim al-Khalifa and Gianni Infantino are among the favourites to succeed Sepp Blatter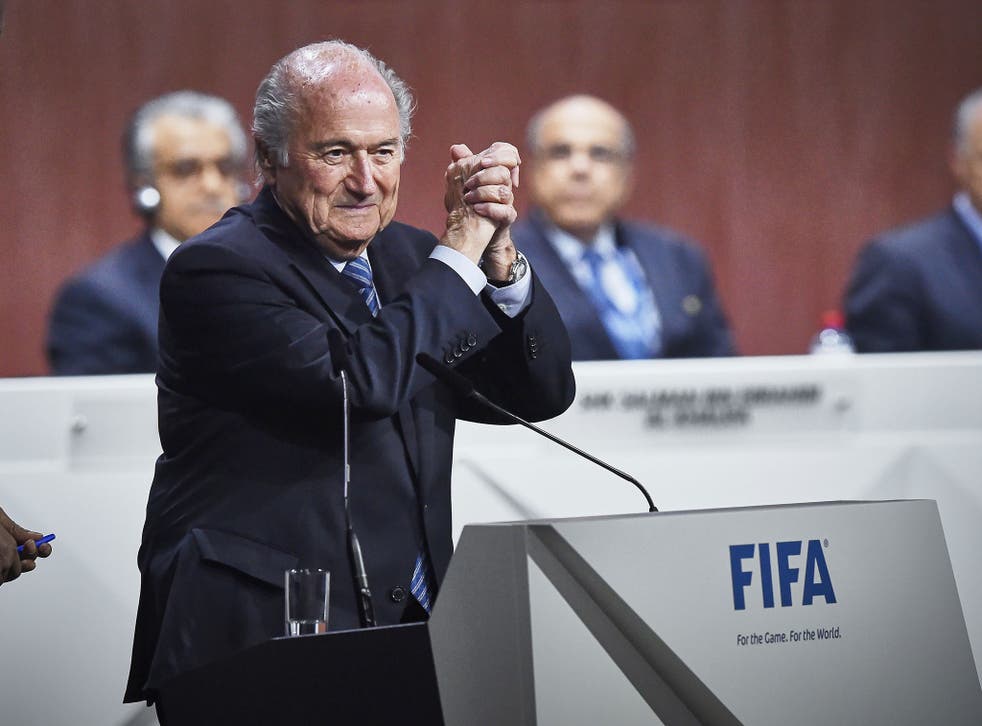 Six in 10 of football supporters have no confidence in any of the five candidates running to replace Sepp Blatter ahead of the Fifa presidential election on Friday, a recent poll has revealed.
Sheikh Salman bin Ibrahim al-Khalifa, the Asian Football Confederation president, and Uefa's general secretary Gianni Infantino are among the favourites to succeed the Swiss.
Members will vote on Friday afternoon to elect the 79-year-old's successor after he was handed an eight-year ban for his role in a "disloyal payment" of £1.3m to Uefa counterpart Michel Platini. Frenchman Platini was issued with the same punishment and both are awaiting the verdict of their respective appeals.
Infantino, supported by the Football Association, and Sheikh Al-Khalifa join Prince Ali Al Hussein, Jerome Champagne and Tokyo Sexwale on a five-man candidate list to be elected president.
In a Transparency International poll carried out by Football Addicts, when asked who they would like to see voted as president, six out of 10 elected for the "none of the above" option. It was also revealed on Tuesday that 76% of supporters in the United Kingdom have no confidence in Fifa's ability going forward. Fans in Qatar, South Africa and Russia, three of the four most recent nations to be awarded with the hosting rights to the World Cup, were among the most likely to say they still had confidence in the organisation.
Meanwhile, the 2016 Fifa congress has been thrown into doubt after Prince Ali called for the ballot to be suspended. The 40-year-old has taken his complaints to the Court of Arbitration for Sport, the highest tribunal level, following reports that delegates allegedly documented how they voted during June's presidential election.
Mobile phones and cameras have since been banned from proceedings but Prince Ali's calls for see-through booths to be incorporated have thus far been ignored by the world football governing body. The Jordanian believes the booths would prevent voters from coming under pressure to produce evidence of their vote to interested parties.
The candidates to replace Blatter
Gianni Infantino: Uefa general secretary, supported by the Football Association.
Prince Ali Al Hussein: Fifa vice-president, runner-up in the previous election.
Salman Bin Ibrahim Al-Khalifa: president of the Asian Football Confederation.
Jerome Champagne: former executive at Fifa from 1999 to 2010.
Tokyo Sexwale: South African businessman.
Click the links to read the candidates' manifestos.
Register for free to continue reading
Registration is a free and easy way to support our truly independent journalism
By registering, you will also enjoy limited access to Premium articles, exclusive newsletters, commenting, and virtual events with our leading journalists
Already have an account? sign in
Register for free to continue reading
Registration is a free and easy way to support our truly independent journalism
By registering, you will also enjoy limited access to Premium articles, exclusive newsletters, commenting, and virtual events with our leading journalists
Already have an account? sign in