Gareth Bale: Cristiano Ronaldo is not a rival at Real Madrid – he is the best
Wales star tells Jack Pitt-Brooke how some of the greats of the game have helped him settle at the world's most glamorous club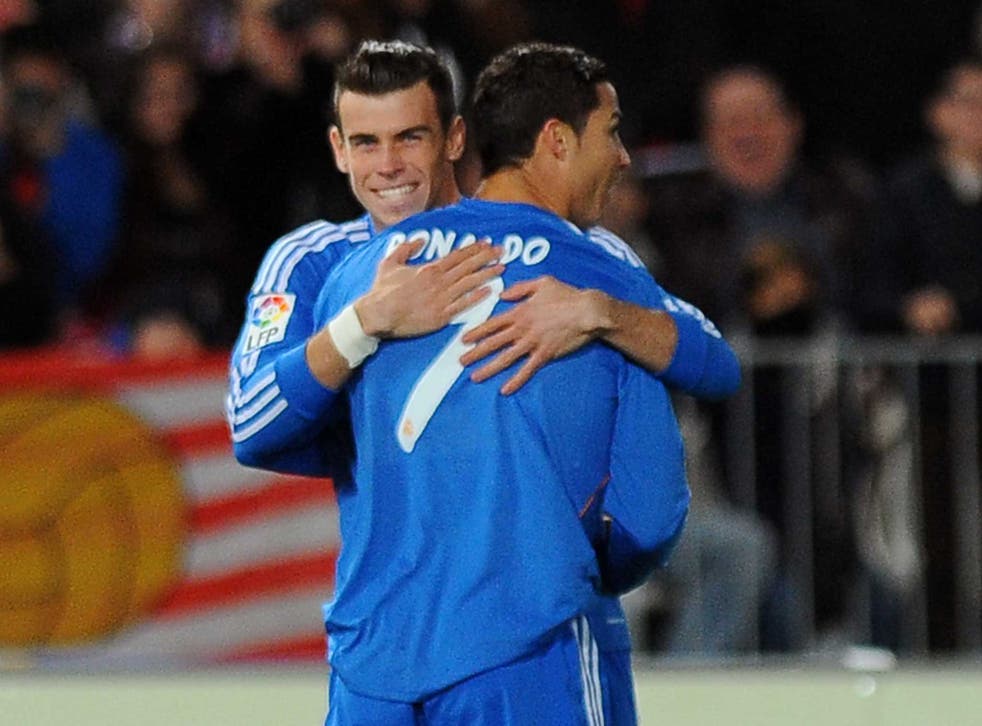 Gareth Bale could not be in more esteemed company. Britain's most expensive footballer, almost three months into his move to Real Madrid, is adjusting to a new world.
Southampton and Tottenham Hotspur are certainly not footballing backwaters but Bale has started to move in very different circles. He is at Real Madrid now, the biggest and most glamorous club in the world.
Bale trains every day and plays every week with Cristiano Ronaldo, the world's best and most decisive footballer right now. He does so under the guidance of Zinedine Zidane, the best of his generation, and now a coach at his old club. And, as Bale knows, he follows in the footsteps of David Beckham.
If Bale is at all dazzled by any of this, or by the shadow of Ronaldo, it does not come across. He must have heard the suggestions that he might be seen as a threat to Ronaldo (right) on the field, but Bale insisted that there was no rivalry between them and that the world's most talked-about player had been perfectly welcoming.
"I wasn't nervous," Bale said of their first meeting. "It's obviously great to meet a player of his calibre. Since I've been here he's had nothing bad to say to me, he's just given me encouragement every game, given me confidence. He has been sharing his first experiences when he first came here and they have really helped me along. He's been absolutely brilliant."
For Bale, they are colleagues not competitors. Speaking to promote the launch of EA Sports Fifa 14 for Xbox One and Playstation 4, he said: "There is no rivalry at all. We get on very well. He's helped me out a lot on and off the pitch. We're enjoying playing together and I think that the goals and assists show that we're playing well together. There's still a lot more to come from us both and hopefully we can have a successful season by doing that.
"Since I've been here he's been nothing short of unbelievable. He's not scored less than two goals in any game since I've been here, I think. The amount of goals he's scored is just mind blowing this season."
It was not much of a surprise when Bale revealed who he will be supporting for the Ballon d'Or. "For me, he is the best player in the world and I don't think anyone is near him. He deserves that award. The goals and the performances he has put in, especially when you think of the pressure he is under, for Portugal the other day, it shows what a true, true world-class player he is."
Playing alongside the best, competing for the biggest trophies, is why Bale always wanted to join Madrid, specifically when he recalls the 2002 European Cup final against Bayer Leverkusen, which Zidane settled with his left boot.
"I remember when I was younger watching them play, I remember the Champions' League final when Zidane scored that volley. They were the best players in the world, very enjoyable to watch. They had that swagger that they could win every game."
Bale now gets to work with the World Cup and Ballon d'Or winner. "He's obviously great to work under and he gets involved in training now and again, and it looks like he's never given up the game," Bale said. "He was obviously a phenomenal player and he looks like he still is now." But when asked whether Zidane could out-do Ronaldo in training, Bale stuck with his current team-mate.
An old team-mate of Zidane's, another one-time galactico, helped Bale on his way to Madrid. Beckham enjoyed four good years at Madrid and spoke to Bale before his move. "Two or three years ago he trained for a couple of months with us at Spurs, and I know him quite well. It was nice of him to give me a text and a call, wishing me good luck. I obviously appreciated it."
Two other British exports of the last decade have been in touch too. Bale often talks to Jonathan Woodgate, with whom he played at Tottenham, and met Steve McManaman at a TV event.
Even among the very elite of the game, there is support and sympathy for Bale, as he tries to adjust on and off the pitch to life in Spain.
Bale's Spanish is "improving slowly" and he acknowledged that meal times are different, but the positives are obvious too. "It is definitely enjoyable, the whole life, the football is unbelievable, and the warm weather does help a bit as well."
Join our new commenting forum
Join thought-provoking conversations, follow other Independent readers and see their replies