Kaka forgives Jose Mourinho for freezing him out at Real Madrid
Brazilian delighted to have made return to AC Milan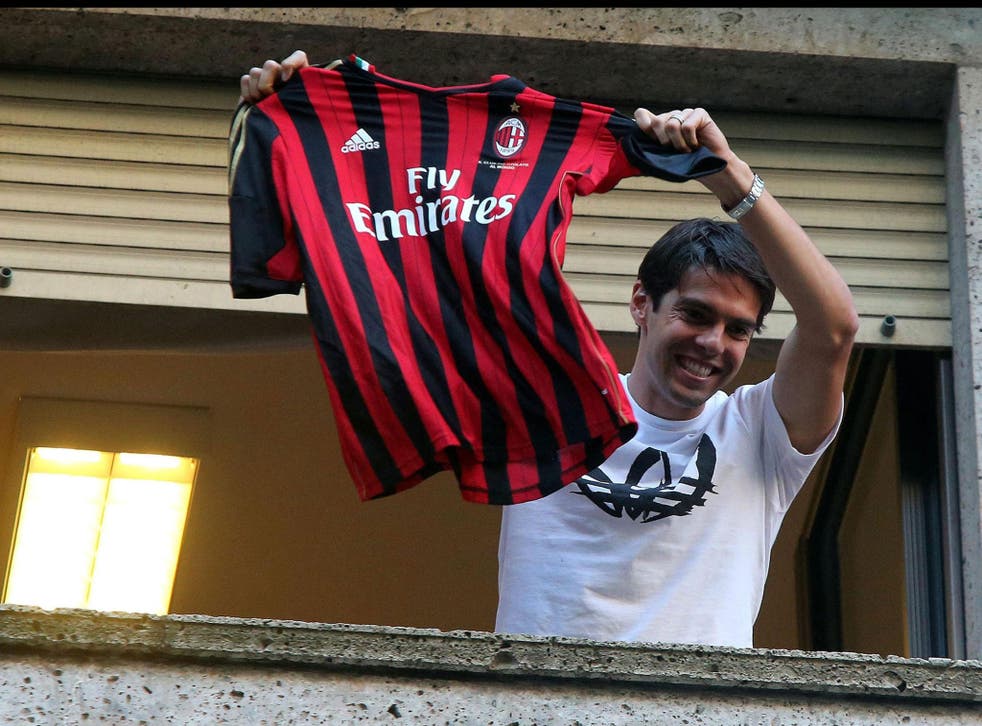 Kaka may have returned to AC Milan four years older and wiser, but he believes he still has a lot to learn from the next generation of Rossoneri stars.
The Brazilian forward is finally back at San Siro after four largely disappointing years with Real Madrid, where he was ultimately unable to make the most of a 70million euro (£59million) move.
Despite forming part of Jose Mourinho's Primera Division-winning side last year, Kaka made fewer than 100 league appearances for the capital club and, after announcing his decision to leave Spain last week, he arrived in Milan on a free transfer on Monday.
Kaka, now 31, remains a folk hero among Rossoneri fans and players alike, having been the prodigious focal point of a Scudetto win in 2004 before firing Milan towards the Champions League trophy in 2007.
There was a marked contrast between the rapturous reception that greeted him in Milan this week and the quiet optimism that greeted his 8.5million-euro arrival from Sao Paolo 10 years ago but, for Kaka, little has changed.
"It's really nice to be back," he told a press conference.
"Yesterday my wife and I were thinking about the day when we first came here, in totally different circumstances, but the good feelings are exactly the same.
"Seeing all the people at Milanello again made me feel like I'd never been away.
"I've learned a lot from players with more experience than me and now it's up to me to take on the role of an expert.
"I don't know how many more seasons I will last but I want to help these guys out and learn from them as well."
Kaka contributed five goals and nine assists as Mourinho clinched the Spanish title last year, before slipping steadily out of the Portuguese's first-team plans.
But it was the intensive recruitment in his preferred position behind the striker under new coach Carlo Ancelotti - with Isco, Asier Illarramendi and world-record signing Gareth Bale all arriving at the Bernabeu - that finally convinced him his days in Spain were numbered.
He added: "It wasn't Mourinho's fault that I didn't get to play. I tried to earn his confidence over the years but he just had other ideas.
"I always worked hard for him, but it's not his fault. It's the fact I never had any continuity during my four years with Real Madrid.
"Real have some very specific plans for the team and the space afforded to me was growing smaller and smaller, so I agreed my departure with Ancelotti.
"Real are a great club and I'm happy to have been part of their history but I lost the joy of playing football a bit there.
"I think this is the right place for me."
He will certainly not struggle for game-time at San Siro as he prepares to slot straight into the creative role left vacant by Schalke-bound Kevin-Prince Boateng.
The 2007 Ballon d'Or winner and 87-time Brazil international is especially keen to form a connection with the prolific Mario Balotelli, who has already scored 14 goals in his short time with the club.
"I think Mario's a great player and I think I can do well alongside him, and with (Alessandro) Matri, Robinho and (Stephan) El Shaarawy," Kaka added.
"There are some great players here and some really good strikers.
"I haven't been injured for a long time, I'm in good shape and ready for this challenge.
"I'm used to Milan winning things and I think this team can do well."
PA
Join our new commenting forum
Join thought-provoking conversations, follow other Independent readers and see their replies