Liverpool boss Jurgen Klopp joins Diego Simeone and Carlo Ancelotti for first-ever hologram press conference
The trio were announcing their respective teams' involvement in the Audi Cup this summer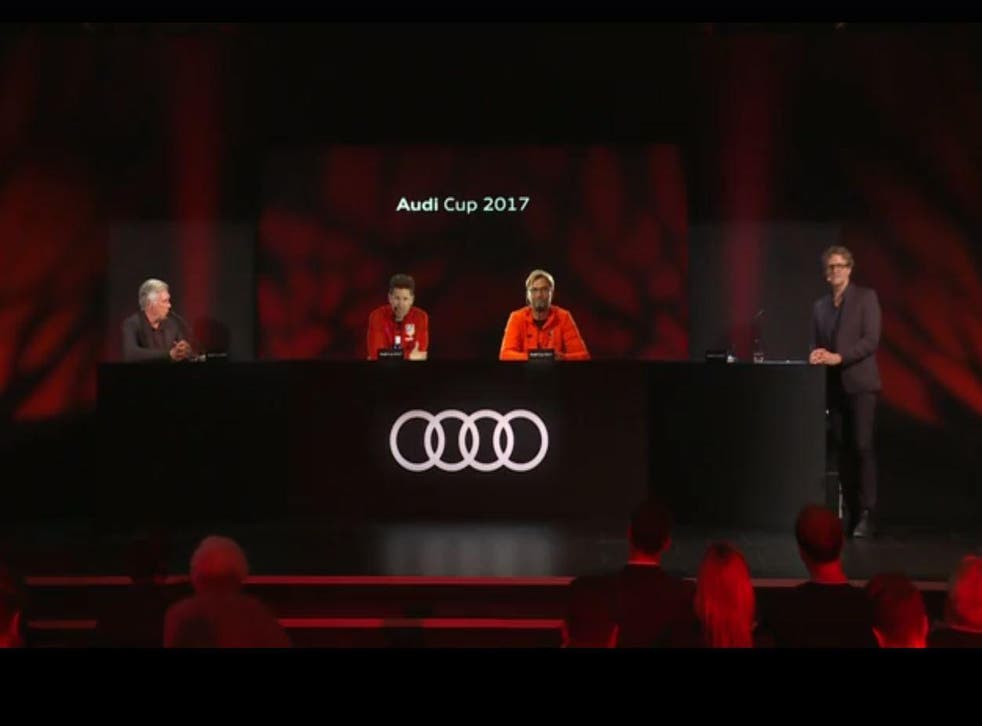 Jurgen Klopp and Diego Simeone were the first football managers in history to take part in a press conference as holograms as they joined Carlo Ancelotti to announce this summer's Audi Cup.
The friendly competition, to be held at FC Bayern's Allianz Arena, reprises the tournament that has occurred biennially since 2009. While it always features Bayern, Liverpool's participation this summer will make them only the third English team to be invited, after Manchester United in 2009 and City in 2013.
Klopp and Simeone appeared behind a desk as holograms while the event in Munich was streamed live on Facebook. The host and Ancelotti, Bayern's head coach, stood either side of their ethereal companions as they declared their excitement for the summer competition.
A fourth team will be confirmed in due course, but Liverpool will go into next season having tested themselves against some of Europe's strongest sides.
Bayern will be German champions once more while Atletico Madrid's resurgence under Simeone has continued, with the club again reaching the later stages of the Champions League and set to finish third in La Liga.
Liverpool meanwhile have a battle for fourth place on their hands in the Premier League.
Join our new commenting forum
Join thought-provoking conversations, follow other Independent readers and see their replies