Liverpool vs Basel match report: Lazar Markovic is sent off and Steven Gerrard free-kick isn't enough on night of red card and red faces at Anfield
Liverpool 1 Basel 1: Liverpool needed a win at Anfield to progress in the Champions League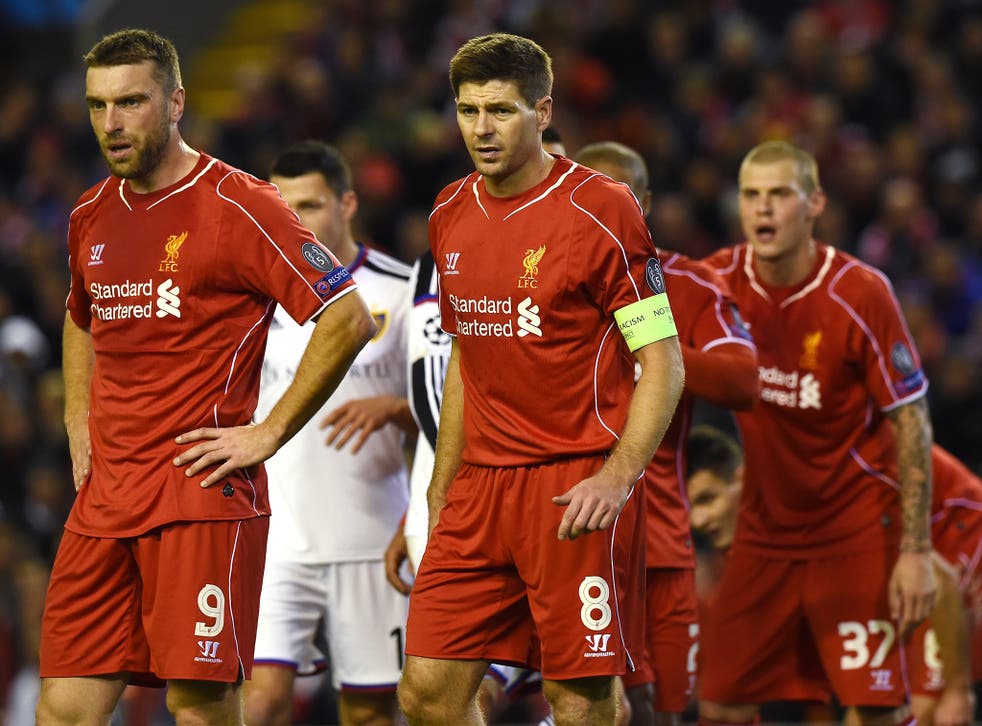 In years to come Steven Gerrard may reflect that, to the very end, he always took his team down fighting. Liverpool were slipping out of the Champions League with a whimper – and with a performance deeply unfitting of the club who had never known when they were beaten – when he stepped up to unravel another of those arced free-kicks which will be remembered for decades after he has gone.
The equaliser restored Anfield to the place we have always known on occasions like this – energetic, passionate, believing – and to the dying seconds you felt that a second goal might come. But though there will be a sense of injustice as the dismissal of Lazar Markovic is replayed, the side have dropped to the Europa League for a reason.
A 10-minute finale doesn't tell the story. Five points and a solitary group win speak of a side that longed to be back on this stage but when they reached it were not much more than pitiful. They did not deserve to win, or to progress.
For most of the evening it was not one of those famous atmospheres; a shadow of the cauldron Olympiakos encountered a decade ago this week when they were boiled alive, leaving Rafael Benitez to reflect that he had experienced nothing like it.
There was something subdued about the place from the moment the players stepped down from the team bus to polite applause. This was a team whose arrival set the surrounding side streets on fire eight months ago.
It was because Anfield knew. It knew that the team needing a win to reach the knockout stage had managed only five goals in 12 competitive games here this season. And it knew that Liverpool lack a scintilla of the defensive leadership – as personified by Jamie Carragher – which that very modestly equipped side of 2004 possessed when they strode all the way to Istanbul under Benitez.
Liverpool 1 Basel 1 player ratings

Show all 13
It was that defence which caused the tension to ratchet up soon after Kop flags bearing legends like "Liverpool FC – European Royalty" and "Support and Believe" were put away. Basel, to provide some perspective, are a third-tier European side but Liverpool were teetering – back on their heels – from the start.
It comes to something when a late injury to Kolo Touré – a player who had been surplus to requirements at Manchester City a full two years ago – is a cause for concern. It pitched an unconvincing Martin Skrtel and Dejan Lovren together in central defence and with Lucas Leiva unable to apply pressure to the neat, tidy, incisive Swiss side playing in front of them, a setback was destined to happen.
Taulant Xhaka had the better of Jose Enrique. Marco Streller's aerial presence was too much for Lovren. Glen Johnson, frankly, looked unfit. A Skrtel error in possession allowed Shkelzen Gashi a run on Simon Mignolet in the Liverpool goal before the game was 15 minutes old.
It was an air of resignation, not rancour, that greeted the inevitable opener after Lucas failed to close down Fabian Frei after 25 minutes, allowing him to advance 10 yards, give and go with Luca Zuffi, and unfurl a precise 20-yard finish well beyond Mignolet.
It was not a lack of will which stopped Liverpool from shifting the momentum of the game; just a lack of wit. Only Raheem Sterling could supply any attacking thrust but he was faced down each time by three white shirts.
The anxiety was palpable as passes went astray and possession broke down. Steven Gerrard and Rickie Lambert, the 33 and 36-year-olds being asked to provide the attacking threat, were equally invisible, which would have pained the captain profoundly.
A raking Gerrard pass for Johnson sailed out of touch 20 yards in front of the defender. A short Sterling pass for Gerrard from the edge of the area was nowhere near the captain, provoking howls of anguish from a stadium which had grown accustomed last spring to him taking the ball on and despatching it.
This Basel side were never destined to be comfortable opposition. They beat Chelsea twice last season, and Manchester United before that. But the sight of a lofted ball sailing over Liverpool's defence for Streller, who should have buried it on the volley for 2-0, was not much less than humiliation.
Lambert, who had been desperately ineffectual, was removed at half-time, Markovic took over on the right wing and Sterling moved into the striker's role. Enrique's torture at the hands of Xhaka was brought to a premature finish, too, Alberto Moreno replacing him.
The substitutions were a sign of a manager struggling desperately for answers and dismayed by what he had seen, and for 15 minutes they seemed to have an effect. Markovic impressed, delivering at last some attacking intent to the home side.
And then the hope was snatched away by the dismissal. The theatrical reaction of Behrang Safari was preposterous as he ran in pursuit of Markovic and felt the Serbian's fingertips brush his nose when the Liverpool man thrust a hand back at him. The contact was minimal but it could still be classified as deliberate. Markovic was a fool to give his opponent the opportunity.
Liverpool's sense of injustice was compounded when Gerrard was sent through on goalkeeper Tomas Vaclik and found himself down on the turf, though Vaclik made clean contact with the ball. Gerrard had no complaint.
Then his last intervention; a 41st European goal for Gerrard, the triumphal run and jump we have come to know so well, and the chorus of his name once again. The old spirit was restored.
Jordan Henderson's deflected header threatened but was grasped by Vaclik on his goalline five minutes from time. Gerrard tried a final volley from 30 yards. But the game was up.
As he trudged from the field on Tuesday night the captain was left to reflect whether he has graced the Champions League for the last time. This, like the diminution of Liverpool, was not supposed to happen quite so soon.
Join our new commenting forum
Join thought-provoking conversations, follow other Independent readers and see their replies