Liverpool vs Manchester United: Paul Scholes brands former club 'shambles' after Anfield defeat deepens woe
Louis van Gaal came in for yet more criticism from former players after the Europa League defeat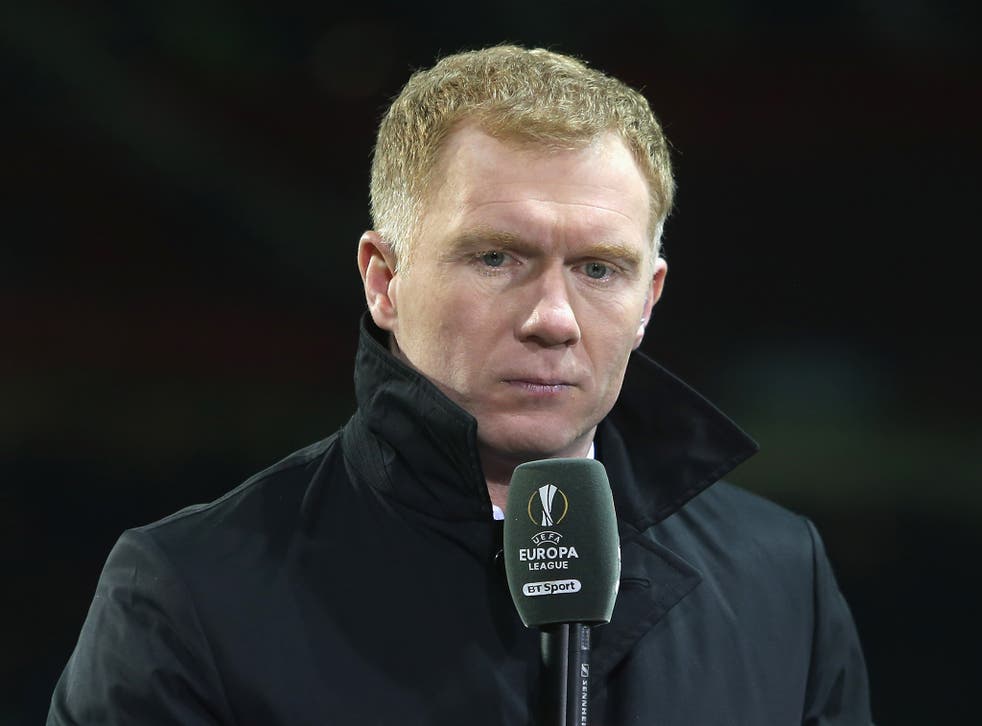 Manchester United's former Champions League winners Paul Scholes and Rio Ferdinand tore into the club last night after another desperate performance from their old side saw Liverpool ease to a 2-0 win in the Europa League.
Scholes said that the "£300m in three years" that the club have spent had them no better, and that United were a "shambles" who were "falling well short." He said that the United of Sir Alex Ferguson would have been locked in the dressing room for an hour after a performance the one United's fans had witnessed and told players to stop tweeting their apologies. "Don't start talking on social media. Start playing."
The ex-players' fury about United's display led manager Louis van Gaal to attack a journalist for raising the points in his post-match press conference. In another tetchy and unconvincing analysis, Van Gaal said: "I want to give a remark if it is important what Rio Ferdinand is giving. You don't give your opinion and you give Rio Ferdinand's opinion. Very strong of you. You have used another person to answer the question."
He said that Liverpool's two goals were "cheap" and that the failure to spot Jordan Henderson was offside when he supplied the decisive second goal was a "nasty call." The Dutchman also claimed that the penalty awarded against Memphis Depay after Nathaniel Clyne went to ground for the opening goal was unjustified. "He holds him outside the box and he is falling down. When you are very sharp with the penalty you have also to be sharp with the offside. That goal is a nasty goal I think.
Liverpool manager Jurgen Klopp appeared to have been aware that United's Marouane Fellaini had clearly elbowed Emre Can at the end of the game. The German kept his counsel on that controversy. "There is nothing that I should say. I am not the referee. You can write what you want."
When asked if he thought the Football Association would review the Fellaini elbow, Van Gaal said: "Not with the FA because it is Euro (sic) League. I must say Fellani was one of the best payers on the pitch. I've not seen it."
Liverpool vs Manchester United player ratings

Show all 22
Van Gaal would not discuss his thoughts on the possibility of United overcoming the 2-0 first deficit. "I don't think that kind of discussion [is] good. You have to believe in everything. You have to talk a about this game."
But he did admit that United's failure to create any threatening chance was problem. "You are right," said. "I cannot deny that. I don't think we were in the third and fourth phase v creative but it is also the defence of Liverpool and you can give also the credits from that to Liverpool but we have to improve to create more goals. One shot but it was also headers but not in the goal but outside the goal."
Klopp said: "It's not too important how you play against Man United. It's hard to avoid them having chances but they've not had a lot. As a human being I can really celebrate and be really happy. 'Best, greatest.' I don't want to set a limit. I don't know how strong they can be. I want them to be consistent."
Scholes described United's first half as "shocking." He said: "In the second half they go back to using three at the back, which they tried last season, and it was an absolute disaster. Tonight, again, it was a disaster."
Join our new commenting forum
Join thought-provoking conversations, follow other Independent readers and see their replies