Luiz pays the penalty after Vossen pegs back Chelsea
Genk 1 Chelsea 1
Steve Tongue
Wednesday 02 November 2011 01:00 Comments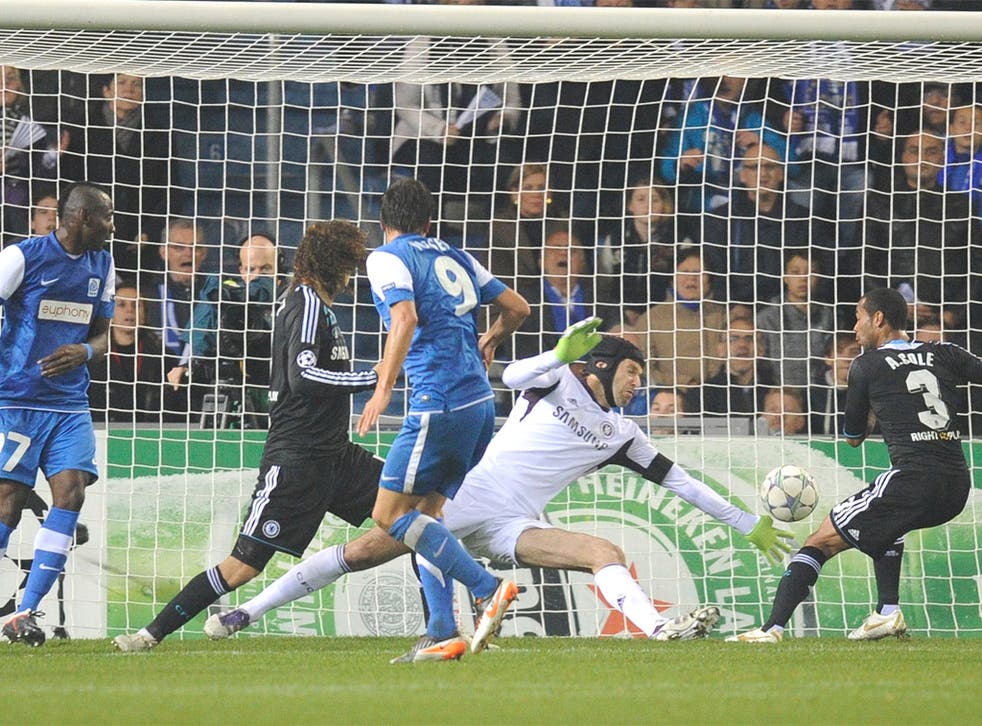 An entirely unexpected dimension was added to Chelsea's recent problems here last night as they lost control of what had appeared a straightforward assignment that should have brought much desired relief.
Ramires marked their domination of the first half with an opening goal but David Luiz had a penalty saved and Genk, beaten 5-0 at Stamford Bridge a fortnight ago, gained new belief after the interval. Jelle Vossen equalised with his team's first goal in four group matches and although Chelsea belatedly lifted their game again, they could not find a winner. The small consolation was that Valencia's victory over Bayer Leverkusen meant the London side stayed top of the table, although even that had a downside, turning the section into a three-cornered fight again.
The next game, in Germany, now looks a tricky proposition unless they have by then rediscovered some of the fluency and crucially, what manager Andre Villas-Boas labelled the "efficiency" of earlier in the season. His team further improved their record of having forced by far the most attempts on goal of any Champions League team in this campaign with another 19 of them but the fact that only one finished in the net is worrying. Until the equaliser there appeared to be an air of inevitability to the proceedings – which was Chelsea's problem. Villas-Boas said: "When you get a bad run of results you have to get a win straightaway, but you play difficult games. We're chasing that win and we haven't found it today. We created enough opportunities to win the game but it's not happening for us in terms of efficiency."
The capacity crowd of 22,584 in a ground reminiscent in size and style to west London's Loftus Road would have had a reasonable expectation of seeing goals from two teams whose weekend matches featured 17 of them. For a long time Chelsea, slapdash in defence in conceding five against Arsenal, looked the only side likely to score. The home side went forward with more conviction than in the first meeting but they had not troubled Petr Cech with anything more than Nadson's header from the first corner of the game before falling behind in the 25th minute. Ramires brought the ball forward, exchanged passes with Fernando Torres and hit a shot from a sharp angle that defeated an unconvincing attempt at a save by the goalkeeper Laszlo Koteles.
The crowd was not to know that the assist would be Torres' only contribution in another frustrating performance in which he failed notably to build on the levels of confidence achieved when scoring twice in the first meeting. Chelsea tended to work promising positions, then waste them with a poor final pass. When Ashley Cole and Florent Malouda, seeing plenty of possession down the left, each produced a good low cross, Torres was unable to take advantage. Nicolas Anelka's service from the right was generally weaker and it was from the left that Genk almost conceded twice more.
Cole tried a higher centre that Ramires headed wide from beyond the far post and the full-back Anthony vanden Borre almost turned Malouda's cross into his own net. A similar effort from Malouda offered an even better opportunity, Thomas Buffel handling to concede a penalty. Anelka having missed one feebly in the Carling Cup at Everton, Luiz stepped up but his shot off a short run was pushed away by Koteles. "All our penalty takers have missed one now," Villas Boas lamented. "That's the efficiency again, because all of them are extremely good penalty-takers."
Genk's coach Mario Been admitted that his goalkeeper had kept Genk in the game with that save, which came just after Raul Meireles struck the angle of bar and post with a fierce drive from 25 yards. Kevin de Bruyne, watched by Chelsea for some time, and hoping for a return nearer to the maternal home in Ealing, worked hard again down the Belgian side's left but lime green boots were the most dazzling thing about him.
Given a chance to impress Villas-Boas early in the second half, De Bruyne shot weakly straight at Cech from inside the penalty area. It would prove costly, however, that Jose Bosingwa was repeatedly taking time off from marking him to venture rather recklessly forward. After Kennedy Nwanganga was played in close to goal, only to be thwarted by Cech at the expense of a corner, Fabien Camus broke into the space that Bosingwa should have been occupying and his cross found the home side's leading scorer Vossen, who turned it smartly in to register Genk's first goal of the European campaign after 331 minutes.
Villas-Boas acted quickly in sending on Daniel Sturridge and Lampard for Anelka and Ramires in like-for-like changes and Chelsea regained a foothold without improving on conversion of chances. Meireles first shot over the bar, then headed Malouda's cross at the goalkeeper. Sturridge quickly became a threat. He beat his man and crossed a fraction too far in front of Lampard, who could not turn the ball in from a couple of yards out. Before the end Cech had to save from the substitute Anthony Limbombe and in a bizarre late incident Anele Ngongca's clearance off the line from Malouda hit a team-mate and bounced to safety.
Man of the match Camus.
Match rating 7/10.
Referee S O Moen (Nor).
Attendance 24,000.
Register for free to continue reading
Registration is a free and easy way to support our truly independent journalism
By registering, you will also enjoy limited access to Premium articles, exclusive newsletters, commenting, and virtual events with our leading journalists
Already have an account? sign in
Join our new commenting forum
Join thought-provoking conversations, follow other Independent readers and see their replies