As it happened
ended
1460497812
Man City 1 PSG 0 - as it happened: Kevin De Bruyne scores, Cristiano Ronaldo hat-trick in Real Madrid 3 Wolfsburg 0
Follow the latest news from tonight's two Champions League quarter-finals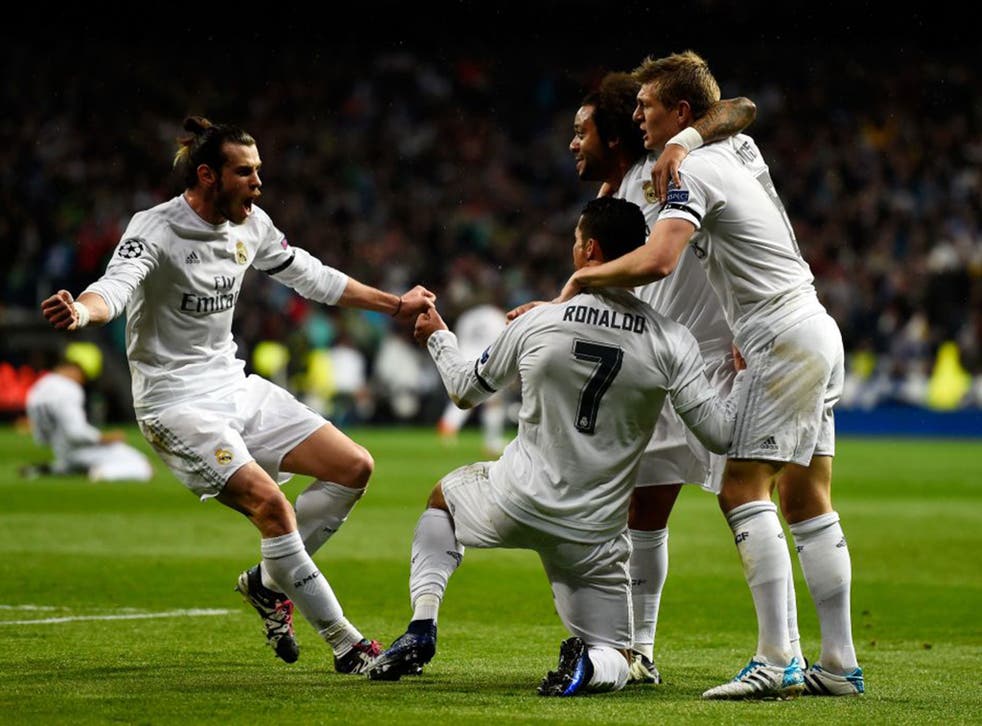 Welcome to our live coverage of tonight's two Champions League quarter-finals featuring Manchester City vs Paris St Germain and Real Madrid vs Wolfsburg.
FT: Man City 1 PSG 0
Manchester City advance to Champions League semi-finals 3-2 on aggregate
Manuel Pellegrini's side could potentially face Pep Guardiola's Bayern Munich in last four
Real Madrid 3 Wolfsburg 0
Cristiano Ronaldo scores hat-trick
Zinedine Zidane's side overcome 2-0 first leg deficit 
Follow the latest score, breaking news and the updates below...
Read more...
Manchester City vs PSG preview: Manuel Pellegrini's men hold slim advantage
Zlatan Ibrahimovic latest: Thiago Silva fires jibe at Premier League in bid to keep striker at PSG
Manchester City vs PSG: Angel Di Maria warns City Parisians will hit them where it hurts
Manuel Pellegrini senses chance to bow out with European Cup in the bag
Manchester City: Paris may be the turning point in difficult relationship with Champions League
PSG 2 Manchester City 2 reaction: Manuel Pellegrini preaches caution despite claiming slender first leg advantage
PSG vs Manchester City player ratings: Kevin de Bruyne on song, Fernando has a night to forget
1460480852
Hello and welcome to our live coverage of tonight's two mouth watering Champions League games. To keep you satisfied until kick-off we'll have team news around 6.45pm and all the build-up you need...
Simon Rice
12 April 2016 18:07
1460484974
Big call by Manuel Pellegrini to bench Yaya Toure in what could be the Chilean's last European match in charge at the Etihad. The midfielder has struggled for form and fitness this season, but could prove a potent weapon from the bench should the tie still be in the balance in the closing minutes.
James Mariner
12 April 2016 19:16
1460485186
It's fair to say the Real Madrid supporters remain confident of their side making a sixth successive Champions League semi-final - this was the welcome they gave the team coach in Spain tonight:  
The fans welcoming Real Madrid's bus! SCENES! https://t.co/odUsy4RhYn
James Mariner
12 April 2016 19:19
1460487724
16 min - RM v WFB: GOAL! Real lead 1-0 - Ronaldo reduces the deficit!!
James Mariner
12 April 2016 20:02
1460487787
16 min - RM v WFB: GOAL!  All level as Ronaldo gets a second in two minutes!
James Mariner
12 April 2016 20:03
1460487867
19 min: MAN-PSG: PSG starting to dominate more from midfield. That man Rabiot, who of course spent time at City's academy as a youngster, giving Fernando and Fernandinho a tough time.
James Orr
12 April 2016 20:04
1460487978
20 min - RM v WFB: What was all the fuss about? Cristiano Ronaldo takes his tally to 15 in the Champions League this season, glancing in a header seconds after converting a Carvajal cross. Real lead 2-0 and it's 2-2 on aggregate - although one goal from Wolfsburg will change things..
James Mariner
12 April 2016 20:06
Join our new commenting forum
Join thought-provoking conversations, follow other Independent readers and see their replies