Manchester City manager Pep Guardiola accuses Martin Glenn of failing to understand yellow ribbon
Glenn compared the yellow ribbon to the swastika and a show of support for Robert Mugabe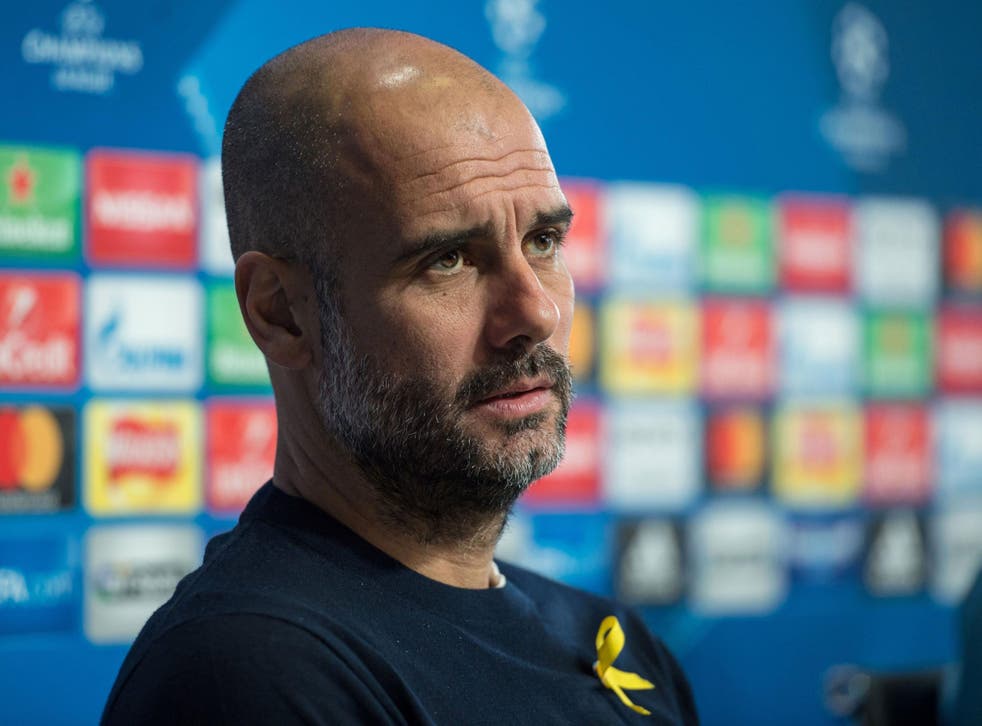 Pep Guardiola has accused Martin Glenn of failing to understand the meaning of the yellow ribbon that he wears in solidarity with members of the Catalonian independence movement.
The Manchester City manager accepted a Football Association charge of 'wearing a political message' on Monday having breached the governing body's kit and advertising regulations.
Guardiola's response came a day after Glenn, the FA chief executive, compared the yellow ribbon to the swastika or a symbol of support for Zimbabwe's former president Robert Mugabe.
Manchester City vs Chelsea player ratings

Show all 23
"Things that are going to be highly divisive, and that could be strong religious symbols - it could be the Star of David, it could the hammer and sickle, it could be a swastika, anything like Robert Mugabe on your shirt - these are the things we don't want," Glenn said.
"To be very clear, Pep Guardiola's yellow ribbon is a political symbol, it's a symbol of Catalan independence," he added. "And, I can tell, you there are many more Spaniards, non-Catalans, who are p***ed off by it."
Glenn apologised for his comments on Monday, particularly for his equivalence of the Star of David with the swastika, but Guardiola believes his remarks betrayed an ignorance about the yellow ribbon and its significance.

"Mr Glenn apologised but the first impression when I heard that was because he didn't understand the meaning of the yellow ribbon," Guardiola said. "It is simple like that. He made a comment that is 'far away'.
"It is not about independence or not independence. It is about four people who are in jail when they didn't do anything to be in jail. It is simple. I think now he will understand because he didn't understand the reality of the situation."
When asked whether he was disappointed with Glenn's remarks, Guardiola said: "Many times I speak for myself and after I regret what I said. I am sure now that is not going to happen [again]."
A date is yet to be set for the hearing which will decide how Guardiola is punished for wearing the ribbon. The City manager could face a range of sanctions, from a fine to a touchline ban.
Guardiola has concealed the ribbon during domestic games since receiving the FA charge but is set to display it on his person on Wednesday night during City's Champions League last-16 second leg against Basel. Uefa, European football's governing body, has no plans to punish Guardiola for wearing the symbol.
Join our new commenting forum
Join thought-provoking conversations, follow other Independent readers and see their replies