Zlatan Ibrahimovic latest: Thiago Silva fires jibe at Premier League in bid to keep striker at PSG
Silva claims no Premier League club is currently of the quality of PSG and has urged Ibrahimovic to stay with the Ligue 1 champions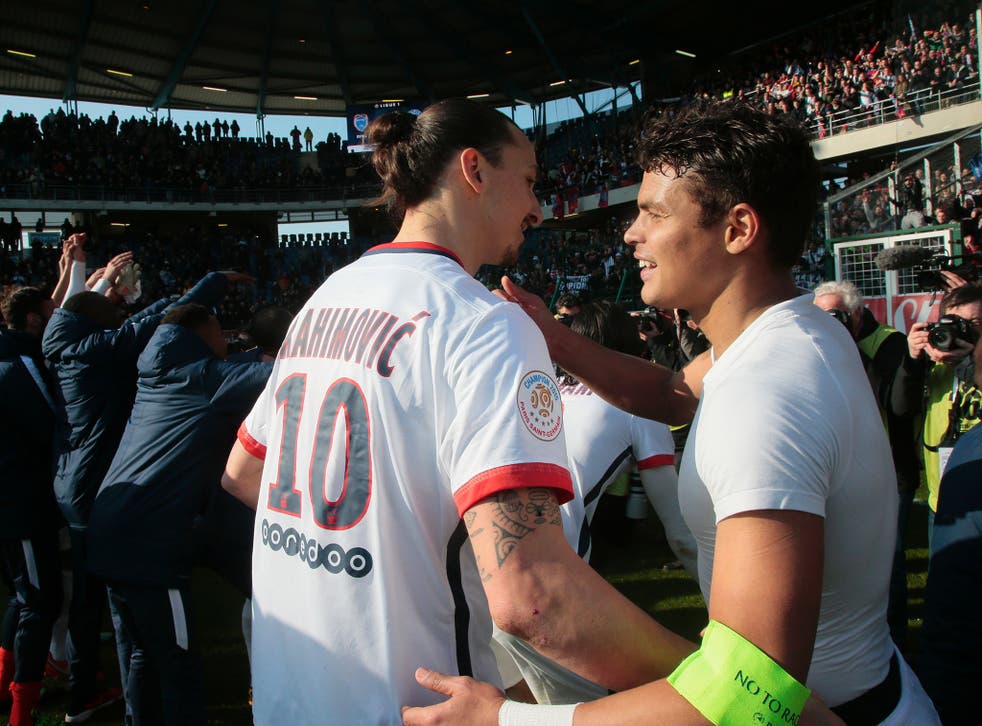 Thiago Silva has fired a clear criticism of the Premier League towards English clubs ahead of Paris Saint-Germain's Champions League quarter-final second-leg against Manchester City by claiming Zlatan Ibrahimovic will be taking "a step down" if he left Ligue 1 to cross the Channel in the summer.
Ibrahimovic has been heavily linked with a move to the Premier League with his contract at PSG set to expire at the end of the season, and Manchester United are believed to be the frontrunners in the race to sign the 34-year-old.
The Sweden international has won four consecutive Ligue 1 titles with PSG – including this season's which is already in the bag – and the lack of competition for the Parisians has often been a major criticism of the French top flight.
It's not certain yet whether PSG will let Ibrahimovic go without attempting to renegotiate his contract, but Silva admits that the club will not be the same without him and urged him to remain with the French champions because he does not think any of the Premier League heavyweights match up to PSG.
"He is my good friend, but also at 34 he is playing the best football of his career," Silva said ahead of Tuesday night's encounter with City. "He is one of the best in the world, he is unique, there is not another player like him.
"Of course I want him to stay at PSG, I cannot imagine us without him.
"I know he has offers from England - and it is a big league - but I don't think there is a team in England that is at the level of PSG at the moment. For me it would be a step down in quality for him."
Silva's PSG side must score against City to keep alive their hopes of going through to the Champions League semi-final after the Manuel Pellegrini's side scored two away goals in Paris in the 2-2 draw last week. Ibrahimovic could prove key to that, and after having a penalty saved by City goalkeeper Joe Hart in the first leg, he may feel that he needs to make amends in order to see his side progress.
There is a great demand on PSG to win the Champions League this year, as success in Ligue 1 no longer fulfils the high ambitions held by the club's Qatari owners. Ibrahimovic himself has admitted that he wants to remain playing at the highest level in order to win trophies, and if PSG can't convince him that he can taste European success with them, it could prove a deciding factor in where he plays his football next season.
"I have never been better. The way I feel today is the best I have ever been. I was born old and I will die young. That is how it looks," Ibrahimovic said on Monday.
"You are as young and fresh as you think you are, and that is what I have proved this season, by doing the things I am doing.
"So the age is just a number. You are as young as you think you are in your head. Your head decides how young you are and how old you are. So this year I decided I am very young.
"I play for trophies; whatever trophy I can win, I will do everything in my power, in my sacrifice, to win it. Absolutely.
"So if we can win it, we want to win it. The players on the pitch want to win everything. That's why we are here, to train, to focus, to prepare and to do it. So let's see."
Join our new commenting forum
Join thought-provoking conversations, follow other Independent readers and see their replies