As it happened
ended
1540328833
Manchester City comfortably beat Shakhtar Donetsk to reignite Champions League ambitions
Shakhtar Donetsk 0-3 Manchester City: Pep Guardiola's side discover European form to reignite title ambitions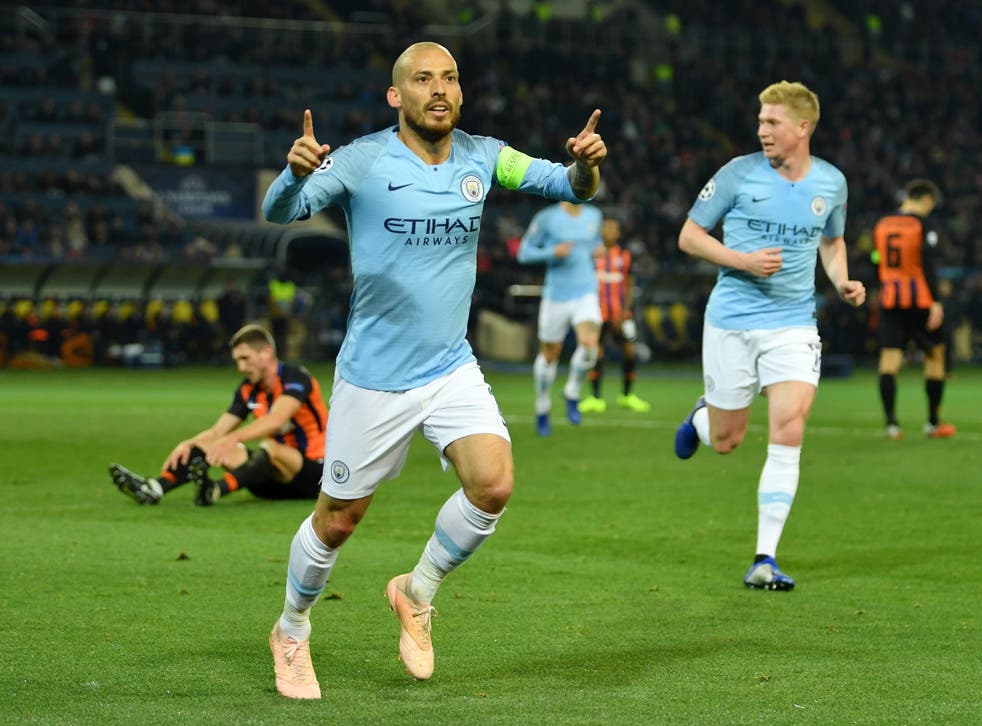 Manchester City made light work of Shakhtar Donetsk in their 3-0 victory in Ukraine to kick-start their Champions League ambitions.
Kevin De Bruyne, who made his first start of the season, saw a deflected shot turned in by David Silva to open the scoring and ease any nerves that Pep Guardiola's may have been feeling following their defeat against Lyon and their slim, last minute win against Hoffenheim.
Aymeric Laporte and Bernardo Silva scored either side of the break as City topped Group F following Lyon's draw against Hoffenheim.
---
When is it?
Kick off in Ukraine is at 20:00 BST.
Where can I watch online?
BT Sport will be showing live coverage on BT Sport 3 and online to customers on the BT Sport app. The Independent's dedicated live blog will also provide live updates throughout the match.
Head to head record
These sides met in last season's Champions League, and City won 2-0 at home, but were beaten 2-1 away.
Champions League 18/19 contenders

Show all 29
Odds
Manchester City to win: 1/3
Shakhtar Donetsk to win: 9/1
Draw: 5/1
Prediction
Shakhtar Donetsk 1-3 Manchester City
1540306073
The Champions League is back and the famous anthem is set to bellow around the continent in just a few hours time, and there are some great matches on offer tonight.
We'll be focusing on Cristinao Ronaldo's return to Old Trafford, where Manchester Unted host Juventus. Manchester City are also in action against Shakhtar Donetsk, and Real Madrid play Plzen Viktoria.
Jack Watson
23 October 2018 15:47
1540309607
Guardiola: Manchester City don't have feel of Champions League winners
The City boss has often cited the club's lack of history at elite European level as one of the reasons why they are still to make a big breakthrough on that stage
Jack Watson
23 October 2018 16:46
1540312981
Ronaldo insists he is 'happy man' despite sexual assault allegations
Cristiano Ronaldo has described himself as "a happy man" and insisted that the truth will ultimately out after being accused of sexual assault.
Jack Watson
23 October 2018 17:43
1540313341
Juventus will target Pogba at set-pieces, warns Carragher
The France international was at fault for Chelsea's opening goal in Saturday's 2-2 draw at Stamford Bridge
Jack Watson
23 October 2018 17:49
1540316987
Much of the focus tonight will be on Cristiano Ronaldo's welcome at Old Trafford. It's been a while since he played here, but he hasn't been forgotten.
 All eyes will be on the Portuguese forward here.
Lawrence Ostlere
23 October 2018 18:49
1540317530
Here's Manchester United's team for tonight's game. It's the same XI that started against Chelsea for Jose Mourinho
Lawrence Ostlere
23 October 2018 18:58
1540317731
And for Manchester City. It's a welcome return for Kevin De Bruyne.
Lawrence Ostlere
23 October 2018 19:02
1540318036
Juventus are in formidable form against English opposition. They knocked Tottenham out in last year's Champions League, beat Manchester City twice in the group stages in 2015-16 and eliminated Chelsea in 2012-13. Manchester United, then, should be wary of suffering a similar fate.
Lawrence Ostlere
23 October 2018 19:07
1540318712
No, he hasn't resigned. But he has taken drastic measures to reach Old Trafford on time. The team bus was delayed, so Mourinho and his entourage arrived on foot. At least he's keeping fit.
Lawrence Ostlere
23 October 2018 19:18
1540318928
The Juventus lineup is in. As expected, Ronaldo leads the line, and he's joined in attack by Paulo Dybala.
Lawrence Ostlere
23 October 2018 19:22
Join our new commenting forum
Join thought-provoking conversations, follow other Independent readers and see their replies