Manchester United 1 Bayern Munich 1 comment: Bayern show rare signs of fallibility at Old Trafford
United battled strongly against the German champions at Old Trafford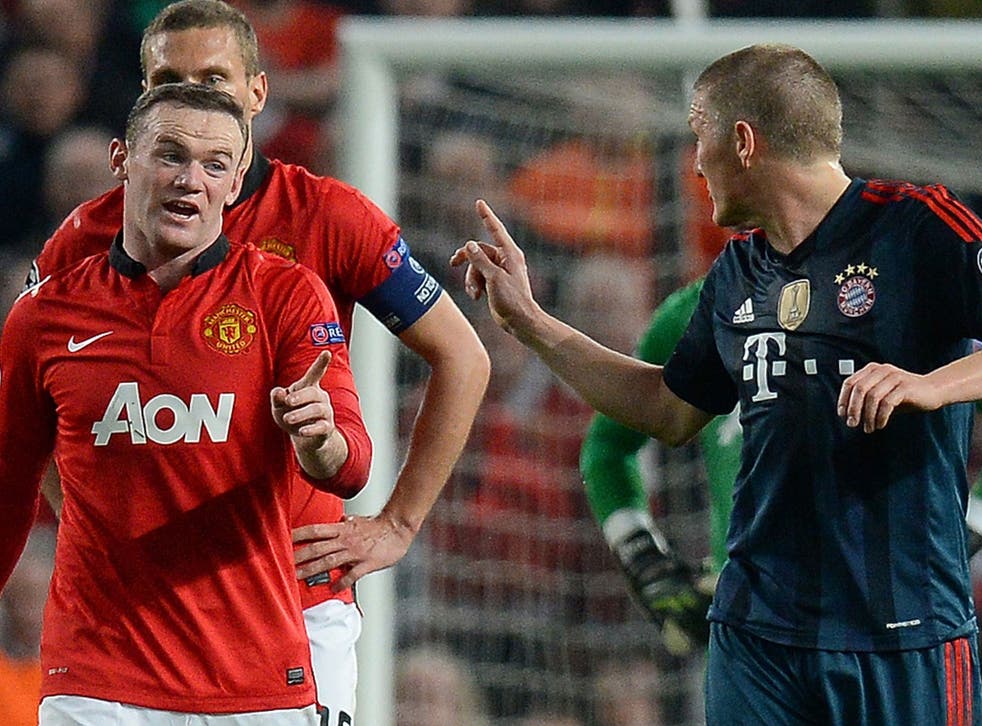 Well, well, well, the champions of Germany are human after all. A draw in this environment is as good as a defeat for the esteem of the all-conquering Bundesliga champions.
Reverses are like comets in the Bayern universe, snatched events that send out a flare then disappear without consequence. The Bundesliga title was secured with seven games to go. Some had them winning this tie before kicking a ball. Such is the mythology surrounding this team, none could make a sensible case for the advance of Manchester United.
For eight minutes in the second half, Bayern were in retreat, senses scrambled by the shock of falling behind in a fixture that mattered. It might do them good. Though parity was swiftly restored, Bayern were not the same swaggering presence they were in the opening period.
Manchester United 1 Bayern Munich 1: Player Ratings

Show all 22
Of course, events on a night when United conjured something of their glorious past might be rendered a footnote this time next week – even without Bastian Schweinsteiger, but not for those that come next.
It was an anomaly that United should have the best chances of the first half during which Bayern displayed the full depth of their wares, without quite threatening David De Gea in goal. The appointment of Pep Guardiola, high priest of the coaching profession who furnished the football manual at Barcelona with a new set of fundamentals, affected a wholesale grab of football hearts and minds. To be drawn against them in the last eight of the Champions League produced only sympathy.
Guardiola is prefect-like in posture, overwhelming with courtesy and good manners as powerfully as his team is with movement and technique, so it is impossible to dislike him. There is none of the conceit and hauteur that attach, for example, to Jose Mourinho, whose visceral indulgence of the dark arts elevates Guardiola still further.
Beneath the impeccable, beautifully tailored exterior, Guardiola exhibits the pathological commitment of serial winners. Even in repose he brings a studied intensity, as any who observed his support of the European Ryder Cup team at Medinah would attest. Guardiola followed the action like an honoury vice-captain, taking from the experience every last ounce of significance lest there be a lesson of value to football.
Compared to Guardiola's elegant posturing in the technical area David Moyes looked like that bloke in the library struggling to come to terms with the computer in front of him, unsure whether to press the button or not to confirm a purchase. Guardiola's keyboard was a flutter of co-ordinated movement. The order was already made, it was simply a matter of waiting for the delivery. He must have been delighted by the way Moyes had assembled his team in that opening period. In abandoning the idea that United might contest possession, Moyes handed both ball and initiative to the opposition. It was like a training session of three pots in, two red banks of four pushed progressively deeper.
Underpinning the kaleidoscopic movement and relentless pace is a fearsome belief. It hardly seems to matter who plays where. Philipp Lahm goes forward, Toni Kroos and Schweinsteiger revolve around their captain like engine parts and up front Franck Ribéry and Arjen Robben floated dangerously around Thomas Müller.
Of course, you would not be so retro as to describe Müller as a centre forward. Guardiola as all-but erased that position from the football lexicon. What a contrast this was to the last time these teams met at this stage of the competition four years ago. United were heavy favourites, opened their account in Munich via Wayne Rooney in the opening 90 seconds and raced into a three-nil first half lead in the return. It took a red card for Rafael, and a Robben wondergoal to see Munich through on away goals.
United can still cook up an atmosphere. Old Trafford throbbed with anticipation. The heart pays nil heed of the form book and the United players responded with enthusiasm if not poise. The travelling supporters high in the East Stand seemed to welcome the competition so little of it do they see at home. It didn't last. Above them a banner proclaimed 'Manchester Is My Heaven'. They might have brought it with them.
Munich reduced United to guerrilla raids, one of which should have resulted in a goal for Danny Welbeck. Set free by Wayne Rooney, Welbeck bounced the last defender out of the way and was though on Manuel Neuer. Time was the enemy. With too much of it to think through his options Welbeck ended up scooping a nothing effort that was easily swatted aside. The replacement of Ryan Giggs with Shinji Kagawa gave United an attacking dimension that introduced a degree of vulnerability in the visitors. As good as Bayern are, no team functions as well under pressure. That is maybe an idea Moyes can tuck away for the second leg, and a second season, if he gets one.
Join our new commenting forum
Join thought-provoking conversations, follow other Independent readers and see their replies