Manchester United in the Champions League: Five things we learned last night...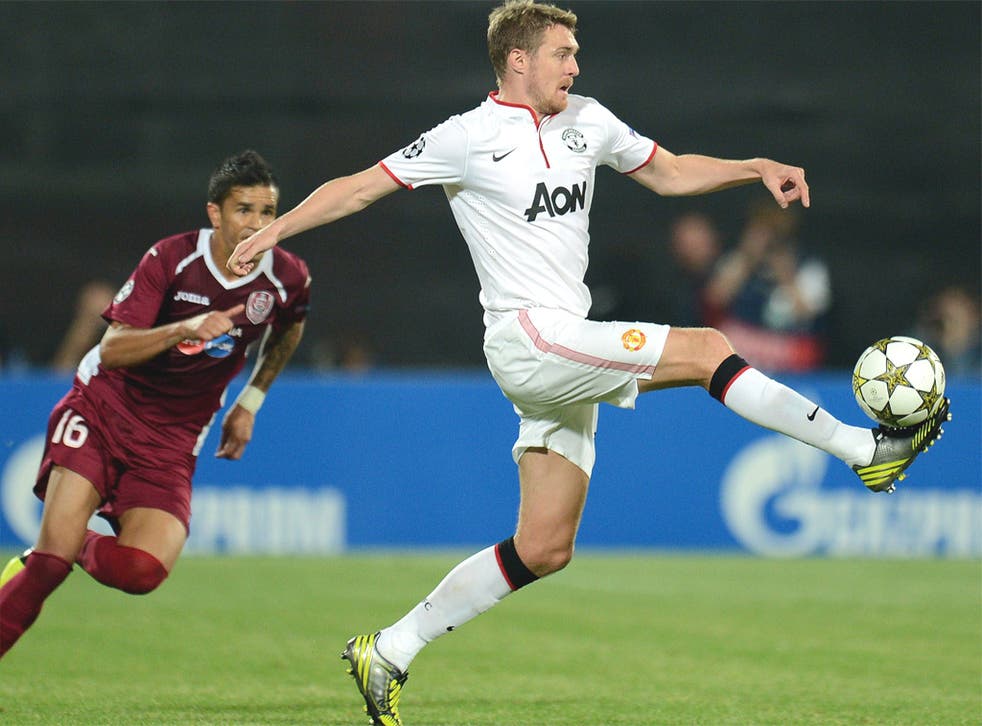 1. United's defence is not what it used to be...
Patrice Evra and Rio Ferdinand used to form half of one of the best defences in modern English football history. But the two are on the down-slope of their careers now. Last night United were slack again, conceding within the first 20 minutes for the fourth time this season. Evra could not get sufficiently tight to Modou Sougou's cross and Jonny Evans allowed Pantelis Kapetanos to drift away from him to finish past David de Gea.
2 ... but up front their strikers are firing beautifully
United's great strength, now, is having two of Europe's better centre-forwards. Wayne Rooney and Robin van Persie started together for the first time and combined for both goals. With Javier Hernandez starting too, Rooney took up a No 10 role but from there he twice spotted Van Persie and played the perfect pass to set up a goal. In the first half his free-kick was met by Van Persie, who shouldered the ball in. In the second half he spotted another run, floated the ball in and Van Persie flicked it with his left boot.
3. Problems on both wings remain
After the frustrations of all of their wingers so far this season, United decided to pick none of them last night. Antonio Valencia and Ashley Young were injured, Ryan Giggs stayed at home and Nani was on the bench. The downside was that their midfield, admirably balanced and direct, had very little outside of it, and so United struggled to stretch an unambitious Cluj side.
4. Cleverley performance will take pressure off Scholes in midfield
Injuries last season denied Tom Cleverley the chance to play in the Champions League but this was a relaxed and confident performance by a midfielder who will help United to lose their Scholes-dependence over the course of the season. Relying on a 37-year-old once a week is problematic but doing so twice a week is impossible. But Cleverley was alert and precise yesterday.
5. Fletcher and Anderson can dominate opposition
Given Scholes's age and Michael Carrick's diffidence, United have lacked physicality in midfield this season. Darren Fletcher, wiry and rangy, and Anderson, shorter and stockier, are both more willing and able to impose themselves on opponents. The pair, who should play more often, were both happy to tackle, while Anderson was also willing to burst forward with the ball.
Join our new commenting forum
Join thought-provoking conversations, follow other Independent readers and see their replies