Manchester United vs Wolfsburg match report: Juan Mata inspires United as Chris Smalling goal completes comeback
Manchester United 2 Wolfsburg 1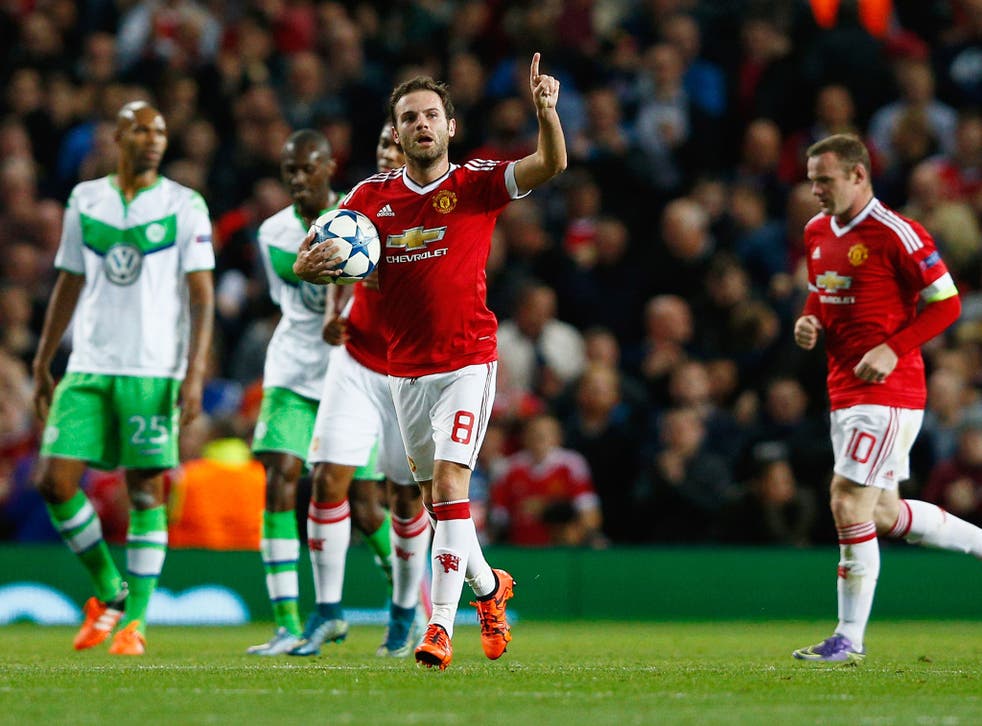 The last time Louis van Gaal presided over a full Champions League game at Old Trafford, he was comfortably overshadowed by Sir Alex Ferguson, who accused the Dutchman's Bayern Munich side of being the "typical Germans" who had cheated their way to the 2010 semi-finals. It was a different picture tonight. The man whose name adorns the main stand looked like an advertisement for the joys of retirement, while there is a burgeoning sense that the man below him in the dugout has found a consistent pattern of playing and winning.
The early goal United conceded confronted them with the prospect of the Champions League football they have talked so much about returning to delivering instant calamity, with the opening defeat in Eindhoven to make up for. But they flourished, and in the quixotic figure of Juan Mata possessed a player who lifted English football from the malaise which has surrounded its sides' journey back into the Champions League. United's two years of torture have been dominated by an over-dependence on Wayne Rooney, but his place on the margins of this game was of no consequence with Mata in the building. He occupied a different realm to last season's Bundesliga runners-up.
In Lower Saxony in the north-west of Germany, Wolfsburg has a population of just 120,000 and even being home to Volkswagen has started to lose its compensations.
The club's principal owner, which pumps in an estimated €100m a year, insisted yesterday that Wolfsburg would be unaffected by the emissions scandal, though there is no disguising that anxiety reigns. The air of solid dependability has gone.
The same can be said of United's defence. The Italian Matteo Darmian has begun to add strength on the right side of that unit, though his switch to left-back after the broken leg Luke Shaw sustained in Eindhoven left United exposed to the vulnerability of Antonio Valencia, deployed on the right because of Darmian's switch.
His excruciating first half must have awakened in Van Gaal some dormant thoughts of Rafael da Silva, long since departed for Lyon, for even he would have shown the awareness Valencia lacked when the Germans went ahead in the fourth minute.
He dawdled, allowing Daniel Caligiuri to spring the offside trap and shoot low to score after threading a path between Morgan Schneiderlin and Darmian on the right, feeding Max Kruse and lurking undetected for the return.
Valencia was reduced to hurling a hand at Kruse as the first half wore on and was fortunate to escape the consequences. His penury ended with the half-time substitution which brought Ashley Young into the rearguard in his place. Van Gaal would not have enjoyed what he saw. Valencia may struggle to find a route back into contention.
United did find such a pathway, though. There have been nights across the course of the difficult past two years when they would have laboured after such a setback but not here.
It did not augur well that the German defence initially looked rather more muscular than its shirt sponsor's emission data. Christian Träsch's timing and awareness allowed him to halt Rooney's attempts to set Memphis Depay away and Dante leapt to get a head in the way of Mata's arced effort, after he brought down Darmian's cross from the left.
Rooney conspired to send a golden opportunity sailing over the bar as well, after Anthony Martial had turned the left-back Ricardo Rodriguez inside out and sent in a low cross.
But overall, there was a huge inevitability about United's equaliser in the 34th minute – the penalty Mata despatched after goalscoring hero Caligiuri travelled to zero by handling a cross the Spaniard sent in from the left- hand corner of the area.
Working in from the left and right flanks comfortably, Martial and Depay delivered the attacking threat which was so often missing from this side last season, pushing back the German defence and creating room for Mata to flourish behind them.
The trident will be yet more effective when Depay finishes more consistently because that is the part of his game which is lacking at times. He descended towards the deck to meet Mata's ball with his head when a first-half shot looked on, and there were several chances which he snatched at.
It was Martial, of the two young men, who took United to another level. There can be no disguising that United bought him in a sense of desperation, and would have preferred another year to assess, yet he seized the free space and attacked with velocity from it.
Young was instrumental to United going ahead. It was he who burst down the right to set up the opportunity which Mata created divinely with the outside of his right boot, flicking a ball over the Wolfsburg defence which Chris Smalling reached to slide in eight minute into the second half. The Englishman's defensive anticipation also allowed him to halt Caligiuri. Though it is the defensive line which looks vulnerable – it said everything that Nicklas Bendtner, a substitute, cut up Danny Blind – Phil Jones was delivered from the bench to shore up that hole, with Blind going into midfield
Wolfsburg's coach, Dieter Hecking, admitted as much tonight in the little Old Trafford press conference room, while Van Gaal beamed.
It was a very long way from 2010.
Join our new commenting forum
Join thought-provoking conversations, follow other Independent readers and see their replies