Neymar defends his father's right to £33m in transfer fees, as switch from Santos to Barcelona continues to cause controversy
A company owned by the Brazilian striker's family received €40m when he moved from Santos to Barcelona for a fee of €86.2m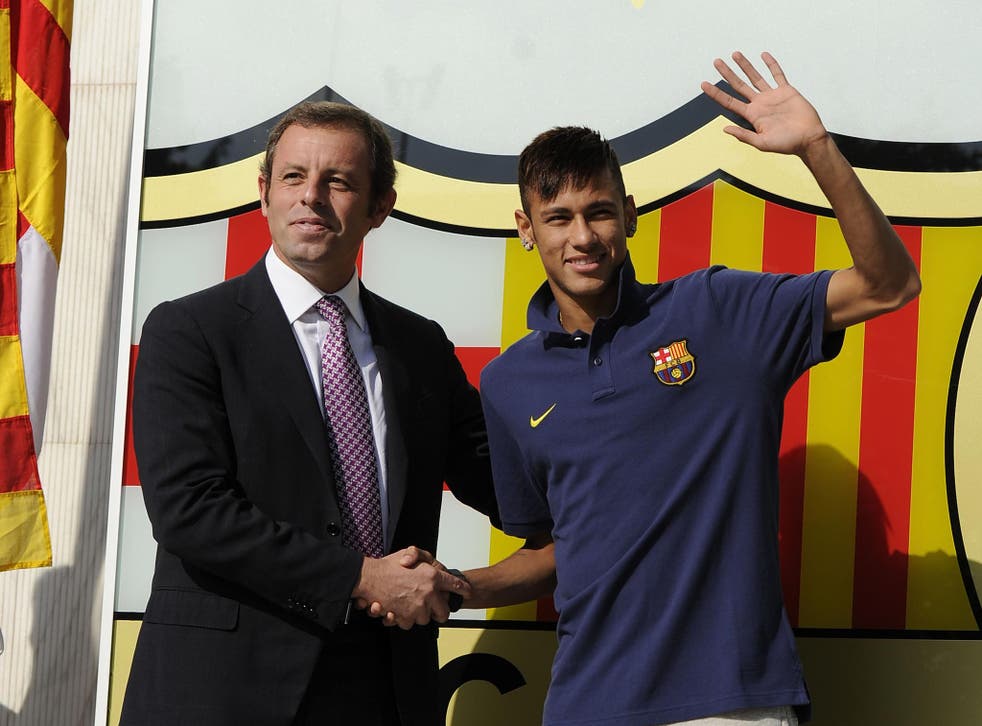 Barcelona striker Neymar has launched an attack on his former club Santos and spoke out in support of his father, who the player insists had the right to make millions from his transfer to the Spanish champions last year.
A company owned by the Neymar family received €40m (£33m) when the Brazilian moved from Santos for a fee Barcelona have since reported to be €86.2m.
Barcelona were charged by a Spanish court with committing tax fraud in the signing of the forward in the latest twist to a saga that has already claimed the scalp of one club president.
Santos's share of the deal was €17.1m, prompting the club's fans and officials to question the deal.
Santos asked a court to let them see the Neymar family's contract with Barcelona with a view to seeking a bigger cut of the transfer fee. The club lost their case and are now threatening to ask a Spanish judge to order Neymar and Barcelona to hand over the contract.
The 22-year-old, in a short and angry attack on his official Instagram page, protested his father's innocence and hit out at Santos's current and former presidents.
"I am sick and tired of this... I've had enough of all this talk," Neymar wrote. "I am a fan of my dad for having put me where I am, and if he makes millions from that, what's the big deal? He worked for it, it didn't just fall in his lap."
After Barcelona president Sandro Rosell stepped down last month following an allegation of misappropriation of funds made by a club member, Barcelona admitted Neymar had cost €86.2m, including payments to the player and his family, and not €57.1m as they originally said.
In a Madrid court, Judge Pablo Ruz stated there was enough evidence to merit tax charges over the transfer.
"The economic quantities paid by FC Barcelona to Santos for the sporting rights of the player and paid to other entities associated to the player means the player could have profited from the deal (...) and should be taxed on that income," a statement read.
The judge had requested Barcelona's tax records relating to the Neymar deal and had asked the tax authority to calculate the scale of the alleged fraud.
Ruz is also investigating Rosell over the deal, which came to court after club member Jordi Cases, a pharmacist from the town of Olesa near Barcelona, filed a lawsuit.
Barcelona denied wrongdoing after local media reported on Wednesday that Spain's public prosecutor had asked the judge to lay charges.
"The club's actions have, at all times, regarding that operation [to sign Neymar] and in line with the available information, been fully compliant with existing law," Barcelona said in a statement.
The Spanish champions added they would be sending legal representatives to court "in the coming days" to defend their rights and interests.
PA
Join our new commenting forum
Join thought-provoking conversations, follow other Independent readers and see their replies