Former Arsenal striker Nicklas Bendtner's rollercoaster career has finally reached the last-chance saloon
The Danish striker has played for three different clubs since leaving Arsenal three years ago, but faces his biggest test yet at Norweigian side Rosenborg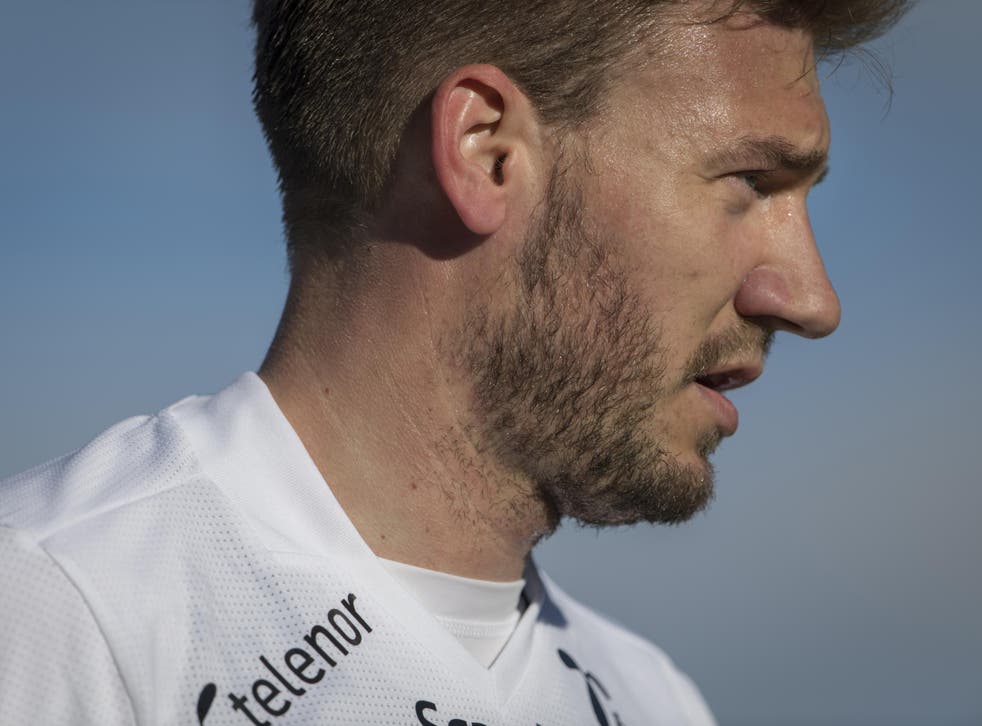 It was the sort of headline that prompted people all over Norway to immediately check their calendars. But no, April 1st was still weeks away, and Rosenborg had in fact signed Nicklas Bendtner.
It seemed a profoundly odd match on the surface of things. Rosenborg, the relentless domestic juggernaut whose core values are teamwork and cohesion. Bendtner, the great wayward talent of Scandinavian football, a man whose memes precede him.
But there was also great excitement. Fans of Norwegian football clubs are at this point used to seeing players leave the country for more lucrative leagues as soon as they show any kind of promise. A household name actually arriving is a rare thing indeed. The media interest in Bendnter at Rosenborg has been overwhelming from day one, to the point where their sporting director Stig Inge Bjørnebye has grown more than a little bit exasperated.
"If we had to acquiesce to every media request we get that's to do with Nicklas Bendtner, we wouldn't get anything else done", he tells the Independent.
Before actually signing Bendtner, Rosenborg had held a series of meetings with the big Dane. They were impressed with his attitude, and were left convinced that he wanted to leave his checkered past behind him.
Upon signing for the club, Bendtner wrote on his Instagram-account that "I'm no expert on Norwegian football (yet), but I know that Rosenborg is the very model of a stable club, one that gets the best out of its players. This kind of stability is something I have both underprioritized and missed since my time at Arsenal, now we will see what can happen if I experience it again".
Rosenborg is, by and large, the very model of a stable club. During the stewardship of inspirational manager Nils Arne Eggen they won an incredible 11 consecutive league titles, and participated in the Champions League for 8 consecutive seasons. After Eggen stepped down in 2002 they won two more titles, taking their run of uninterrupted title wins to 13.
However, replacing a dynastic manager like Eggen is never easy, and between 2005 and 2014 Rosenborg went through a period of changing managers more often than they would have liked, notching up "just" three league championships in the process. The shadow of Eggen loomed large over Rosenborg managers during this period.
Should they go their own way and develop the team as they saw fit, or should they follow the methods that had brought the club such unparalleled success a decade earlier?
But since Kåre Ingebrigtsen, a once a Rosenborg player under Eggen, took over as manager in 2014 the club appears to be back to its old, indomitable self. Embracing the core values of the Eggen-era whilst not being slavishly beholden to it's methods, Ingebrigtsen appears to have struck a balance between learning from the past and moving the club forwards. Rosenborg won the league in 2015, 2016 and appear to be on their way towards winning it again this season.
Though they may have gotten their groove back in the league, they have so far been unable to recreate their past European glories. "The wealth gap in European football is bigger than it ever has been", Bjørnebye says.
"We have to be realistic and acknowledge what the level of our domestic league is. Compared to some of the other leagues in Europe, we're not at their level. So we have to work hard, be ambitious and try to develop. Player for player we'll always have a hard time competing with German, Spanish, Italian and English clubs, this is obvious. Just look at some of the transfer fees that are being paid".
Rosenborg's transfer record is still the roughly 2 million pounds they spent signing John Carew from Vålerenga in 1999. To compete in Europe, Rosenborg have to be more than the sum of their parts. "We have to find the competitive advantages that we do have. One of those could be that we're good collectively and that we work well as a team".
So far in this brave new era they've come up short. They did qualify for the Europa League group stages in 2015/2016, but they finished bottom of the group with no wins. Last season they were knocked out of the Champions League qualifiers by APOEL Nicosia, and then succumbed to Austria Vienna in the Europa League playoffs.
Non-qualification for the Champions League group stages becomes a vicious circle: Without the huge sums of money earned through participation in the group stages, teams from smaller leagues have a hard time putting together a squad capable of qualifying next season.
This week, against Celtic, Rosenborg hare hoping to take a big step towards breaking this cycle. And while Bjørnebye is keen to stress that Rosenborg are about teamwork more than any one player, there's no escaping the fact that this all eyes will be on Nicklas Bendtner.
According to Bjørnebye, everyone at Rosenborg have been very impressed with how Bendtner has slotted in at the club. "He has experience from a high level, that's one of the reasons we brought him in. He's very good at using his experience and conveying it within the group. He contributes a lot. And he is of course also a very very good footballer, we see this every day. He gets a lot of attention here in the domestic league, he has two-three opposing players around him at all times, which then creates openings for his team mates.
"All-in-all it's an exciting project for us to have Nicklas here and he's only going to contribute more and more".
Not all Norwegians share Bjørnebye's positive appraisal of Bendtner's imapct so far. 6 goals in 14 starts in the league is a reasonable return, though certainly no more than what's expected from Rosenborg's starting centre-forward. Indeed, his rival for a starting place up front, Icelandic utility man Matthias Vilhjalmsson, has a slightly better scoring record this season in spite of starting a number of games in midfield.
With Rosenborg dropping more points than usual in the first half of the season, critics have been quick to point a finger at Bendtner.
There have also been glimpses of real quality. A huge goal away to Sarprsborg in the league, where he whacked a half-volley into the top corner. An superb flick-on in the build-up to Rosenborg's crucial equaliser at home against Dundalk in the last qualifying round. That Bendtner has deep wells of raw talent has never really been in dispute, the question is how much of it has been squandered over the years and how much of it can still be put to good use.
But no one will care much about a slightly sub-standard domestic campaign if Bendtner's nous and experience can help drag Rosenborg across the line against Celtic this week. The winners of the tie will of course still face a playoff game against a tough opponent before they can count the Champions League millions, but victory will guarantee European group stage action of some kind this season.
For Rosenborg it's the biggest game of the season, and for Bendtner an opportunity to show his worth.
Join our new commenting forum
Join thought-provoking conversations, follow other Independent readers and see their replies