Olympiakos 2 Manchester United 0 match report: Goals from Alejandro Dominguez and Arsenal loanee Joel Campbell see David Moyes' toothless United tumble to new low in Athens
United mustered only one attempt on target against the Greek side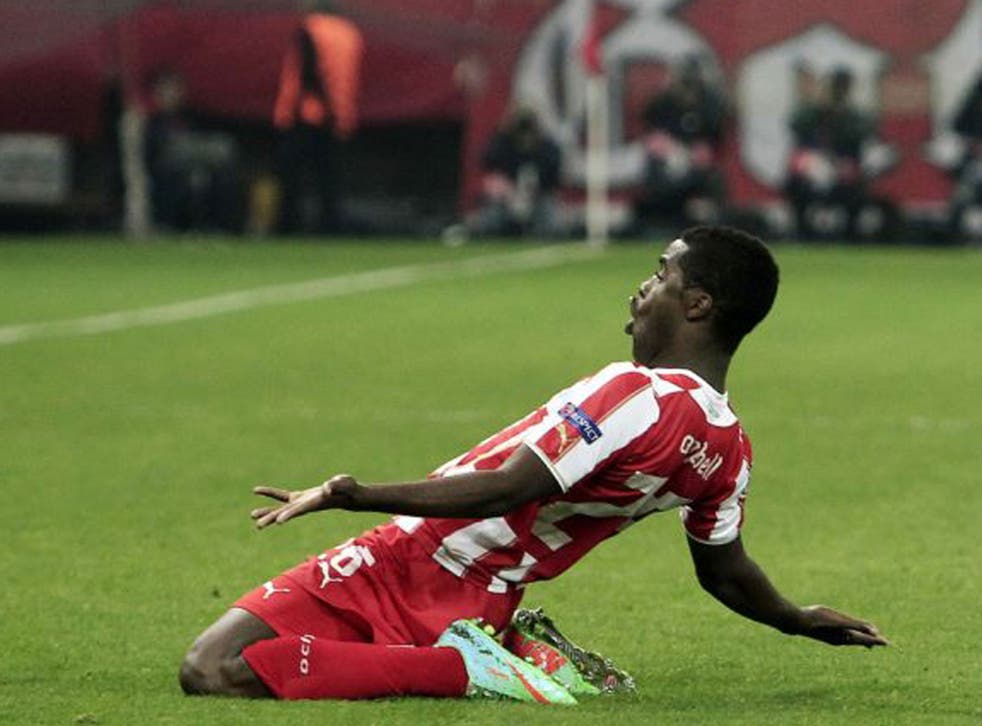 The Manchester United players just wanted to be in darkness. The lights were on in the team coach when the first of them took to it last night and the idea of them being illuminated for the world to see while they waited for the stragglers to board - Michael Carrick and Wayne Rooney clambered up last - was too much. So the driver flicked the switch.
None of the players stopped as they trooped through the mixed zone in the early hours, Greek time. For the first time that anyone could remember, even the club's in-house TV station was not granted an explanation from a player, which it could broadcast to supporters. The most on offer was the odd apologetic grimace or two after what David Moyes said had been his sides's worst performance in Europe - but what, on the basis of the opposition, had actually been the worst under his management. For as long as there was Europe there had seemed to be hope that the wretchedness that holds United in its grip might be cast away. But now even that veneer of idealism has now gone.
Tuesday night's 2-0 defeat to Olympiakos was a performance which chips away at that sense, which exists at the highest level of Manchester United, that this all of this is just a temporary state of affairs – the necessary consequences of a transition – and that the club are ready to turn the corner. Juan Mata signing was a new beginning. Rooney signing a new contract was a new beginning. Yet there is only more wreckage. The image swirling around Twitter late on Tuesday night of executive vice chairman Ed Woodward taking a photograph from the directors' box, while his co-director Mike Edelman sat head in hands and Bobby Charlton looking distraught, after Robin van Persie's late miss was unfortunate. Taken with Michael Carrick's wife Lisa Twitter an attack on Roy Keane – which she hastily withdrew – for having the audacity to criticise her husband, here was an impression that a heavy investment of cash will allow all of this to blow over.
Manchester United player ratings v Olympiakos

Show all 12
United's 11th defeat of the season actually suggested that it may be more complicated than that. Laid bare here was the fact that Moyes' players have been reduced to shadows of their former selves in seven months of his football. And that they can be bereft of ideas or the faintest notion of a gameplan or philosophy. They do not seem to have advanced to the remotest degree under Moyes' custodianship. He has spoken of bad luck and described his flawed inheritance, though on Tuesday night there was nowhere else for him to go. United's defence was poor – vulnerable all night and breached twice by Moyes' players failure to place a telling challenge when it mattered. But the midfield was poorer still: flat, unproductive rows, capable of fashioning next to nothing.
There was a symbol of what United have been reduced to in Rio Ferdinand, early on - looking for options to help build out of defence, finding none and gesturing in vain for others to go short for him. This lack of intuition, man for man, is so unlike the United we have come to know and Ferdinand could not entirely be blamed when he was harried into a pass straight out of defence to dangerous left winger Hernan Perez. It required the first of two strong challenges from Nemanja Vidic in the first ten minutes of the match to stop him.
The weaknesses then manifest in United were those which have become familiar in this poor season - a struggle to attack with any kind of pace and momentum – though a difficulty to keeping on their feet, was less expected. Chris Smalling had already lost his footing once when he fell on his backside in front of the home side's technical area, allowing Alejandro Dominguez to seize the ball and run fully 70 yards into the heart of the United area. Vidic again rescued his midfield from what threatened to be goal of embarrassing dimensions.
Rooney provided what axis he could, dropping to receive the ball and deliver it into the final third, but it was a vain effort. Since you reap what your sow in football, the Greek side went ahead skipper Giannis Maniatis' low free kick from the left was delivered into a packed penalty area, from where Dominguez – escaping United's attention – purposely stuck out a foot to send it spinning beyond the stranded David de Gea.
It had seemed questionable of Moyes to leave Adnan Januzaj out of the entire squad, having brought him here, when there was no match this Saturday to rest him for. But the absence of a player who might inject some ideas into United was the last thing on their mind when the lead was doubled ten minutes into the second half. This time it as Joel Campbell, on loan here from Arsenal, giving the club reason to take him back this summer. It was Carrick who gifted him the opportunity, engaging in the kind of half-hearted tackle which has not belonged in United teams and allowing Campbell to nutmeg him and curl a fine left footed shot from 25 yards, beyond the desperate dive of De Gea.
The game was entering its last six minutes when United finally fashioned a chance. A good cross and run by Chris Smalling found Van Persie, who took the ball into the area, past Ostas Manolas and lifted the ball over the bar.
The defeat means United must repeat Liverpool's legendary three-goal second half display against the same opposition, to overcome a 2-0 aggregate score ten years ago. A tall order, since Liverpool did have a philosophy that year, when they want on to win the competition. Old Trafford, like Anfield, will play its part in three weeks' time but no one will be getting carried away. Though the Greeks are notoriously poor travellers, United have beaten a single team by three clear goals at Old Trafford this season. A weakened Norwich City in the Capital One Cup.
Join our new commenting forum
Join thought-provoking conversations, follow other Independent readers and see their replies