An English coach in Europe: Graham Potter on his Swedish renaissance with Östersunds
Interview: The English coach talks to The Independent about turning around the fortunes of Swedish side Östersunds and his hopes for the future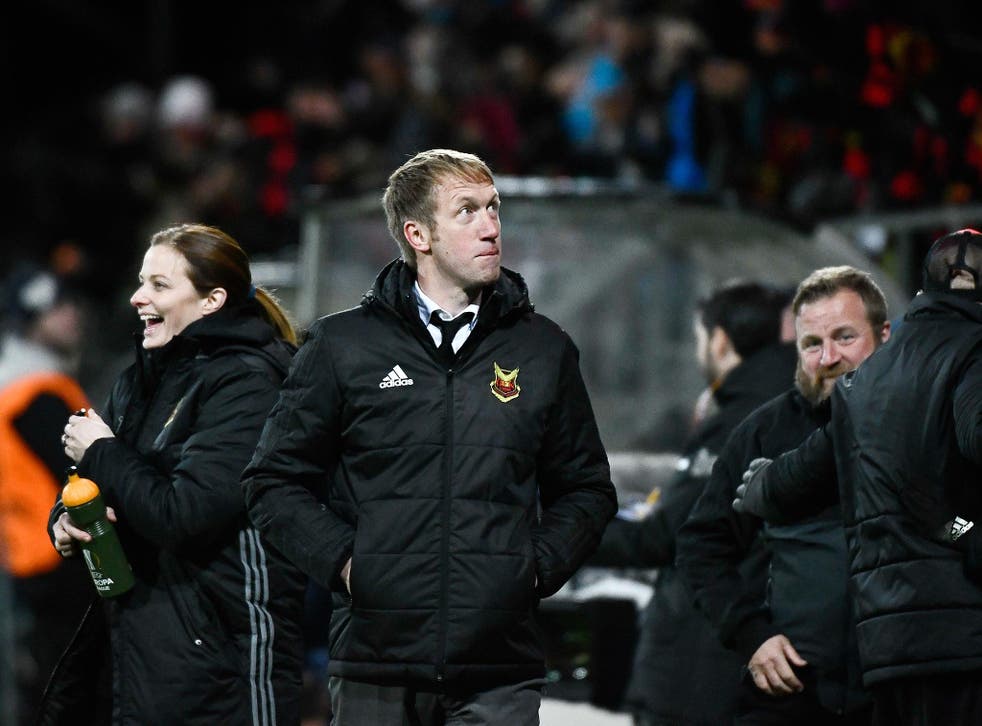 The only Englishman managing a team in European competition this season aside from David Unsworth? That will be Graham Potter, of course, who takes Östersunds of Sweden to Athletic Bilbao on Thursday night as leaders of their Europa League group, having spent some of his weekend watching Barcelona – victors in the Basque Country on Saturday.
"I saw the game with my wife, Rachel, at home in front of the TV," Potter says. "She was asking, 'So they're playing Barca today and then they're playing you – how on earth does that work?' You can get fooled a little bit if Barcelona are involved. Unfortunately, we haven't got a Messi. So, I've paid more attention to the video from our game against Bilbao a fortnight ago."
It was an occasion where Östersunds would experience the relative disappointment of a draw. To reach this moment, they have already knocked out Galatasaray and PAOK Salonika in the qualifying rounds before winning their opening two group fixtures with Hertha Berlin and Ukraine's Zorya Luhansk. It is a sensational achievement for a club that six seasons ago languished in the fourth division of Swedish football, having previously spent its entire history not being able to progress beyond the third tier.
Potter was born in Solihull and played eight times in the Premier League for Southampton in the mid-1990s, one of those appearances as a substitute in the famous 6-3 victory over Manchester United at the Dell. He landed in Sweden in 2011 because he and the Östersunds owner Daniel Kindberg knew Graeme Jones, the long-term assistant of Roberto Martínez, with Kindberg first meeting Jones when Swansea toured Sweden in the summer of 2007.
While Kindberg, a former army battalion commander, served in Bosnia and the Democratic Republic of Congo before entering the real estate business upon being deployed to a barracks in Östersund, Potter went there recognising there would be few opportunities in England after studying a master's degree at Leeds Metropolitan University.
"The club had reached a bit of a bottom and the only way was up," Potter remembers. "It meant we were afforded freedoms to do things the way we wanted. On the flip side, the club was in a really bad situation in terms of the negativity around the town. It doesn't matter where you are, if the football club starts to lose trust from the supporters, you have to invest a lot to time and work really hard to get it back."
Amongst Kindberg's unusual initiatives to form a harmony between the townspeople and its football team was a special production of Swan Lake by Östersunds' players – as well as an exhibition of their own artwork. It has been results on the pitch that has reignited interest the most, though. Potter achieved back-to-back promotions in his first two years. Östersunds are in Europe now because they won the Swedish Cup in April. This season, they are on course for the highest league placing in their history. Since 2011, average attendances have increased by more than ten-fold. The story is made more remarkable by the club's location and the fact Kindberg hasn't simply spent his way through the leagues.
"In Sweden, anywhere north of Stockholm is essentially the wilderness and we're five hours north by train," Potter explains. "We're also two and a half hours away from the nearest town which would be Sundsvall to the east or Trondheim (in Norway) to the west. That provides its own challenges and opportunities. If you recruit the right people you can create a closer bond and a spirit. On the flip side, if you make mistakes with recruitment you can quickly have problems because it's a small town and there's no escape.
"Persuading Swedish players to move to the northern part of the country isn't straightforward because we have the location issue and the short history of our club, which was only formed in 1996. We don't have a long tradition. So, we've had to provide a reason for them to come.
"When I first came the winters felt a lot colder, often as low as minus 30 degrees. Whether I'm just used to it now or whether it's global warming I'm not sure. We still get days when it drops very low but they are fewer. Östersund has marketed itself as a winter city. But that's changing now, with the success of the football team."
Geography means Potter is leading a global squad with players coming from England, Nigeria, Ghana and France – as well as the Swedes that play for their country of heritage like Iran, Iraq, Syria and Palestine.
"Experiencing other people's view on life has been fascinating," he says. "Coming from England, we're on an island obviously, and we have this view of ourselves and how things should be. Sometimes it helps to see the world through someone else's eyes.
"The players we've signed are the ones English football have discarded," he continues. "There are hundreds of thousands of boys out there with the talent but because of the numbers and the opportunities at first team level, they can't get the games. At the moment, we have Jamie [Hopcutt] and Curtis [Edwards], lads who have shown promise as youngsters but have been willing to try something different by developing with us by getting the game time they really need. There has to be a willingness on the players part as well.
"Once players can see a pathway, there's a greater chance they'll come to you," Potter is convinced. "Football is a global market. Now that England have won major tournaments at different youth levels, foreign clubs will recognise the talent is there and if the block to the first team continues, will do their best to sign them. Ultimately, good players need to play and they don't always at a young age in England."
Hopcutt and Edwards had been at different clubs in the eighth tier of English football before moving to Sweden. Potter can relate to them because Sweden offered breaks when England did not, though he does not sound frustrated at all when he speaks about his own experiences.
"The challenge for coaches is a bit like with the English players. There are only so many jobs out there. I don't think it's fair to say the standard of English coaching is bad. It's more about pathway: how you can get a break and then progress from there. Even at the lowest levels there is impatience now, so you need a bit of luck in terms of the owner or chairman that you work with.
"Michael Appleton is a good example of someone who is doing the miles and making progress. I think you've got to be creative and clear with your ambitions but be prepared to be flexible as well. I went abroad because I thought at the time it was going to be my only chance. It's such a competitive industry. When the opportunities come around, you have to be as ready as you possibly can."
Potter does not see English football management as the utopia it is advertised to be, however. He is open minded about his next step.
"I will go wherever, providing it's the right club for me. I've worked really hard to get to this point. My family has made sacrifices, moving away from home. I still think there's a lot to do in Östersund. We'd like to win the league title and try to compete in the Champions League. Football management is such a precarious job so I don't take anything for granted at all, though. I'm enjoying the moment for what it is now – and it's a great time to be a part of Östersunds."
Immediately, he is thinking about the threat posed by Iñaki Williams, the rapid Bilbao forward who scored against his side in the 2-2 draw two weeks ago; he's thinking too about how to stop Aritz Aduriz, the evergreen striker, and Iñigo Córdoba, the promising winger whose intelligent movement caused so many problems in Sweden.
"In terms of finance, there's no way we should really be competing," Potter admits. "But we've been working together for quite a long time now as a group and that gives us a belief that perhaps isn't always there at other clubs. Ultimately, though, It's the results that kick you on – particularly the Galatasaray one.
"We played really well at home and won 2-0. We were probably quite fortunate that we caught them quite early in their preparations for the season and when they were in a transitional period. But still, we played well and then went over there and dealt with the hostility of the environment. Initially, I was like, 'Wow, this is some place.' We got a 1-1 draw and ended up getting clapped off by the Galatasaray supporters. From there, we kicked on.
"Belief is an unfathomable thing," he concludes. "Amazing things can happen when you have it. There's been no reference point for the players, of course. There's no, 'This can't be done.' We've gone into the unknown with a charming naivety."
Join our new commenting forum
Join thought-provoking conversations, follow other Independent readers and see their replies