As it happened
ended
1518721136
Ostersunds FK vs Arsenal, Europa League live: Team news and goal updates
Follow minute-by-minute coverage of Arsenal's match in Sweden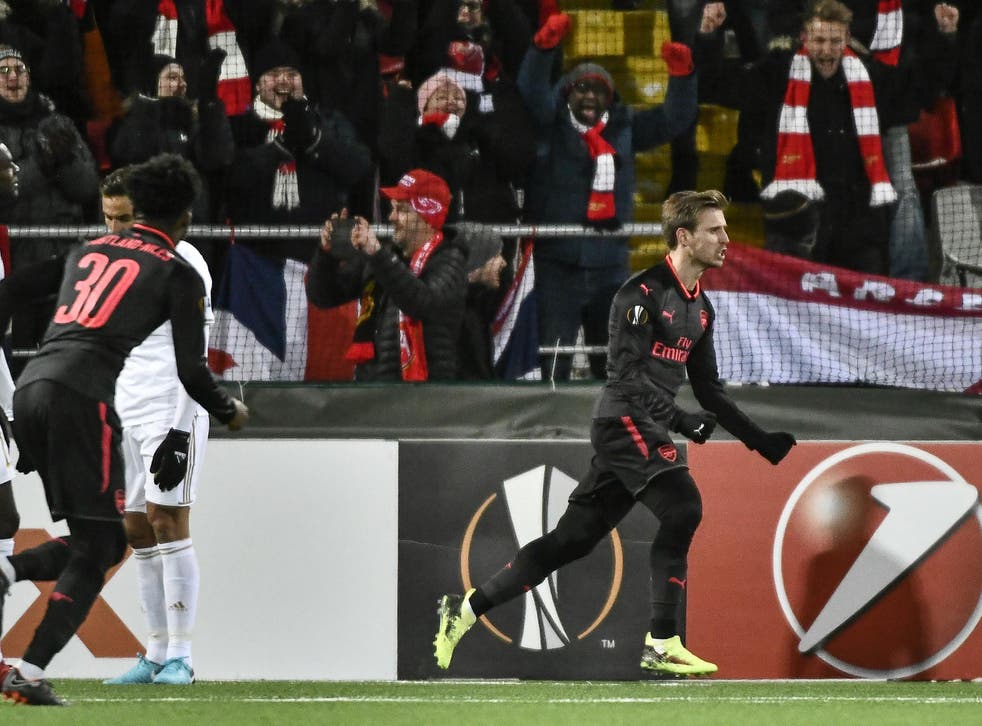 Arsenal are preparing for their Europa League Round of 32 first-leg clash with Ostersunds FK tonight, hoping that the competition will provide them with a welcome route back into the Champions League next season.
The Gunners look set to miss out on the top four for the second season running following last weekend's disappointing defeat in the North London Derby but the bookies make Arsenal big favourites for their first-leg against their Swedish opposition despite their very poor away form, having lost each of the last four games on their travels.Nevertheless, the Gunners cruised through the group stages of the competition to set up the favourable draw against the Swedish minnows and have performed generally well in Europe so far so they will have their sights firmly set on killing the tie as soon as possible.
But the Swedish side who were only founded 21 years ago will be hoping to spring a major shock, led by the sole British manager in the Europa League, Graham Potter, who took over at the helm in 2010. He has since guided Ostersunds FK from the Swedish 4th tier to the heady heights of Europa League football and will be hoping that the miracle continues in this historic clash.
Follow all of the live action below!
What time does it start?
Ostersunds FK vs Arsenal kicks off at 6pm.
Where can I watch it?
The match will be shown live on BT Sport 3 from 5.30pm. Highlights will be shown at 10.15pm on BT Sport 2.
It's a big game for…
Danny Welbeck: The Arsenal forward has been plagued by injury during his Arsenal career but is ironically the only fit and available first team striker for the Gunners tonight.
Alexandre Lacazette has a knee injury, Olivier Giroud has been sold and Pierre Emerick Aubameyang is cup-tied in the Europa League, much to Arsene Wenger's frustration.
Arsene Wenger has criticised Uefa's rule which leaves Arsenal's £56m January signing Pierre-Emerick Aubameyang ineligible to play in their Europa League round-of-32 first leg against Ostersunds FK on Thursday evening, and the rest of the competition, despite the striker having not played in it this season.
So the pressure falls upon the shoulders of the former Manchester United forward who has five goals to his name so far this season.
Best stat
18: It is 18 years since Arsenal last took part in this competition having qualified from the group stages of the Champions League for 17 seasons running prior.
In the 1999-00 season though, the Gunners progressed to the Uefa Cup final where they were beaten by Galatasaray in a penalty-shoot out.
They will be hoping to go one better, this time around.
Player to watch…
Alhaji Gero: The Nigerian forward has scored two goals in Ostersunds memorable Europa League campaign thus far, helping them qualify for this stage for the first time in their history.
He will be looking to take on his fellow countryman in the shape of Alex Iwobi in pursuit of springing one of the biggest shocks in the competition.
Gero to be the hero?
Form guide…
Ostersunds FK: WDWLDW
Arsenal: LWLWWL
Odds…
Ostersunds FK to win: 7/1
Arsenal to win: 21/50
Draw: 18/5
1518713300
Good evening and welcome to our live coverage of the big one: Ostersunds FK vs Arsenal in the Europa League.
Jack Watson will be here shortly with team news and build-up before minute-by-minute coverage of the match itself.
Vithushan Ehantharajah
15 February 2018 16:48
1518714725
Usually when I put the team news here I use the fancy graphic that clubs use, however finding Ostersunds was a little tricky. The Twitter account I was lead to believe was their official English one had something about Arsenal Fan TV as their latest tweet.
So here's how Arsenal's Swedish opponents, Ostersunds, lineup. The old fashioned way:
Keita; Mukiibi, Papagiannopoulos, Pettersson, Widgren; Edwards, Mensah, Nouri; Sema, Ghoddos, Abdullahi Geero.
Subs: Tekie, Bergqvist, Hopcutt, Aiesh, Andersson, Sonko Sundberg, Islamovic.
Jack Watson
15 February 2018 17:12
1518715053
Mesut Ozil makes his first appearance in the Europa League for the Gunners and partners Danny Welbeck in attack.
Henrikh Mkhitaryan also starts. He wears the number 77 shirt this evening instead of his usual number 7 because two players cannot wear the same number in a campaign.
Alexis Sanchez, remember him, Arsenal fans? He previously repped 7 on his shirt so Mkhitaryan has doubled up.
Jack Watson
15 February 2018 17:17
1518715454
So who exactly is Graham Potter? A quick search online and the clever among you will find out he's an English manager in charge of Swedish side Ostersunds.
The Independent's Lawrence Ostlere has the in-depth story on what the man who made over 300 appearances in England, is up to in Sweden.
Jack Watson
15 February 2018 17:24
1518715656
'It doesn't make any sense'
Arsenal are without record signing Pierre-Emerick Aubameyang because his previous side, Borussia Dortmund, are playing in the competition. 
And guess what, Arsene Wenger isn't too happy about it. "Unanimously I know all clubs agree now that this rule has to disappear," he said. "It doesn't make any sense."
Jack Watson
15 February 2018 17:27
1518716058
Wenger's an 'inspiration'
Ostersunds manager Graham Potter, reveal that Arsene Wenger is an inspirational figure and says he will show their opponents respect.
"We respect the opposition but we want to represent ourselves in the best way that we can. He's (Wenger) done an incredible amount for English football. He's up there with anyone.
"I remember playing in the 90s when we were just coming out of the European ban and it was a bit like the dark ages. He is part of the reason why English football has changed. When you talk about a human level and for him to cope with what he has and stay at the top level for so long. He's an inspiration for me."
Jack Watson
15 February 2018 17:34
1518716502
A way into the Champions League?
It seems Arsenal's chances of squeezing into the top four are getting smaller and smaller with every week that passes. Last season Jose Mourinho appeared to sacrifice the latter stages of Manchester United's dismal Premier League campaign and focus on winning Europe's second tier-competition to put United back into the company with the continent's finest. 
Arsene Wenger has named reserve and youth players in most of his lineups so far in the competition, but this evening's team with Mesut Ozil, Henrikh Mkhitaryan and Shkodran Mustafi, along with other first team players, suggests he might feel Arsenal stand a good chance to win the Europa League and gain access to the Champions League.
Atletico Madrid are favourites to win the final in May, but European heavyweights Borussia Dortmund and Napoli may also fancy their chances against the Gunners.
Jack Watson
15 February 2018 17:41
1518717101
Spice Girls were at the top of the charts with Say You'll Be There when Ostersunds were formed. Crikey!
Jack Watson
15 February 2018 17:51
1518717365
Right, just five minutes until kick off. Follow all the action from north Sweden where its -3 degrees! How will Arsenal cope and will Arsenal Fan TV trend in the next few hours? Those answers and more, coming up!
Jack Watson
15 February 2018 17:56
Join our new commenting forum
Join thought-provoking conversations, follow other Independent readers and see their replies