Cristiano Ronaldo vs Edinson Cavani and more: The duels that will decide Paris Saint-Germain vs Real Madrid
Will PSG be able to mount a historic Champions League comeback?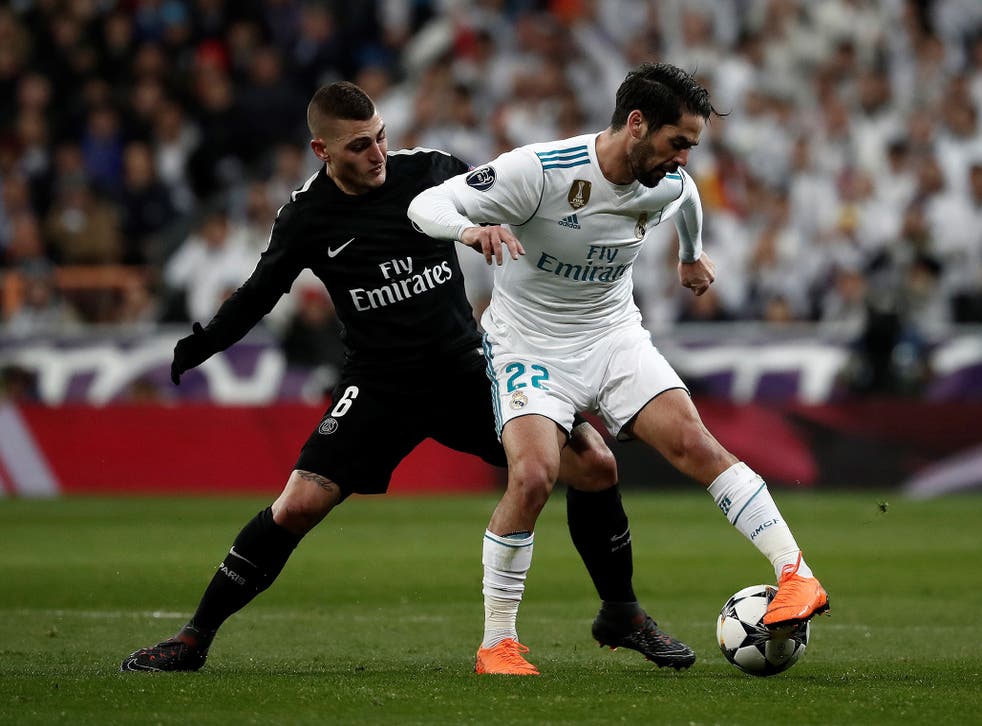 Paris Saint-Germain host Real Madrid in the second leg of their Champions League Round of 16 clash tonight.
With Zinadine Zidane's side holding a 3-1 lead from the first leg, the pressure and emphasis is very much on Umai Emery's men to go on the attack and turn around their two goal deficit.
It promises to be a thrilling match with PSG likely to be on the front foot from the outset. Here's a look at the three key battles under the lights at the Parc des Princes which could well decide the game.
Cristiano Ronaldo vs Edinson Cavani
With eleven goals in the Champions League last season, and four clear of the second highest scorer in this year's competition, Ronaldo has once again been a player of almost indescribable importance for Madrid, in their quest to win this tournament for a third year in a row.
Ronaldo has, at times, carried this star-studded Madrid side, and whilst Zidane's men desperately need to figure out a Plan B, his contribution will be vital in ensuring Madrid protect and retain their advantage in this second leg clash.
However PSG have a goalscoring talisman of their own: the in-form Uruguayan forward Edinson Cavani. With six goals in the competition this season, Cavani will be looking to steal the limelight away from Ronaldo, and propel himself up the Champions League scoring charts.
One sense that if goals are to be scored on Tuesday night – and it is highly likely that there will be a handful – Ronaldo and Cavani will certainly be involved.
Isco vs Marco Verratti
PSG will look to control this game from the outset while Real Madrid are likely to play on the counter-attack, meaning that this game will likely be won and lost in the middle of the park, as both teams attempt to implement their game plan. Therefore Isco and Marco Verratti – two players who like to dictate the tempo and direction of play – will be key.
Veratti has been in fine form for Emery's side in 2017/18, putting in particularly impressive displays against Celtic and Bayern in the group stages. And with the Italian tending to sit in a slightly deeper, more defensively orientated role for PSG, he is likely to be faced with the pace, trickery and attacking intelligence that Isco.
The Spaniard had been in tremendous form throughout the current campaign and has long since surpassed Gareth Bale in Zidane's preferred starting line-up. This contest between two prime defensive and attacking talents could prove key in deciding the victors in tonight's clash.
Zinadine Zidane vs Unai Emery
Zidane is attempting to mastermind a third successive Champions League trophy for Los Blancos, but PSG present them with a considerable challenge – even trailing 3-1.
Madrid's sole defeat of the group stages came away to Spurs, in a 3-1 defeat, and Zidane will be aware of the similar challenges posed by this PSG side, under the renowned tactician that is Emery.
It will be a meeting of two great minds and, from the starting elevens to the substitutions, every decision will be key.
Join our new commenting forum
Join thought-provoking conversations, follow other Independent readers and see their replies