Pep Guardiola to Qatar: It's not as barmy as it sounds... but we won't know anything until at least the summer
COMMENT: The Spaniard is keeping his cards close to his chest, like usual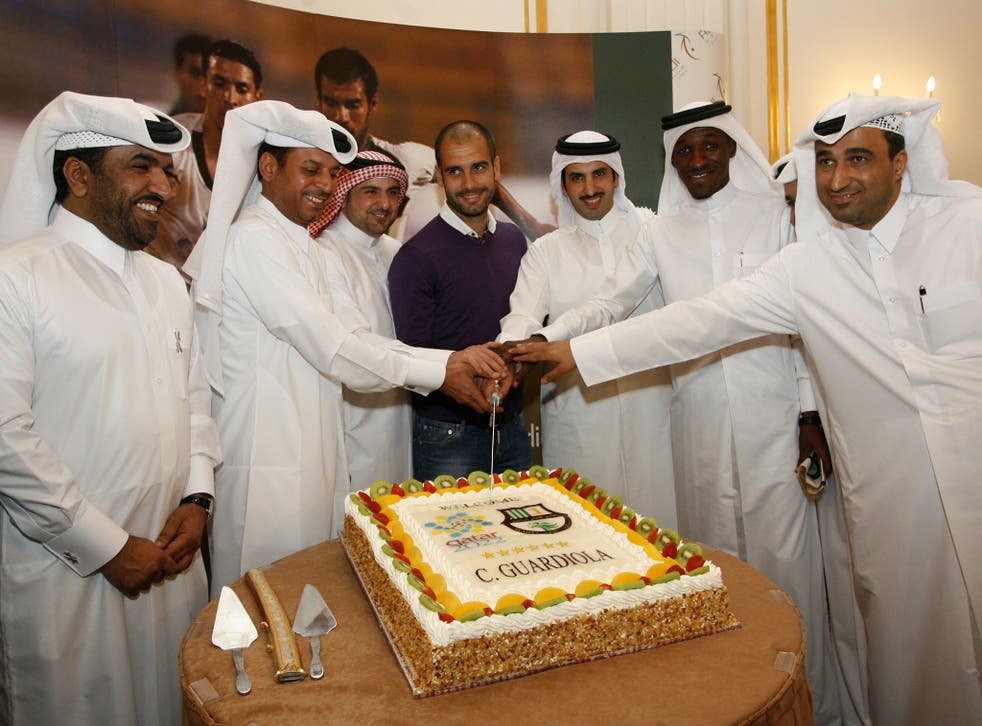 Saric, Stojanovic, Markovic, Memisevic, Damjanovic, Vidal and Capote. Those are the names of seven of the sixteen players who lined up against France in the Handball World Cup Final on Sunday. All of them were playing for Qatar.
That Qatar were hosting the World Cup was scandalous enough in the world of Handball. That they managed to reach the final with a team made up almost entirely of players who had been discarded by their own countries was even worse.
Qatar had exploited a peculiar rule in international handball which allows players to switch national teams if they have not played internationally for three years. The patchwork elephant knocked out Germany in the quarter finals, and were duly painted as evil incarnate in the press.
Now, it seems, publications like Bild are getting paranoid about Qatar. A report in the paper's weekly sport magazine today proclaimed that Pep Guardiola himself may be on his way to the Gulf State. The logic is that if Qatar are unable to buy players for their football team as they have done in handball, they can at least buy a star manager.
It's not as barmy as it sounds. Guardiola, infamously, has had strong links to Qatar for over a decade. He finished his playing career there, acted as a healthily remunerated ambassador for their World Cup bid, and has fallen over himself to ensure that Bayern continue their annual trips to the country for a winter training camp in the last two years.
Lapping up the sunshine at the last of those camps in January, Guardiola took some time out to talk to his compatriot and acquaintance Rivera Lopez, the man who led Qatar to their triumph in the handball. As Bild frantically put it: could they have been talking about the 2022 World Cup?
Maybe. Maybe they were talking about Catalan independence, or last year's royal abdication, or where it was possible to get a beer for under twelve Euros in Doha. Maybe they were talking about fishing, or Game of Thrones, or Franck Ribery's beard.
With the right pay package, and the right developments in his career in the next seven years, there is a high chance Guardiola might lead Qatar to the World Cup in 2022. But how can we know? It is doubtful if Guardiola himself even knows. This is a man who, even at his beloved Barcelona, only signed one-year contracts.
At Bayern, he started with a three-year deal, largely due to the sweet talking of Uli Hoeness, Karl-Heinz Rummenigge and Co. But now, with eighteen months left on that contract, Guardiola is remaining predictably coy about his future. He will begin negotiations for an extension in the summer.
Whether he extends will depend on what he has achieved at Bayern. The Champions League, one way or another, will play a big part in whether he wants to leave or not. He is unlikely to leave Munich without having won it. If he can't win it by 2016, he may lose some of the unconditional support he currently enjoys.
What is almost certain is that, if Guardiola does go to Qatar, he will not go next year. It would be a political and economic move to take the job, and one which would likey be limited purely to the 2022 World Cup. Until then, the man who keeps his cards close to his chest will continue to do so.
He is happy in Munich, he says. He will discuss his future in the summer. End of discussion. Black card, Lister. That is all we, Bild, Bayern and the Qatari FA can really know.
Join our new commenting forum
Join thought-provoking conversations, follow other Independent readers and see their replies