PSG add substance to star names to knock out Champions League holders Bayern Munich
PSG 0-1 Bayern Munich (agg 3-3): First-leg away goals prove vital as the holders exit despite winning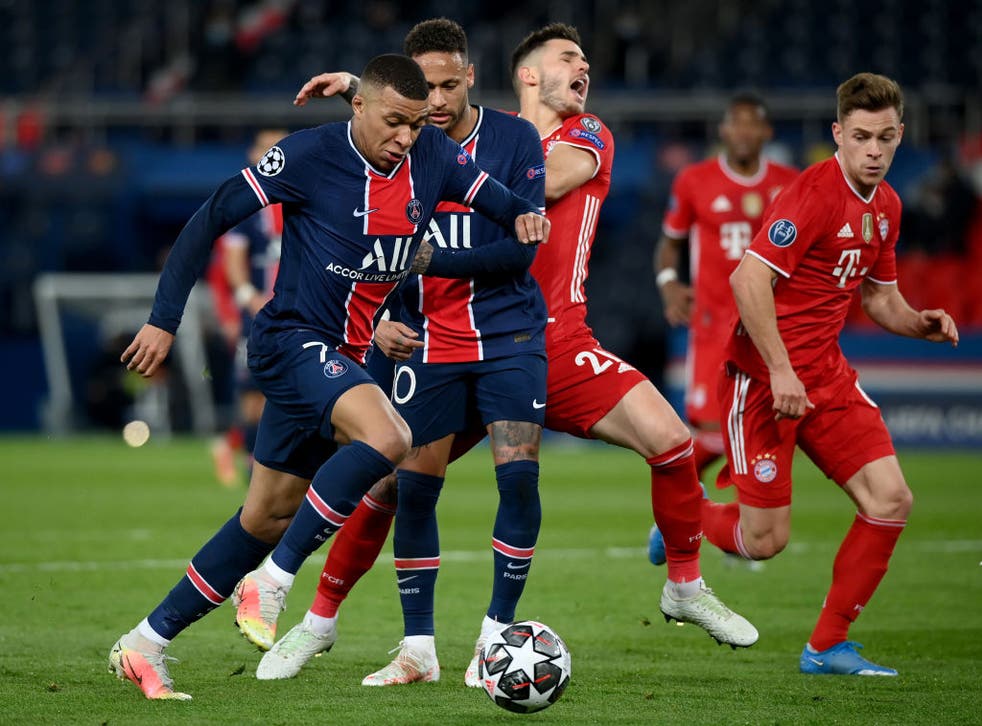 By failing to score, and even losing 1-0, Paris Saint-Germain's array of stars display new strength.
This lavishly indulged sportswashing project held their nerve as a team, to send Bayern Munich out of the Champions League in the most electrically charged of knock-out ties.
Through that, the French champions gained revenge for last season's final, but also arguably made progress despite that having previously gone so far. This might well have been the first time since they were bought by Qatar when they have beaten a super-club of equal level. That kind of resolve might be what Mauricio Pochettino has added. Bayern couldn't add more to Eric Maxim Choupo-Moting's first-half strike, and went out 3-3 on away goals.
This certainly felt more significant, and more valuable, than the victory over a diluted Barcelona.
The question will of course be how diluted Bayern were, and whether things might have been different with Robert Lewandowski.
The question for PSG, though, is just about what next. They will feel like they can beat anybody, having knocked out the European champions, and that they can be champions themselves.
A grand meeting with Abu Dhabi's Manchester City may await, in a sporting occasion weighed by geopolitical context.
This was mostly weighed by a glorious tension. There was so long when it looked like it was going to be one of those games when it could have been 4-1 to PSG, but would instead – inevitably – end 2-0 to Bayern. Kylian Mbappe and Neymar were exquisite, up until the finish.
All of the misses made it a great knock-out game in a more old-fashioned way, precisely because there wasn't a goal every few minutes. That meant every moment was imbued with an exhilarating anxiety, in the classic manner of Champions League ties of the 90s.
The very absence of goals meant the next crucial moment would mean all the more. It wasn't the only contrast.
There were extended periods of the game when Bayern's attack just looked so leaden against PSG. The French champions' stars were in the mood – but just couldn't put the ball in the net.
Mbappe was creating chaos any time he got on the ball, through his own sublime control of the ball.
There is just such a smoothness to his speed. Benjamin Pavard could handle neither for one marvellous piece of play in the 10th minute, as Mbappe took him out of the game with mercurial movement. It was the source of so much that was good about PSG's play, and should have been the source of a goal minutes later. Manuel Neuer, however, stayed strong as Neymar struck.
It was just one of many moments when the Brazilian went close. In the space of a few minutes shortly before half-time, he struck the bar and the post. The effort that hit the crossbar was particularly luxurious, as Neymar curled a divine effort around Neuer but that bit too high.
If all of these close efforts made it feel like PSG should have been way out in front, that wasn't quite the case. It was a largely even game where Bayern had as much attacking play, but just didn't have the cutting edge.
There was more of a scruffiness once they got close to goal without Lewandowski, which is why their best efforts up to then had been long-range. David Alaba forced a brilliant save from Keylor Navas with a thunderous drive, before Leroy Sane really should have done better with a second attempt from the edge of the box.
READ MORE: Five things we learned as PSG knock out Bayern
Scruffiness was exactly the way to describe Choupo-Moting's goal, though, and exactly what was required in the moment.
It only felt against the run of play because of the Neymar efforts that had come just before it, but really only went against the general bluntness of Bayern's play. Choupo-Moting, in every sense, just forced it over the line.
It was also exactly what the game required – only elevating the tension, and the stakes of everything that was happening.
Bayern needed only a goal, PSG needed security.
There were still times when the indulgent – almost casual – nature of PSG's play seemed to jar with the urgency of the game. Neymar and Di Maria were especially willing to showboat, but didn't have such scope for expressing themselves for another agonising missed chance in the second half.
All that only added more dramatic weight to the closing stages, as it was impossible not to wonder whether PSG would rue such moments or – worse – rile Bayern into action.
The German champions, for their part, and as is their way, were never panicked into anxious action themselves. They still dutifully persevered as if it was only going to be a matter of time until that opportunity presented itself.
Time was just becoming the issue, especially as Neymar, Di Maria and many other PSG players fell to the ground at every opportunity to disrupt the rhythm of the game that bit more.
Another stoppage – more mercifully for Bayern – came when Mbappe had a goal ruled out for offside.
It was reflective of the game. This really was a tie decided by the tightest of margins. How different it might have been had the frustrating Sane taken a different option with that fateful final pass.
How different it is for PSG.
It felt a night when, in eliminating the European champions, the team added true football substance to so much else around the club.
Join our new commenting forum
Join thought-provoking conversations, follow other Independent readers and see their replies