PSG v Chelsea: Downbeat Jose Mourinho looks on enviously at Parisian talent show of Zlatan Ibrahimovic and Edinson Cavani
Chelsea manager makes Champions League opponents Paris Saint-Germain overwhelming favourites in quarter-final tie
Simon Johnson
Wednesday 02 April 2014 18:44 Comments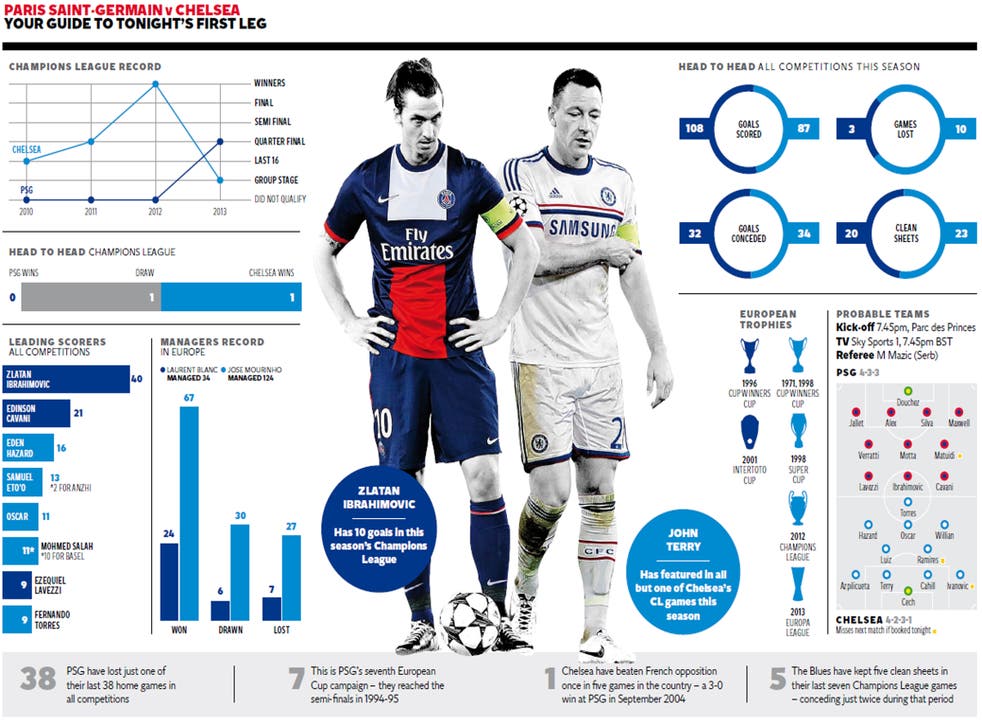 The last time Jose Mourinho was asked to name a Chelsea team ahead of a massive Champions League fixture, he took great delight in reeling off his starting XI one by one. Here in Paris he chose to screw up a piece of paper that contained a list of his players and threw it away.
It was a light-hearted moment to ease the tension ahead of an extremely difficult Champions League quarter-final first leg, but the imagery appeared significant.
Click image above to enlarge graphic
Nine years ago Mourinho was in a much more combative mood as he prepared to take on Barcelona in the Nou Camp at the last 16 stage. The fact there was a squad of players he felt he could rely on back then encouraged such a bold approach and it worked because Chelsea progressed over two fiercely contested legs – his counterpart Frank Rijkaard was left a broken man.
Paris Saint-Germain certainly pose just as tough a test now, as their 28-game unbeaten record at home in Europe testifies, yet Mourinho's stance could not have been more different.
Instead of being the aggressor, Mourinho was charm personified in his pre-match press conference. There were no antics, apart from another dig at PSG's ability to comply with Financial Fair Play rules, just admiring glances for some of the talent they and some of the other quarter-finalists have at their disposal.
The 51-year-old has made no secret that during this second tenure at Stamford Bridge, his team is still very much a work in progress and has many shortcomings.
How he would love to win the Champions League with a third different club having triumphed with Porto and Internazionale, but Mourinho continues to give the impression he does not believe he has the quality to achieve it yet.
The former Real Madrid coach gave a huge insight into his damaged psyche after the 1-0 defeat to Crystal Palace at the weekend by questioning the work ethic and mentality of his players. It was the first indication of surrender.
To add to his woes, Chelsea's top scoring forward Samuel Eto'o had to be left behind in England due to a hamstring injury, meaning the beleaguered Fernando Torres will lead the line.
Given that the Spanish international has hit 13 goals in his last 18 appearances in Europe, one might think Mourinho would prefer that to be the case. However, Torres has proved unreliable and certainly not the talisman that PSG's Zlatan Ibrahimovic, scorer of 10 Champions League goals this season, has become.
While there is no doubt Eden Hazard is a prized asset, one that PSG's owners continue to crave despite spending €300m (£248m) on players over the past two years, Chelsea do not have the wealth of star quality others possess.
As Mourinho explained his reasons for making PSG favourites in the tie, he said: "Because they have a team full of fantastic attacking players, not to mention the others. I could talk about Thiago Silva and go on and on and on.
"It is a team full of fantastic strikers and goalscorers, and that is what really makes the difference at this level. You look to the teams who are in the top eight at this moment, and all of them are good teams. Different, but good teams. Good structures with a certain philosophy.
"But, after that, you go and you see [Lionel] Messi, [Cristiano] Ronaldo, [Robert] Lewandowski, Diego Costa, Ibrahimovic, [Edinson] Cavani, [Ezequiel] Lavezzi – they have lots of them. At this level, it's a very important part of a team."
Conversely, PSG appeared to aim some envy in Chelsea's direction. The comparisons with the west London club are obvious given that both have relied on rich owners to threaten the elite.
Chelsea have already been rewarded for Roman Abramovich's mass spending on the continent, with the Champions League and Europa League secured in the last two years.
PSG have dominated their domestic scene and are on course for a second successive Ligue 1 title, yet winning Europe's premier club competition is a dream, rather than a reality.
It is why their coach Laurent Blanc argues Chelsea should make their experience count against his men, but Mourinho countered: "I don't think it plays a big role. Maybe Paris as a club doesn't have, over the last decade, the same level as Chelsea, but player by player and the picture is not like that.
"Thiago, Alex, Motta, Maxwell, Ibra, Cavani … they have big experience in the competition. Our case can be a bit different. As a club, we are in the Champions League season after season, but we have some players without Champions League experience."
Events elsewhere were also threatening to provide a distraction to the visitors. Reliable left-back Cesar Azplicueta was at his wife's bedside on Monday for the birth of his baby daughter Martina.
Given that Ashley Cole is still sidelined with a knee problem and Dutch youngster Nathan Ake is providing the only cover, Chelsea must be relieved that things were not delayed by 24 hours or more.
Meanwhile, the club were also facing the prospect of being investigated by the Dutch football association over the nature of their relationship with Vitesse Arnhem, where a number of their youth players have been sent on an annual basis on loan.
It added to the feeling that Chelsea need a positive result this evening to lift some negativity, some of which is even in Mourinho's own mind.
Register for free to continue reading
Registration is a free and easy way to support our truly independent journalism
By registering, you will also enjoy limited access to Premium articles, exclusive newsletters, commenting, and virtual events with our leading journalists
Already have an account? sign in
Join our new commenting forum
Join thought-provoking conversations, follow other Independent readers and see their replies