Roma vs Manchester City match report: Samir Nasri smashes City into the Last 16
Roma 0 Manchester City 2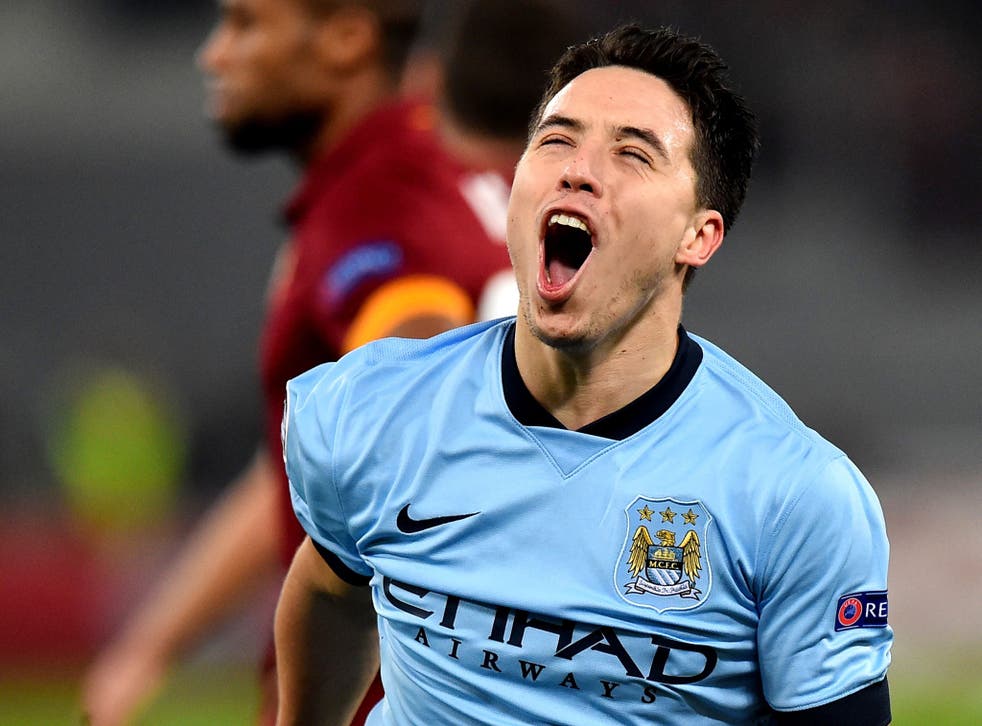 If Manchester City do one day establish themselves as the European super-club that their masters in Abu Dhabi crave then they will always remember this night in Rome, when they finally delivered a victory in a big game in one of the continent's football's great football cities.
It was, quite simply, a masterful performance from Manuel Pellegrini's side who started the match without their four best players and weathered the best that Roma had to offer before twice striking with something better of their own. Samir Nasri's goal on the hour changed the game, and Joe Hart came to the rescue more than once before Pablo Zabaleta's goal put matters beyond doubt.
City are in the last-16 of the Champions League for the second time in their history, and the hydrotherapy pools and precision-cut pitches of their new temple to football in east Manchester will be home to Champions League footballers come the spring, rather than just footballers who have to watch the competition on television.
Manchester City player ratings vs Roma

Show all 11
Bayern Munich obliged with a 3-0 victory over CSKA Moscow meaning that City's eight points were enough to see them into the second round. It was almost half their yield from last season's group stages, after six games in which they conspired to shoot themselves in the foot time and again. But for Pellegrini, and the fans who made it out to Rome, this performance will count for a great deal more.
It looked a very different City in the Stadio Olimpico compared to the side that had folded away from home against Bayern and CSKA. This was a much more sophisticated European performance, one in which they absorbed pressure when required and then seized chances as they presented themselves. All of it with a starting XI that did not include the suspended Yaya Toure or Sergio Aguero, Vincent Kompany and David Silva.
Silva and Stevan Jovetic were fit only for the bench: this was not an evening that augured well for Pellegrini. Ten minutes into the first half and they were subject to an early blast from Roma intended to blow them away.
This was a game that felt like a cup tie; a match in which both teams had a necessity to attack more than they defended and, on that basis, it made for great entertainment. At times it seemed like a mistake might decide it. The strong-running of Gervinho into the City area late in the first half drew a strong penalty appeal from the striker.
It took one fine save from Hart on 20 minutes to brush a shot from Gervinho past his right post to keep the home side out, encouraged, as they were, by the kind of fervent support that City could well do with at the Etihad Stadium in Europe. Yet there was some character about City and gradually they came back into the game.
By the end of the first half, Roma were hitting them on the counter-attack when they did get out, and it is a good counter-attack with the pace of Gervinho. Yet it was City who had as many chances in those later stages of the first half and though none of them looked like they were certainties, Pellegrini's players could have done with one going in.
It was hard to take your eyes off the talented Belgian playmaker Radja Nainggolan who created the goal for Francesco Totti in the corresponding game in Manchester. It was Nainggolan's run and cross from the left on five minutes that fell invitingly for Gervinho and required a good clearing challenge from Gael Clichy on five minutes. Nainggolan picked out the same team mate five minutes before the break.
When it had calmed down a little for City their best efforts came down the right, where Jesus Navas found himself in space more often than not and trying to make the telling connection with Edin Dzeko. Twice he crossed from the right, and on the third occasion slid a ball in between Roma defenders for the striker. The last time Dzeko tried to lift the ball over the defender's foot and made a mess of it.
The Bosnian striker had worked hard for his chances but the absence of Aguero is felt keenly. City needed a goal, a spark – something from nothing, and in the end it came from the right boot of Nasri.
He had been a marginal presence for much of the first half but seized his opportunity on the hour when he was allowed by the Roma defence to move in from the right touchline and set himself for the shot without any serious intervention. There was no attempt at a challenge, primarily by the full-back Maicon and then, when Nasri did strike the ball there was a late flying block from Kostas Manolas.
It was an explosive shot that rose sharply and beat Morgan De Sanctis at his near post, clipping the upright before going in. The chance had been a fleeting one, a brief opening of space in the Roma defence and Nasri took it brilliantly.
Now Roma needed two goals to progress and the mood in the stadium changed to one of foreboding. Nainggolan had a fierce drive pushed over Hart five minutes later. Ljajic twisted his way into space on the left side of the area and fired his shot over and was substituted just a minute later. On the bench he threw his tracksuit to the floor.
At that point, Pellegrini chose to introduce Silva, his first action since the end of October in order to keep the ball away from Roma for longer periods. The home side came surging back and Hart made arguably his best save of the night, pushing a header from Manolas onto his left post. From a subsequent corner he misjudged a cross and it took Martin Demichelis to shepherd the ball away.
Zabaleta's goal came with four minutes left, a forceful run to meet a cross from Nasri. Roma had been caught on the break and opened up – something that all the good European sides do and a quality that City had in abundance on this occasion
Roma (4-2-3-1): De Sanctis; Maicon, Manolas, Yanga-Mbiwa, Holebas; Nainggolan, Keita; Ljajic, Pjanic, Gervinho; Totti.
Subs: Iturbe/Llajic 67, Destro/Totti 69, Florenzi/Maicon 74
Manchester City (4-2-3-1): Hart; Zabaleta, demichelis, Mangala, Clichy; Fernandinho, Fernando; Navas, Nasro, Milner; Dzeko.
Subs: Silva/Navas 67, Jovetic/Dzeko 78, Kolarov/Nasri 89
Referee: M Mazic (Serbia)
Booked: Roma Yanga-Mbiwa Manchester City Dzeko, Nasri
Join our new commenting forum
Join thought-provoking conversations, follow other Independent readers and see their replies