Sam Allardyce, Tony Pulis and Roy Hodgson will know Bayern took the direct route to Champions League victory
The successful tactics of the new European champions are not so foreign to England
Sam Allardyce, Tony Pulis and Roy Hodgson will know Bayern took the direct route to Champions League victory

Show all 2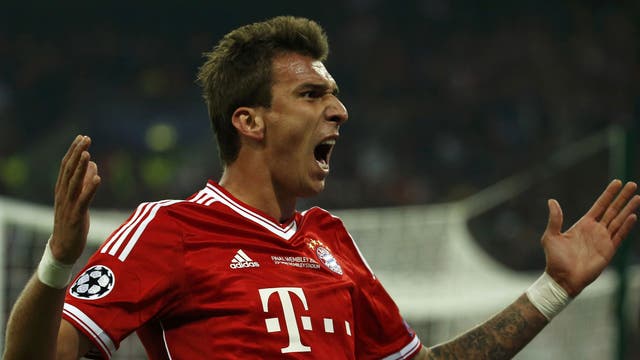 There was inventiveness, fluidity, variety and a high level of individual skill on show at Wembley on Saturday night, but one aspect of the Champions League final may have drawn a wry smile from the likes of Tony Pulis and Sam Allardyce. Both goals scored by the new European champions followed long balls lofted down the middle.
Bayern Munich's first goal began with a goal-kick punted forward by Manuel Neuer; their second came from a free-kick chipped into space behind the back four.
What followed in each case was more intricate. Mario Mandzukic muscled his way underneath the dropping ball from Neuer, played it off his chest into the path of Arjen Robben, who released Franck Ribéry. Robben kept running, making a smart break behind the Borussia Dortmund defence that Ribéry picked out; Robben then squaring for Mandzukic to tap in.
The second was even more direct. Ribéry reached Jérôme Boateng's free-kick – hit from his own half – ahead of Lukasz Piszczek and, with Thomas Müller making space with a clever run, played a neat back-heel to Robben, who burst past despairing tackles to score.
Each goal featured nimble dribbling, good movement and aware passing, but began with a ball that Barcelona never play – as did Robben's first-half chance that Roman Weidenfeller saved with his face.
Bayern played long quite often, aiming for Mandzukic then supporting him in numbers. The Croat's role underlined the validity of comments made by the England manager in Saturday's match programme.
"Big centre-forwards will never go out of fashion," said Roy Hodgson, though their brief, he added, had changed. "Today's No 9 needs pace, mobility and the ability to hold the ball up and provide time for team-mates to get forward and support him. We still want him to act as a focal point for attacks, giving defenders that are under pressure the chance to play a long ball forward, but we also expect him to make runs that threaten the back of the opposing defence and to be in a position in the penalty area to attack crosses."
Hodgson, who selected Andy Carroll for the England squad to play the Republic of Ireland and Brazil this week, only for the forward to withdraw through injury, added: "In the past the classic 'target man' may have got away with being somewhat immobile, but today's No 9 needs to be a superb athlete with the strength to hold off defenders and the pace to threaten behind them."
It was not just Mandzukic's performance that will have absorbed Hodgson. For all the plaudits Barcelona have attracted in recent years there is a school of thought that suggests English football should not try to copy the Barça way. Culture and climate make tiki-taka hard to emulate in the UK. Our game has far more similarities with German football, which is more physical than the Spanish and played at a higher tempo. English football has been guilty of following whatever is in fashion but there is logic to studying Bayern and Dortmund, with their aggressive mixture of direct play and individual skill, and examining what lessons can be drawn from them.
Hodgson will also have noted, though, that the dribbling was provided by a Dutchman and a Frenchman. The wide players in the German national team, such as Lukas Podolski, André Schürrle or Müller, tend to be tactically disciplined, powerful runners and good finishers rather than pacy, jinking dribblers. The same could be said of the options at Hodgson's disposal. It seems players like Robben and Ribéry, who can change and win matches, are as rare in Germany as in England – which is something for the Germany coach, Joachim Löw, to ponder as well as Hodgson.
Join our new commenting forum
Join thought-provoking conversations, follow other Independent readers and see their replies