Steaua Bucharest v Chelsea: No longer 'the happy one' as Jose Mourinho walks out of press conference over Kevin De Bruyne questions
Manager cuts short press conference with club braced to learn if Torres faces FA charge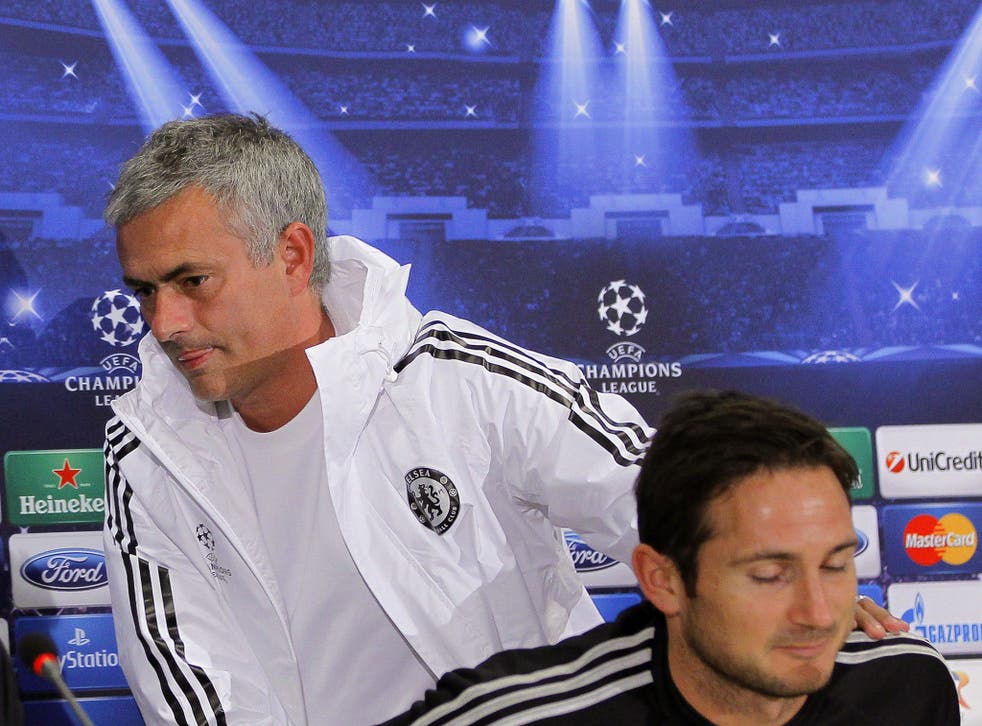 Jose Mourinho, the Chelsea manager, showed the first sign of tension since his return to the club by dramatically cutting short his pre-match press conference here on Monday night.
His side already find themselves in a must-win situation in the Champions League, having lost their opening group game against Basel at home a fortnight ago and Mourinho, significantly, seemed to be feeling the strain. A question over the decision to leave Kevin De Bruyne behind in London prompted him to walk out prematurely, but one suspects the disciplinary trouble striker Fernando Torres is in was partly responsible.
Follow live coverage of Tuesday's Champions League action, including Arsenal v Napoli, Celtic v Barcelona and Steaua Bucharest v Chelsea
Mourinho's preparation for the match has been far from ideal as he still waits to hear from the Football Association over whether it will charge Torres with violent conduct. The Spaniard is already facing a one-game ban after being sent off by referee Mike Dean for two yellow card offences against Tottenham on Saturday. But Dean missed the incident when the forward appeared to scratch Jan Vertonghen's face and the FA's new independent disciplinary panel is examining the evidence.
The FA has until 6pm on Tuesday to decide whether it will officially charge Torres and wants to make sure its case is watertight, but the signs are ominous, considering television images from the game. Chelsea will risk a longer ban if they appeal and, should they choose not to, a decision on Torres' punishment will be taken by Thursday.
Mourinho was already incensed that Torres was sent off in the first place. If the FA confirm it is taking further action, it may affect his team selection in Bucharest.
He was set to start with Samuel Eto'o up front, but will probably opt for Torres instead in the likelihood the Spaniard could be out of domestic action for the next month.
Mourinho's sour mood was evident from the outset as he answered questions in the National Arena and took his opportunity to leave after being challenged on De Bruyne being omitted from the squad.
"This is fantastic because no one asks me about [Juan] Mata," he said. "You have spoken about Mata [not being selected] for three weeks. Now you're asking about Kevin. You are impressed in the players who are not playing. He was not selected. It was my decision.
"I was honest with Juan because of what he's done in training and what he's done in the game he played. With Kevin I didn't like the match he played against Swindon and I didn't like the way he was training. But you only ask about the guys who were not selected. Thank you."
He left before anyone could ask his opinion on Torres, so it was up to Frank Lampard to do it for him. "I'm not sure if he will [be banned for four games]. I wasn't aware what would happen. If he does, then we lose a player in good form, one of our main strikers, for four games," the veteran midfielder said.
"There is not much more I can say other than that if it happens, we have two other top strikers [Demba Ba and Eto'o] and we've spoken about top competition at the club. If it happens, people will have to step up."
Mourinho showed similar behaviour on occasions during his first spell at Chelsea between 2004 and 2007, including refusing to speak to Sky Sports after blaming them for Michael Essien receiving a two-game ban from Uefa for a rash tackle on Liverpool's Dietmar Hamann in a Champions League group game.
Following torrential rain in Bucharest, Uefa will close the roof to ensure tonight's match in the Romanian capital can go ahead.
Chelsea, who are without injured duo Eden Hazard (ankle) and Marco van Ginkel (knee), know the opposition well, having lost here 1-0 in the Europa League last 16 stage seven months ago, before winning the second leg 3-1.
Lampard added: "We're lucky to have played Steaua Bucharest last season so we're aware how good they are and the atmosphere we'll get.
"We lost the game in the first half last year because we started slowly. We have to start tomorrow at the top level given the position we find ourselves in [in the group].
"If we turn up, think we're Chelsea and just need to play to win the game easily, it'll be no good for us. That's not going to happen."
Join our new commenting forum
Join thought-provoking conversations, follow other Independent readers and see their replies