The Independent's journalism is supported by our readers. When you purchase through links on our site, we may earn commission.
Terminally-ill Club Brugge fan Lorenzo Schoonbaert delays euthanasia appointment to see his beloved football club 'win one last time'
Schoonbaert died on Monday by lethal injection, but was given the perfect send off as Brugge won 3-0 in front of him and his daughter
Jack de Menezes
Thursday 05 March 2015 11:42 Comments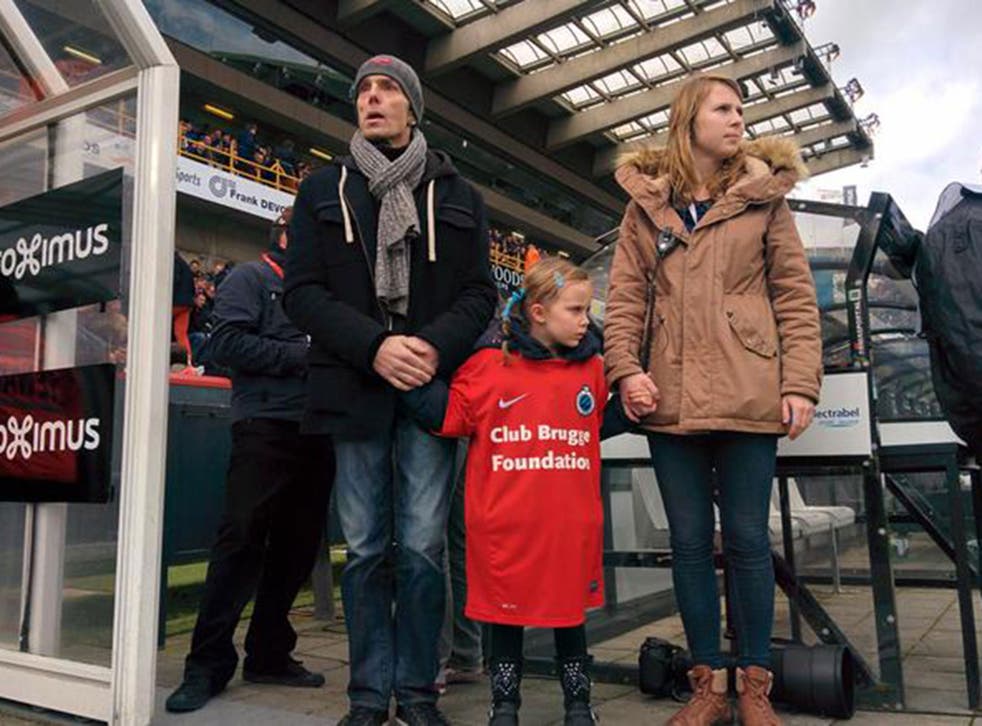 A Belgian football fan with a terminal illness has delayed his euthanasia appointment in order to watch his beloved Club Brugge one last time.
In a touching yet sad story, 41-year-old Lorenzo Schoonbaert took to the Jan Breydel Stadium on Sunday ahead of the club's match against local rivals Moeskroen alongside his seven-year-old daughter Dina to blow the whistle to start the match.
Schoonbaert, nicknamed 'Lorre', has undergone 37 unsuccessful operations over the past 20 years, and under Belgium's liberal euthanasia laws, has agreed with doctors to tragically end his own life. His family confirmed last night that he died after being administered a lethal injection.
However, the original date was postponed as Schoobaert wanted to see Brugge play one last time before he passed away, and admitted it was his wish to see them "win one more game".
"This is my dearest wish before I die to see my team win one more game," said Schoonbaert.
There were 20,000 fans in attendance at the match with some of those making a banner for Schoonbaert that read "You'll Never Walk Alone Lorre" with the 'o' changed to the club crest.
He was then allowed to watch the match with his daughter from VIP seats as Brugge triumphed 3-0, with all three goals coming in the second half to keep them top of the Pro League.
After the match, Schoonbaert admitted that it was the perfect send-off, and was understandably seen with tears in his eyes as he said his farewells to the club.
"I am unbelievably happy now," he said. "This will be a treasured memory for my daughter which she can enjoy all her life.
"My last dream has come true. I can die in peace now. I will celebrate from heaven."
Brugge's Australian goalkeeper Mat Ryan labelled Schoonbaert an inspiration, and admitted their meeting had left him "lost for words."
A post from Schoonbaert's family on Facebook confirmed that he has passed away, and said that he would be "treasured, loved and missed" but had "enjoyed his last moments".
"As he himself said, we must look up… there we will see a star that shines, that's Lorre…", said the post.
"He will forever be treasured, loved and missed… Lorretje was brave until the last minute, had everything under control and had enjoyed his last moments with people who were close to his heart."
Register for free to continue reading
Registration is a free and easy way to support our truly independent journalism
By registering, you will also enjoy limited access to Premium articles, exclusive newsletters, commenting, and virtual events with our leading journalists
Already have an account? sign in
Join our new commenting forum
Join thought-provoking conversations, follow other Independent readers and see their replies