Tottenham 1 Benfica 3 match report: Spurs face uphill battle in Europa League as Tim Sherwood gets into a scrap with rival Jorge Jesus
Portuguese league leaders in control, which is more than can be said for their manager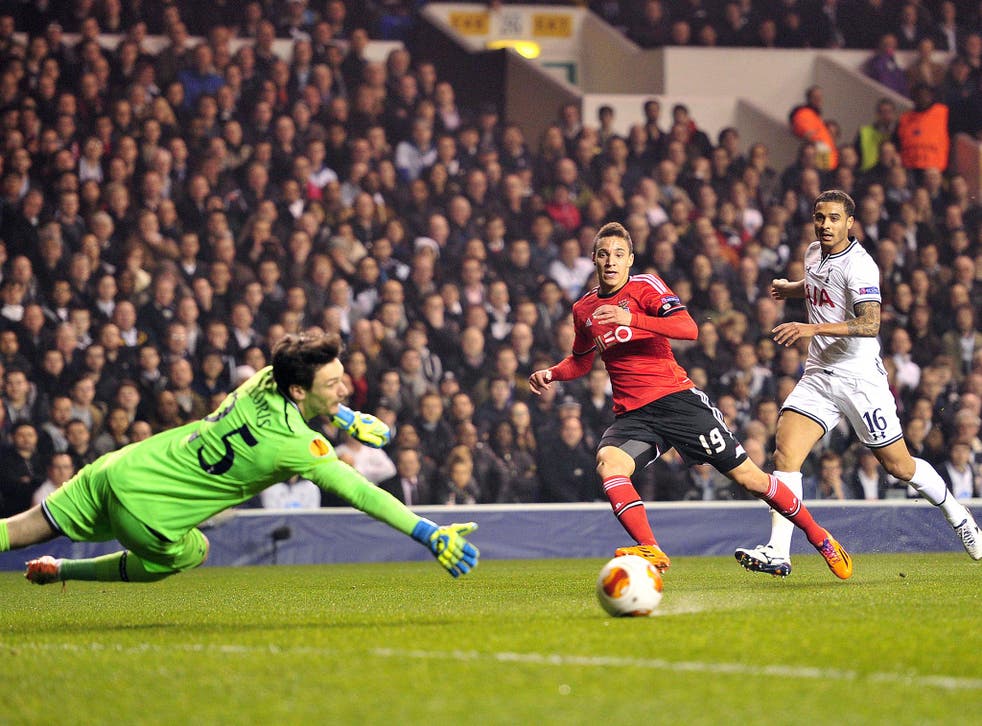 Even the Europa League gets brutal at this stage of the season when, as Tim Sherwood found out to his cost tonight, you can find yourself up against opposition with the class do some real damage to confidence and managerial reputations.
Benfica, the leaders of the Portuguese league, unbeaten since November, are a fine side and in a run of form that Spurs can only dream of in their current state. It is they who are now in control of this last-16 tie when the two sides meet again in Lisbon on Thursday. As for Spurs they must first contemplate the visit of Arsenal, two days better rested, who will come to White Hart Lane for another potentially season-defining game on Sunday.
It got ugly in the end with Jorge Jesus, the Benfica manager, goading Sherwood after the third goal and prompting a confrontation between the two. The strange little Benfica manager then pushed his assistants as they attempted to coax him away from trouble. On the pitch, his team looked a lot more in control than their coach, with two goals from their outstanding captain Luisao.
Benfica always looked the better side and they took trheir chances when they came. As for their manager, whose team has won 18 of their last 20 games, Jesus spends most of his time on the touchline behaving as if his job is on the line and his trousers are on fire.
Perpetually exasperated or enraged or both, the Benfica manager set the tone by ushering Sherwood angrily out of his technical area early in the game. An act so needlessly aggressive that even Sherwood, who often requires no great provocation, was more than a little taken aback. It ended with both of them studiously ignoring each other at the end of the game.
Jesus kept up the hectic act for the rest of the game while his team contained Spurs' best efforts with ease, to the extent that it was hard to remember a first half chance for the attacking pairing of Emmanuel Adebayor and Harry Kane, a partnership that yielded little return. They struggled against the imposing centre-halves Luisao and Ezequiel Garay, but it was in attack that Benfica really impressed.
The right-winger Lazar Markovic, who has attracted the attention of Chelsea, one of four Serbians in the Benfica starting line-up, was a threat on the counter-attack with his pace. The first goal, when it came on 28 minutes, was made by a pass from midfield from Ruben Amorim, one of only two Portuguese in the starting line-up, a ball so good that it took out around four retreating Spurs players in one go.
It was taken on by the striker Rodrigo who left Kyle Naughton trailing down the right and hit a left foot shot across Hugo Lloris that nestled neatly in the right corner of the Spurs goal. This was the same Rodrigo Moreno Machado – Brazilian-born, Spanish junior international - who, four years ago, spent a season in the Premier League at Bolton Wanderers. He looks the part now.
There were boos and recriminations a half time for Sherwood's players, not uncommon in a stadium where decades of frustration requires a venting every now and then. His team started better with their first decent chance of the game, a pass to Adebayor in the right channel by Christian Eriksen and a shot dragged wide by the Spurs striker.
Things got worse before the hour when Kane got himself caught in his own half, tried to beat Amorim and lost the ball. A quick exchange with Oscar Cardozo and the midfielder was in, his shot brilliantly pushed over the bar by Hugo Lloris. From the corner, Amorim picked out the unmarked Luisao who added to an excellent defensive performance with a neatly headed goal.
It was a cheap one to give away and a painful moment for Sherwood, who presumably had precisely these kind of defensive cock-ups in mind when he tore into his team on Saturday. From that position in the tie it looked grim indeed for the Spurs manager but his side fought their way back into it.
The young striker Kane won a free-kick on the edge of the area, fouled by Silvio, the right-back. Slightly to the left and a few yards outside the area it was made for Eriksen's right boot and the Dane promptly swept the ball up and over the Benfica wall and into the top corner of Jan Oblak's goal.
Soon after, a home crowd who often have strong ideas on team selection were singing the name of Roberto Soldado. He was sent on for Kane with 15 minutes to play. By then Lloris had already badly misjudged a long punt from Silvio in the right-back position and there was a moment of horror on the home bench before the French goalkeeper recovered and clawed the ball out for a corner.
They eventually went down to a second Luisao goal, another poorly-defended corner that was headed goal-ward by Garay, saved by Lloris and finished from close range by the Benfica captain who drove the ball high into the Spurs goal. Jesus raised three fingers to Sherwood, who by then had just about as much as he could take.
Tottenham (4-3-3): Lloris; Walker (Rose 75), Kaboul, Vertonghen, Naughton; Paulinho, Sandro (Bentaleb 82); Lennon, Kane (Soldado 75), Eriksen; Adebayor.
Subs: Soldado/Kane 75, Rose/Walker 75, Bentaleb/Sandro 82
Benfica (4-3-3): Oblak; Silvio, Luisao, Garay, Siqueira; Amorim, Fejsa, Sulejmani (Perez 65); Markovic, Cardozo (Gaitan 65), Rodrigo (Lima 88).
Man of the match: Luisao.
Match rating 6/10.
Referee J Eriksson (Sweden).
Join our new commenting forum
Join thought-provoking conversations, follow other Independent readers and see their replies