Wolfsburg 3 Manchester United 2: five things we learnt as United crash out of the Champions League
The loss means United will now play in the Europa League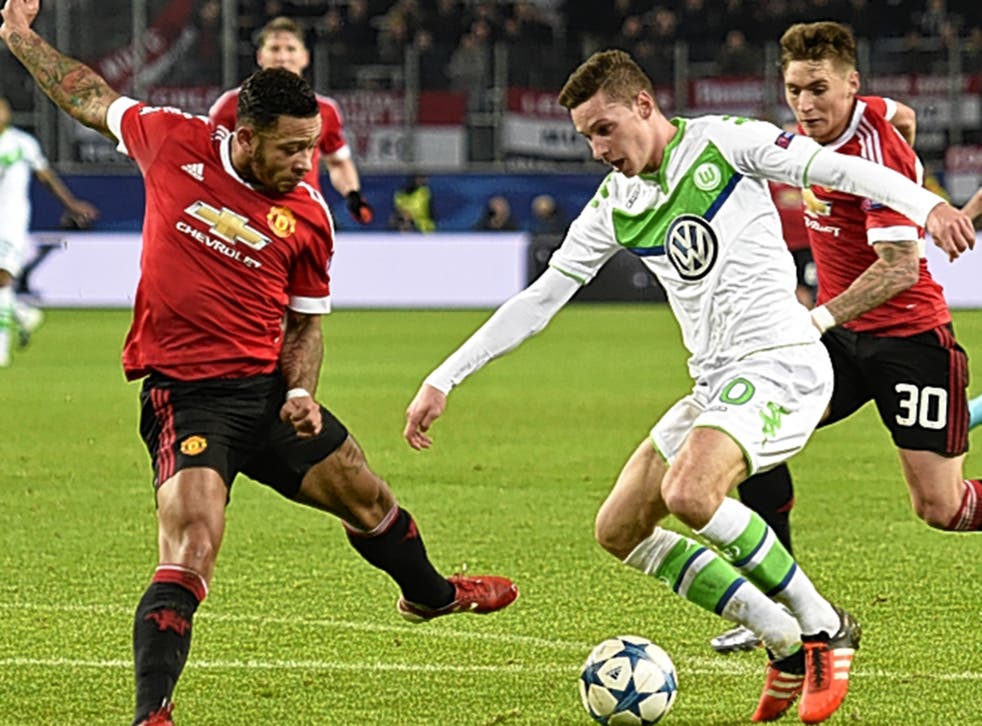 Martial replicates Rooney of old to spell end for captain
The difference between Anthony Martial and Wayne Rooney, and the reason why the Manchester United captain should not walk back into the team, was clear in United's first goal. Martial made a brilliant darting run in behind the Wolfsburg centre-backs, running on to a slid through pass by Juan Mata. It was the type of run Mata needs in front of him, the type of run Rooney used to make but cannot any longer. It was the type of run that deserves a good finish, and Martial is better at Rooney than that too at the moment.
Draxler a cut above the rest to alert Europe's biggest clubs
Julian Draxler did not leave Schalke for Arsenal, nor for Juventus who tried to sign him last year. He chose to stay in Germany, going to Wolfsburg, but last night he showed why Europe's biggest teams will always be after him. Draxler was the best player on the pitch, making Wolfsburg's brilliant second, ghosting away from Bastian Schweinsteiger, exchanging passes with Max Kruse then teeing up Vieirinha. He nearly scored just before half-time, unable to beat David De Gea after skipping his way into space. But his delicate footwork, balance and change of pace were impressive throughout.
Manchester United player ratings vs Wolfsburg

Show all 14
United's defence comes up short when it's needed most
Manchester United's defence has been the most impressive part of their season so far and yet last night they were picked apart routinely by a very incisive Wolfsburg side. Naldo lost his marker from a set-piece for the first and third goals, while the United defence was left stationary for the second. De Gea had to make three sharp saves, two from André Schürrle and one from Kruse with both missing good chances. With most full-backs out, Matteo Darmian going off injured and no real protection from Schweinsteiger or Marouane Fellaini, United's defence was a porous mess. Premier League opposition may take note.
Carrick's omission leaves United's frail defence exposed
On a night when United needed more control, not less, it was curious that Louis van Gaal left his most controlling player, Michael Carrick, on the bench. Schweinsteiger was not mobile enough to close off Wolfsburg's counter-attacks, while the entire match passed Fellaini by, as it so often does at this level. Had United picked Carrick from the start they might have had a bit more intelligence in that area, but it was not to be.
Dearth of goals could prove costly for Van Gaal's future
Ultimately Wolfsburg away was the hardest of United's games and the result was no disgrace. The mistakes that cost them qualification was their defeat in Eindhoven, their draw in Moscow, and, worst of all, 0-0 at home against PSV. Almost one quarter of United's games this season have finished 0-0 and those are the results that are strangling United's season. This was always going to be a difficult task, given the opposition and United's own injuries. But they had left themselves no margin for error. Van Gaal might not have much now either.
Register for free to continue reading
Registration is a free and easy way to support our truly independent journalism
By registering, you will also enjoy limited access to Premium articles, exclusive newsletters, commenting, and virtual events with our leading journalists
Already have an account? sign in
Register for free to continue reading
Registration is a free and easy way to support our truly independent journalism
By registering, you will also enjoy limited access to Premium articles, exclusive newsletters, commenting, and virtual events with our leading journalists
Already have an account? sign in
Join our new commenting forum
Join thought-provoking conversations, follow other Independent readers and see their replies