Wolfsburg vs Manchester United match report: Louis van Gaal adds insult to injury in Champions League exit
Wolfsburg 3 Manchester United 2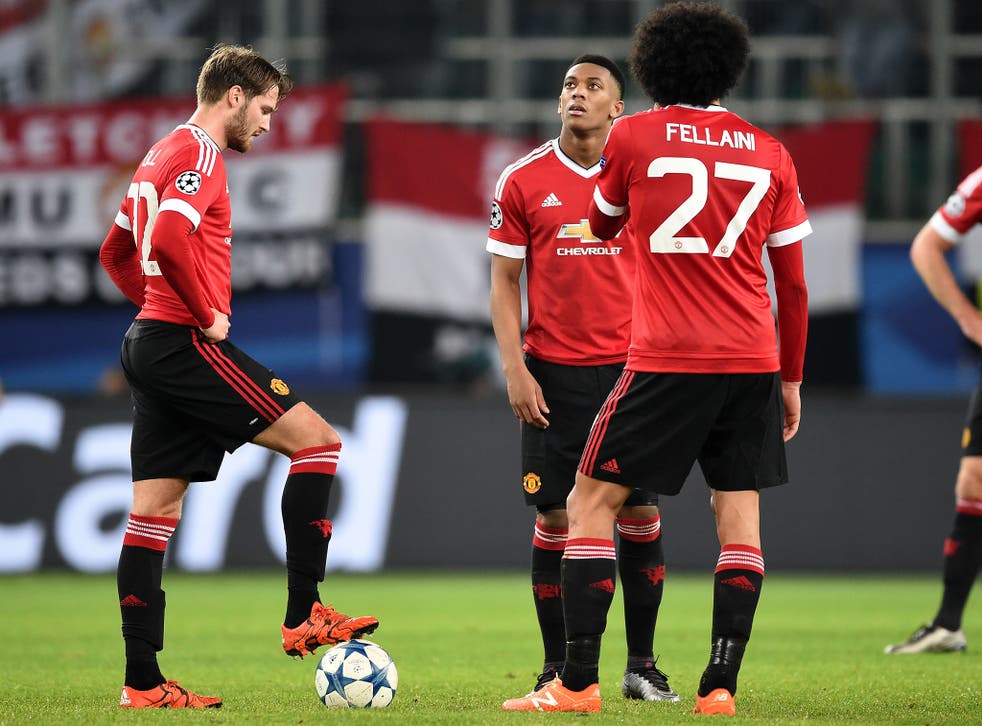 The brief flickers of hope kept on coming but there was no holding off the fate which befell Manchester United, who were the second best side on the night and have not even been able to call themselves that across the course of a very modest Champions League qualification group.
Paul Scholes put it most succinctly. "United just look like an average team and with an average team you get average performances," he observed at the end. When you examined what the team looked in those desperate last moments, with 22-year-old Nick Powell, who has not played for United since the 4-0 League Cup defeat at MK Dons 16 months ago, up front alongside Anthony Martial, who was bought as a future prospect and is now United's only recognisable striker, you wondered where the hell that £250m went. Couldn't defend to save their lives; struggled to score: that's all that can be said a night which said everything about how far the club stand from the high plateau of European football, where they aspire to be.
The crumbs of consolation, meagre as they are, include the fact that Real Madrid's incompetence prevented them from signing David de Gea this summer because it took the goalkeeper's two saves – one, scooping Andre Schurrle's looping shot, was of the highest order – to prevent the game having been sealed long before the end. At the other end of the field, United were bereft of any kind of structure with which consistently to attack – a failing which Wolfsburg's accentuated, with their own, free-spirited counter-attacking verve.
Louis van Gaal compounded the indignity with a press conference performance of deep pomposity last night, in which he suggested his side are progressing because they advanced further in the League Cup this season. "We were further in the Capital One Cup, qualified for the Champions League group. We have played all these matches, and still in a very good position in the league….." That assertion will take some living down, given that that last season's tournament brought first stage defeat at Milton Keynes for Powell and Co and this season's an exit to Middlesbrough one stage later.
Van Gaal ducked the question of how long it might take before his side are a force in Europe again. "You want to interfere. You give the question and you have to listen," he told a journalist, when asked to answer that question, though somewhere in the garbled reflections, include a lament for a long injury list there was this. "At the moment I cannot defend myself because we are out of the Champions League. Everyone word what I say is the wrong word."
Citing the League Cup revealed him to be man in dire need of some self-awareness. There was no acceptance that a club of his resource should have put the group to bed, barely an admission that the defending was not good enough and only bitterness that Jesse Lingard's 45th minute goal was ruled offside should have counted, when Juan Mata was patently offside and affecting the goalkeeper's reactions.
Manchester United player ratings vs Wolfsburg

Show all 14
It was slapstick in the wild last 15 minutes, when United's small enclave of supporters were lifted by news that CSKA Moscow had mustered a goal, 300 miles to the east in Eindhoven, and then by one of Wolfsburg's number– defender Joshua Guilavogui – supplying an own-goal. That meant Van Gaal's side, who needed to match PSV's result, somehow conspired to find themselves level at 2-2 against a side who had had all the attacking answers.
But they safe for barely a minute before conceding again, just as PSV Eindhoven turned their own night around, to win 2-1. Rio Ferdinand spoke for many. "You look at that group table and the teams in there and you expect Man United to walk through that, especially in the home games, but they haven't done that," he said. "You look at the money they have spent - £250 million - and you're going into the last game needing to get a result? It's disappointing."
When Anthony Martial scored his first goal in ten games, ten minutes in, it ought to have taken all the worry away, not least because there were signs in that strike of the young Frenchman whose United career began with such electricity. When Juan Mata was allowed the space to drive a ball into the area for him, Martial's run bisected the central defenders and he slotted home.
But it was another of those now familiar nights when the occasional chances – the Marouane Fellaini header into the turf from Mata's corner which Diego Benaglio comfortably flipped away – needed to be converted because they were few and far between. Wolfsburg were the ones with attacking menace.
They trailed for the mere three minutes it took the captain Naldo to get a run on Danny Blind and meet Ricardo Rodriguez's curled left-foot free kick from 20 yards with a sumptuous first time volley. Chris Smalling's reactions were too slow to prevent the shot. Then, the kind of move which the United support have come to yearn for: a driving run at the defence from Julian Draxler after Schurrle had switched the play with Varela down on the seat of his pants behind him. The 22-year-old German eased past two players with ease, executed a gorgeous one-two with Max Kruse, drew de Gea and squared for the Portugeuse Vierinha to walk it in.
United's equaliser was certainly improbable – Guilavogui heading into his own net as he tried to clear another header Fellaini had directed into the ground over his own bar – but the euphoria was pitifully short-lived once again. Wolfsburg stormed up to the other end of the field, where Naldo met a corner from the left with a downward header. It beat the dive of De Gea and Blind's desperate attempt to hack it off the line came to nothing.
United battled to conjure something. Martial was denied from close range by Dante after Depay had lifted a ball through to him. Smalling looked sure to convert as a ball fizzed across the face of goal to him, only for Marcel Schafer to divert his shot wide. The urgency came too late. United received what their tournament has merited.
Register for free to continue reading
Registration is a free and easy way to support our truly independent journalism
By registering, you will also enjoy limited access to Premium articles, exclusive newsletters, commenting, and virtual events with our leading journalists
Already have an account? sign in
Register for free to continue reading
Registration is a free and easy way to support our truly independent journalism
By registering, you will also enjoy limited access to Premium articles, exclusive newsletters, commenting, and virtual events with our leading journalists
Already have an account? sign in
Join our new commenting forum
Join thought-provoking conversations, follow other Independent readers and see their replies