Wolfsburg vs Manchester United: Van Gaal tells players to prove themselves
United probably have to beat Wolfsburg to qualify – and manager is running out of chances in Europe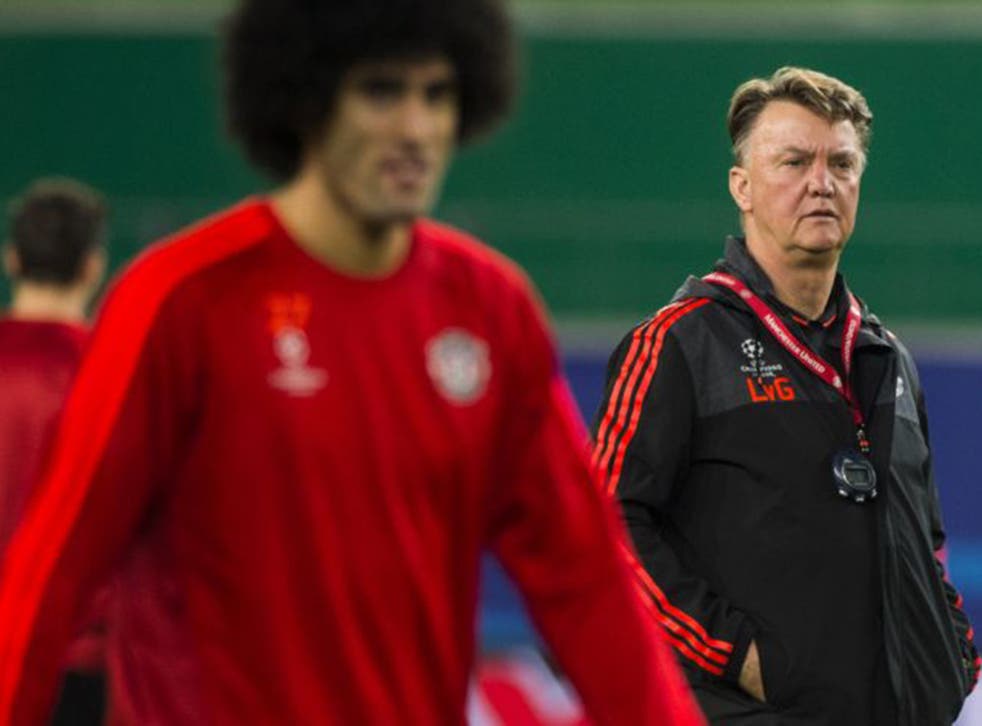 He still needs his draughts of Manchester United and their travels across Europe remain his travels. That is why Sir Alex Ferguson was to be found here checking into a modest boutique hotel, where the club's Under-19s have also taken up residence, and where his own arrival coincided with his latest thoughts on the team being broadcast.
"There's always a romance about them," Ferguson had told the TechCrunch conference in London, hardly the most obvious place for the man who once instructed his players to forget Twitter and get themselves down to the library. "But also there's this great thing: something always happens to them. It's always a topic. It's a great club to watch…"
This did not equate to the United we have come to know, though any discussion of Louis van Gaal and his philosophy was avoided because Ferguson knows that kind of talk makes headlines. What wouldn't we give for his thoughts, though, on the conservatism which United have descended into: their moribund football, devoid of goals and imagination, which leaves the side on the brink tonight, knowing that a sixth goalless draw in 10 games is likely to put them out of the Champions League at the group stage.
United are thankful for small mercies where Van Gaal is concerned. "We were seventh [in the Premier League in 2013-14]" one source has said in the past week, serving up a reminder that the Dutchman has at least delivered United from insignificance. A less charitable assessment is that he has provided the bare minimum, considering the money that has been spent.
Tonight's opponents are hardly impoverished, given that Wolfsburg are Volkswagen-backed, right down to the insignia on the milk and sugar sachets in the press lounge. But United are in a different financial stratosphere and should not be scrapping for survival, requiring a win if PSV Eindhoven in third in their group secure their expected victory over CSKA Moscow. The dour home coach Dieter Hecking was asked how it could be that United, with their vast wealth, were not out of sight and qualified by now. "Because, thanks God, money is not everything in sport," he replied.
Wolfsburg nominated André Schürrle to speak, and though courteous – "a great game against a great club" is how he described tonight – the former Chelsea forward did not hide the fact that a United side who have scored seven goals in 10 games are not what they were. "I think [they are] quite different," he said. "The style is different. Louis van Gaal is there. Of course they are going to want to play on the possession and calm the game down. We have to be aggressive, even if they calm it down." "Calm" is not something United can afford to be this time, despite Van Gaal's proclivity for the sideways pass.
Time is running out on what hopes the manager might have of coming full circle – repeating that sublime Champions League triumph over Milan with the young Ajax team he was managing in 1995. It is just two shots at Europe if he retires in the summer of 2017, as promised. "Yes, of course" he said when asked if that created a sense of urgency. "I have as a manager played three finals so that's a lot I think. Always when you lose you are so close. It is so disappointing. But now we are in the qualification group. You have to prove as a club, a team, as a player that you can continue."
He has his work cut out. Wolfsburg's record-equalling 29-game unbeaten home run in the Bundesliga has only just been broken and it was left to Bastian Schweinsteiger to describe the urgency United require.
A journalist asked the German about his form and the incident with West Ham's Winston Reid at Old Trafford on Saturday, in which he appeared to elbow the defender. "Your first question is fine but not the second question," he was told. The Football Association last night charged Schweinsteiger with violent conduct, after referee Mark Clattenburg told them he had not seen the midfielder's actions before deciding against booking him. The player, who faces a three-game ban, has until Thursday to respond to the charge.
Schweinsteiger did not duck van Gaal's recent assertion that we have yet to see the best of him. "The Premier League is new for me," he said. "Of course, you can play better in every match. That's my goal to play once in my life the best match but it's impossible."
When United's board saw who their last group-stage opponents would be, there was talk at the top of the club about the trip to Lower Saxony being an academic exercise. There is still surface composure at the club about the prospect of elimination. To the question of how damaging going out would be, the answer comes back that it is a financially inconsequential hit, a £5m loss. But that figure, which equates to lost prize money, does not include TV earnings. There is also the symbolic significance of an early exit. It would be a statement of how far from the elite United remain.
Asked how he could convince fans that goals would come, Van Gaal provided nothing tangible. "You never know that for sure," he said. "I have the experience as a manager that the goals shall come. When you are creating chances at the end you shall finish those kind of chances. That's why we have that belief. It's a matter of time and I hope we can prove it."
That Ferguson interview included his thoughts on what a new manager should think about. "The important thing is to be who you are," he said. "Be consistent. Don't change. People don't respond to change when a manager is changing his mind every day." Which only went to show how difficult it is to generalise. Change is categorically what United need to do by the banks of the Aller tonight. A change of philosophy, style and intent – or they can wave goodbye to Europe.
Join our new commenting forum
Join thought-provoking conversations, follow other Independent readers and see their replies