Arsenal 2 Tottenham 0: Tim Sherwood defends FA Cup tactics after claiming 'I didn't see us playing 4-4-2' in defeat at the Emirates
Sherwood started with Roberto Soldado and Emmanuel Adebayor in attack but insists there were 11 players on the field rather than a recognised 4-4-2 line-up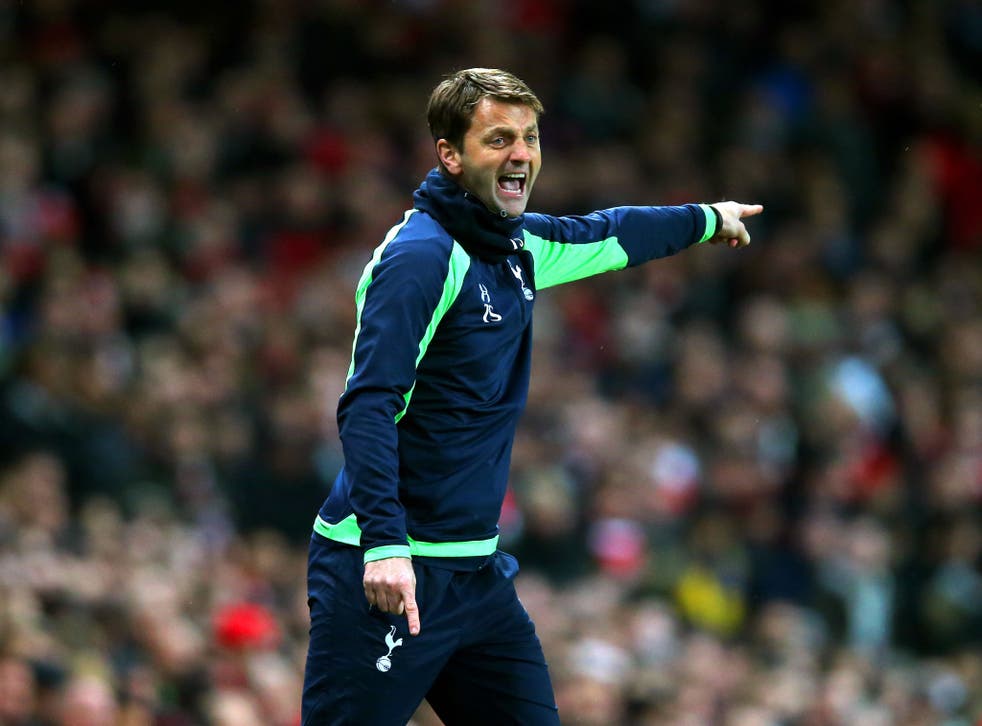 After taking the Tottenham job, Tim Sherwood said he was not one to complicate the game and he certainly proved that in the explanation of his tactics following the north London derby defeat to Arsenal.
Sherwood tasted defeat for the first time since he was appointed Tottenham manager thanks to unanswered goals from Santi Cazorla and Tomas Rosicky.
Spurs were overrun in midfield, their front two never looked capable of penetrating the Arsenal defence and Tottenham's own back line was worrying exposed to the hosts' counter-attacks.
Tottenham's 4-4-2 system allowed the Gunners, who lined up 4-2-3-1, to dominate the midfield and they controlled most of the possession as a result.
That is what it looked like to the naked eye. Sherwood disagreed, though when he was asked why he favoured 4-4-2.
"I didn't see us playing 4-4-2," the Spurs boss said.
"We just had 11 numbers on the field and tried to rotate and fill up every area of the field. I don't know what you are saying about 4-4-2.
"We played with two recognised strikers, but (Emmanuel) Adebayor dropped deep into that area and picked up the ball.
"Our wide players funnelled in. I don't think we were ever two players in midfield. When the ball was on the right, Christian Eriksen tucked across into the middle."
Even though he claims his team did not line up 4-4-2, Sherwood appears to be a fan of the system.
"Manchester United have been playing your 4-4-2 and won everything for the last 10 years," Sherwood responded to another question about tactics.
Sherwood now knows what it is like to taste defeat in a north London derby as a player and a manager.
The 44-year-old, who lost three times in five matches against Arsenal as a player, will hope this will be just a minor bump in his managerial career, though.
Sherwood said he was "not too despondent" about the result and it is easy to understand why.
Although derby defeats hurt, the most important thing for Sherwood is that Tottenham's league form has been good since he took his place in the Spurs dugout.
Sherwood has dropped two points from four matches during a hectic festive period which has seen the club lose 10 first-team players through injury.
After playing six games in 17 days, he will now for the first time get a full week to prepare his players for a game - Saturday's clash with Crystal Palace at White Hart Lane.
"Until the Europa League starts again at the end of February, it is week-to-week which is better because you can get out there on the training pitch," he said.
"I have had a lot to say to the boys but you can only get so much across.
"Football is not won or lost on a TV screen or a board - it is about getting on the grass and showing them what you actually mean.
"Putting them into the areas you want them to be."
PA
Join our new commenting forum
Join thought-provoking conversations, follow other Independent readers and see their replies