Diego Costa and Jose Mourinho show 'nasty Chelsea' are back during Capital One Cup semi-final win over Liverpool
Comment: The Blues went through 2-1 on aggregate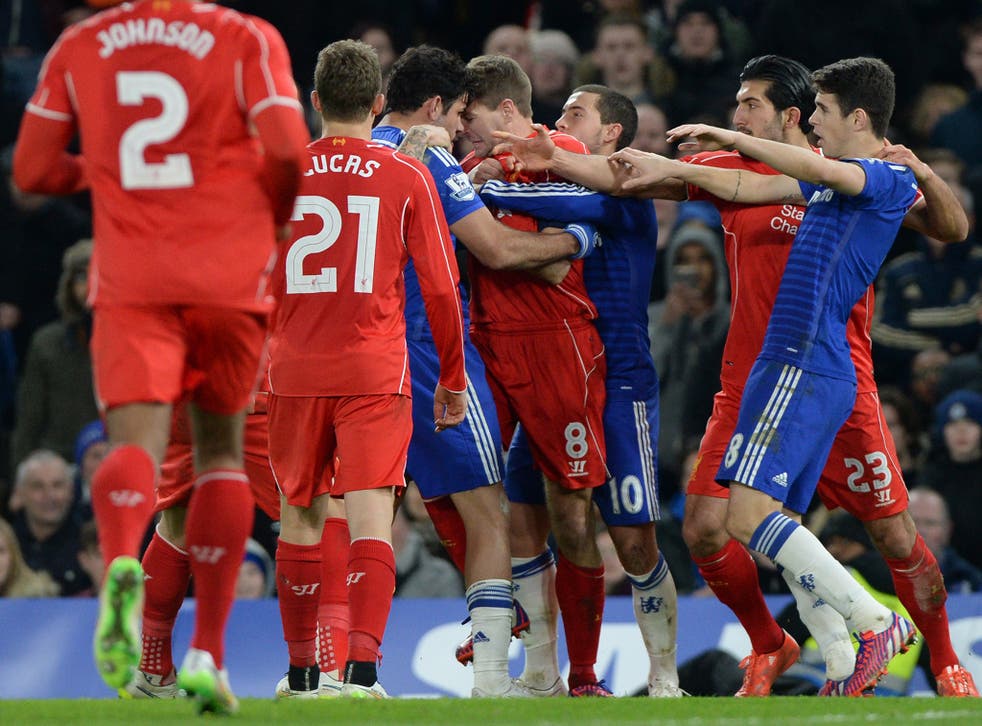 It was a night which had no need of a subplot; a feisty, sometimes nasty, wonderful football match which revealed that League Cup fight is not the preserve of plucky small sides, denting big egos as they travel on their way.
But there was a subplot, obscured from general view as the camera followed the relentless action from end to end. It played out in front of the dug-outs where Jose Mourinho was delivering a masterclass in how to get into an official's ear. It was Phil Dowd's misfortune to be that fourth official in the very tight surrounds, with no distance to speak of between him and the home team's manager.
Mourinho has the capability to count himself the victim of episodes when his own players are the most flagrant perpetrators. He has been publicly constructing the notion for several weeks that there is a campaign against his team. And so there he was after 15 minutes, spinning around with his arms out and nodding his head and widening his eyes – a la Andrew Flintoff, Edgbaston, 2005 – when Diego Costa had just stamped on Emre Can: the first of the Brazilian born Spaniard's two sneaky little burials of a foot into Liverpool players' ankles – delivered as the striker climbed to his feet when the two had collided.
Chelsea 1 Liverpool 0 player ratings

Show all 24
Mourinho was off and running on a tide of indignation, amplified by no penalty following Martin Skrtel's foul on Costa in the Liverpool box – and rising to a full blown victim when Lazar Markovic, struggling to make an impact, barged into the back of Filipe Luis. Those around Mourinho saw the sap rising and supported. Didier Drogba tapped Dowd on the shoulder and muttered something. Mourinho nodded knowingly in the official's direction. As the second half was about to start, Dowd and Mourinho were deep in conversation. The manager, apparently liking the answer, tapped Dowd on the shoulder as they parted.
The point of the story is that Mourinho does what he has to do when the pips begin to squeak in the season and that the Machiavellian Chelsea – nasty and sneaky when they need to be – are back. It has been the nicer, prettier version that we have seen these last five months and Mourinho has wanted his own image to be softened too. He no longer wants to be seen as the enemy of football and has been receptive to the suggestion that he should stop picking fights. "I'll cut it out,"he told those close to him in the last close season. "But it's a weapon I might need to go back to at the sharp end of the season."
He was taking no prisoners, right until the end. There was a shove on Brendan Rodgers, his legendary apprentice, before Dowd – considerably busier than referee Michael Oliver – drew them apart. When Mourinho was told in his post-match press conference that Rodgers had publicly questioned Costa's conduct he bristled, paused, calculated, and delivered a caustic put-down about the man he once employed. He had been already been told by one of his staff before entering the post-match press inquisition that Sky TV's Jamie Redknapp had attacked Costa's conduct. His withering dismissal of the "nuts" pundit, whom he characterised as well-paid and untouchable, was a deliberate attempt to seize an agenda which would have become one-dimensionally anti-Chelsea. With Mourinho, every utterance has a purpose.
It was he whose talk was "nuts", of course, because in Costa he has an agent of his own nastiness.
There is a view in the game that Costa's passion is wonderful but the argument is questionable when it covers some of the evils we see in his game. Rodgers was being temperate when he described the player's second stamp – placing his foot on Martin Skrtel's ankle as the defender cleared up the damage from a loose Mamadou Sakho pass in midfield – as "poor." Costa should be looking at a three-game ban at least when the footage is reviewed but don't count on it. The authorities know they will reap a whirwind.
The opprobrium felt by Liverpool's players and fans confirmed that this fixture has too much recent history to be much less than a grudge match these days. Chelsea's fans have their Gerrard songs, Liverpool can counter with their plastic flags and on the field a full blown conflagration never seemed far away. After all these years and all those titanic cup battles, there was a simple symmetry about two clubs – in the early stages of rebuild with new managers – looking to break through to Wembley and collect a piece of silverware to set them on their way. If there was any residual doubt the desire of Chelsea – the far richer, better stocked club whose chances of winning cups will come thick and fast in the next few years – then it was in the image of Costa on the front of match programme. It captured him in the kind of grimace he held all night.
Costa was a distracting presence in the six-yard box when the winner went in but Mourinho missed it. He was back in deep conversation with Dowd. "Yes I missed it," he admitted. "I was saying [to him] that Lucas and Henderson should be off with two yellow cards.
Expect to hear much more of him as the Spring weeks advance and expect referees to the be the subject of discussion. Such are the strategies of a serial winner.
Register for free to continue reading
Registration is a free and easy way to support our truly independent journalism
By registering, you will also enjoy limited access to Premium articles, exclusive newsletters, commenting, and virtual events with our leading journalists
Already have an account? sign in
Register for free to continue reading
Registration is a free and easy way to support our truly independent journalism
By registering, you will also enjoy limited access to Premium articles, exclusive newsletters, commenting, and virtual events with our leading journalists
Already have an account? sign in
Join our new commenting forum
Join thought-provoking conversations, follow other Independent readers and see their replies