Chelsea 1 Manchester City 2 match report: Yaya Toure too strong for slow-starting Chelsea in FA Cup semi-final
Nasri and Aguero score for City before Ba's reply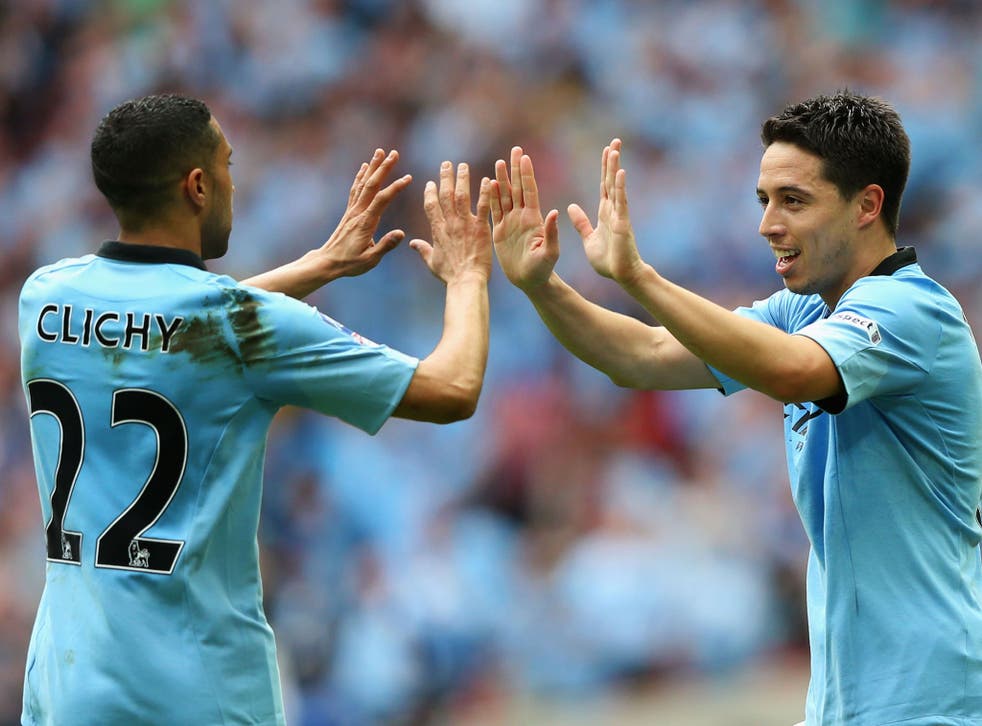 It was well past 5.30pm today when finally this FA Cup semi-final burst into life and, although it was rather late in the day for Chelsea to finally stake a claim to the match, it was well worth the wait.
Before then, Roberto Mancini's team had done just about everything apart from score the goals their dominance of the match warranted. With just more than 25 minutes remaining, the score at 2-1 and the pitch draining the life out of the legs of two tired teams it eventually became a Cup tie that might go either way.
As Chelsea threw themselves at their opposition with the kind of intensity they had failed to muster for the previous hour, they might well have scored the equaliser. Some old animosities rose to the surface, not least when Sergio Aguero lunged two-footed at David Luiz. Fernando Torres exacted retribution on Aguero. Suddenly it felt like something was at stake.
It was certainly preferable to the previous day's action when Millwall fans old enough to know better were trading blows with one another and fighting with police. If ever the Football Association needed a good game to divert attention from Saturday's debacle then it was yesterday and, in the end, they got the full quota of excitement, debatable refereeing performances and aggrieved losers.
Rafael Benitez said the referee, Chris Foy, had got it wrong when it came to Vincent Kompany's tug on the shirt of Torres on 87 minutes, a "clear penalty" according to the interim first-team coach and potentially a red card too. He was less concerned about the altogether more spectacular stamp by Aguero on Luiz that followed an earlier elbow by the Chelsea defender on his opponent.
Overrun in the first half it took far too long for Chelsea to spark. They eventually scored within seconds of Torres coming on as substitute when he and Demba Ba chased a long ball from Luiz and the Senegalese striker improvised brilliantly to volley past Costel Pantilimon. After that, inspired largely by Eden Hazard, they might have scored the equaliser as City fell back into their own half and invited the pressure.
It had been a very different story in the first half when it felt like Chelsea had given up the ghost and City's one regret was that they came in at half-time only a goal ahead. Benitez's side had seven changes from the defeat to Rubin Kazan in Moscow on Thursday but was identical to the team that beat Sunderland a week earlier.
The sheer novelty of the Europa League contrasted with Chelsea's relative familiarity with the FA Cup – they have won it four times in the last six years – means while yesterday was a blow, of the two cup competitions it is probably the less important of the two. Benitez's stated aim in recent weeks, with the resources at his disposal, has been a top-three finish and one of two trophies – which is still achievable.
In many respects this game reflected why both City and Chelsea, with their well-resourced squads and experienced managers, have been unable to challenge Manchester United consistently over the course of the season. At times both were capable of exhilarating football, particularly City, it should be said. But both also looked somewhat vulnerable when they felt the tide turn against them.
The first goal came on 35 minutes, from Samir Nasri but it should have been a lot sooner. The Frenchman exchanged passes with Aguero and when the ball came back to him it fell kindly from Cesar Azpilicueta's challenge for him to shoot past Petr Cech. At that point Kompany had been obliged to clear Hazard's high-bouncing volley off the line but little else.
City should have had another before half-time when the ball fell to Aguero and then James Milner in the area. Then two minutes into the new half the Argentine striker headed the ball beautifully back over Cech from Gareth Barry's cross.
Yaya Touré was dominant in midfield at that stage. It looked like a case of how many goals City would score.
The goal from Ba changed the mood entirely. Soon after, Hazard cut the ball back to Ba and he had his shot saved by Pantilimon, Mancini's goalkeeper of choice so far in the FA Cup. The City manager would not be drawn on whether Pantilimon would start ahead of Joe Hart at Wembley against Wigan in the final on 11 May – "we have four weeks to decide that" – but it certainly would seem that way.
Sensing danger, Mancini brought off Carlos Tevez, pushed Touré up into the position behind Aguero and brought on Javi Garcia to shore up the centre of midfield. Ultimately it worked but not before City seemed to concede the momentum to their opponents. Touré, charging forward on 80 minutes should have passed to Pablo Zabaleta, in a better position to score.
Aguero's lunge at Luiz was a red-card offence if the referee had a proper view of it but, as ever, it is unlikely to be the subject of further action. Foy will surely say that he saw the incident, although not its full severity, which will preclude any FA action. The usual row will ensue for a few days and then football will, as ever, move on.
Even in those closing moments of the game, Benitez resisted any temptation he might have had to bring on Frank Lampard. John Terry also spent the afternoon watching from the bench. The pair have, of course, had to get accustomed to their new position over the last few months but, even so, these are times of change.
Those two are Wembley and FA Cup stalwarts; indeed Terry is the veteran of five Chelsea FA Cup triumphs dating back 13 years. But the team is changing and Benitez is organising according to the exacting demands that they have faced. Now out the FA Cup, their potential week from hell of four games in eight days between 5 May and 12 May only has three games.
There is no time to rest with Fulham awaiting at Craven Cottage on Wednesday and the chance to reclaim third place in the Premier League from Arsenal. As for City, their season holds out the possibility of a trophy against Wigan in 26 days time. They have at last hit some form and, while too late to reclaim the league, it is better late than never.
Join our new commenting forum
Join thought-provoking conversations, follow other Independent readers and see their replies