Chelsea cruise through to FA Cup fifth round as Newcastle's complete lack of ambition is laid bare for all to see
Chelsea 3 Newcastle United 0: Michy Batshuayi scored twice to improve his chances of having a long-term future at Stamford Bridge with Marcos Alonso sealing the win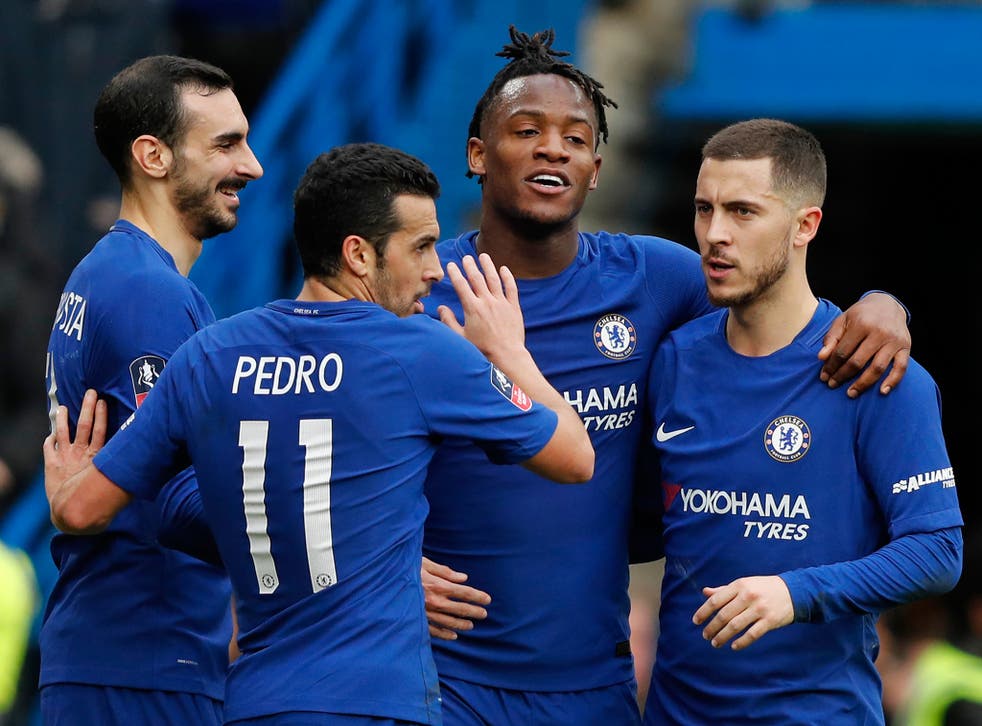 A strange game, really: one that Chelsea won comfortably without getting close to their top level, due in large part to Newcastle never getting close to theirs. Rafa Benitez's team came above all to stifle, and the opening half-hour during which they held their own was their best period of the game by a distance. From the moment they fell behind to Michy Batshuayi's goal, however, their flimsy game-plan collapsed in a heap of laxity, lethargy and ultimately apathy.
And so, for the 12th season in a row, Newcastle have failed to get past the fourth round of the FA Cup. It is no longer a statistical curiosity but an era of failure, and although the blame for that ignominious run cannot be laid solely at the paws of their owner Mike Ashley, the fact that he has been in charge of the club for 11 of those 12 seasons tells its own story. In the 11 seasons before he arrived, by way of contrast, their record read two quarter-finals, two semi-finals and two finals.
As for Chelsea, this was more a case of job done. Two goals for Batshuayi turned the game into roadkill by half-time, and although Davide Zappacosta and Danny Drinkwater were some way short of their best, Antonio Conte could take some satisfaction in the way they negotiated a potentially tricky cup tie, breaking down Benitez' cagey 5-4-1 system and reaping the rewards during a languorous, down-tempo second half.
For that first half-hour, as Newcastle defended stubbornly and tackled with a salty urgency, it looked like being a much tighter game than it turned out. Equally, for all their industry in defence, it wasn't entirely clear how Newcastle intended to score. And so once Chelsea broke through – Pedro's quick diagonal to Eden Hazard, inside to Marcos Alonso, inside to Batshuayi for the tap-in – Newcastle's absence of ambition became painfully evident.
Jonjo Shelvey was customarily busy but waned in influence. Dwight Gayle struggled to get into the game. Matt Ritchie had an impressive start to the game before evidently popping into town to do some shopping. The lack of attacking threat – even given the handful of changes to the starting line-up – will surely be a concern to Benitez, if not necessarily to Ashley.
Batshuayi's second goal, though cruelly deflected off Jamaal Lascelles, will do his fragile confidence the world of good. Again Pedro was the architect, releasing Hazard for the counter-attack. And yet despite trailing 2-0, it was Newcastle who wound down, who began to disengage from the game, whose minds and bodies perhaps began to wander towards the crunch games against Burnley and Crystal Palace in the next seven days.
This is what happens, of course, when you have a squad so thin on quality that it prevents meaningful rotation. The need for reinforcements in the last few days of the transfer window is manifest. On these next few days, you would imagine, rest not just Newcastle's Premier League survival but the future of Benitez and very possibly the long-term health of the club.
Alonso's direct free-kick on 70 minutes sealed the win, a just reward for a fine performance at left-wing back: elastic running, good feet in the final third and the sort of sly late tackles which have always been an underrated part of his game. It allowed Conte to give Hazard a rest, and bring on Ross Barkley for another inconsequential cameo. Batshuayi squandered a couple of good chances for a hat-trick towards the end.
And ultimately, it was one of those afternoons for Chelsea: a restorative sort of game, a game for healing after the turmoil of recent days. The problems that existed at kick-off still existed at full-time. But Conte has at least kept the show on the road for another week, and for now that will have to do.
Join our new commenting forum
Join thought-provoking conversations, follow other Independent readers and see their replies