Is the Dalai Lama behind Bradford's incredible Capital One Cup run?
Dalai Lama sends letter of support ahead of Wembley final against Swansea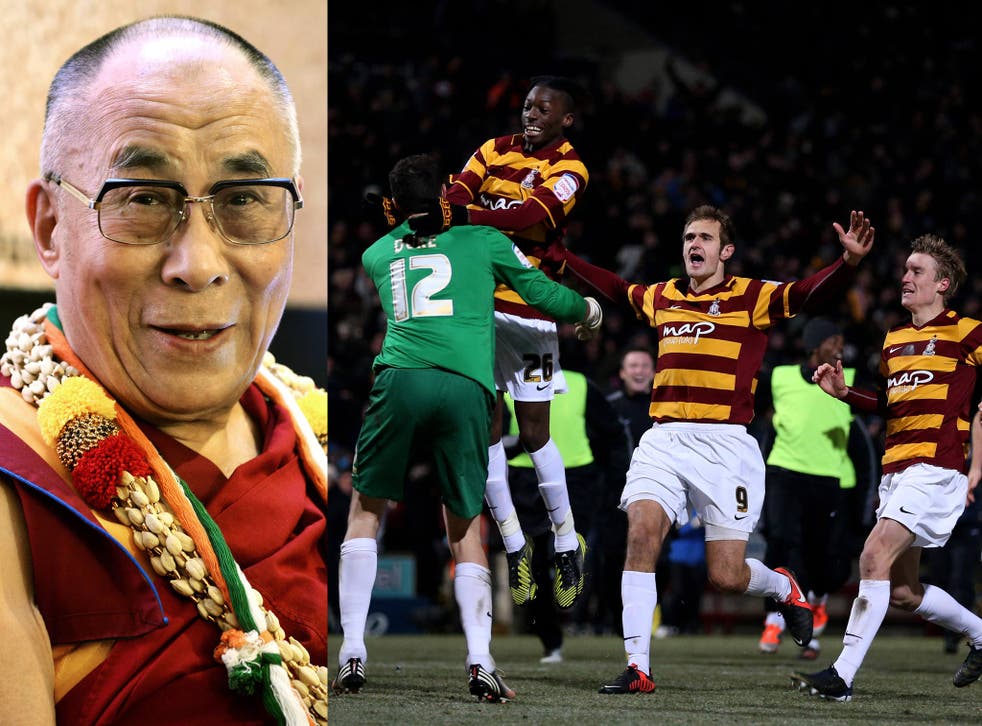 Bradford's run to the Capital One Cup final has at times felt like a miracle.
The fourth tier side have seen off Premier League sides Wigan, Arsenal and Aston Villa to reach Sunday's Wembley final in one of the true modern football fairy tale stories.
It is the first time a side from the fourth division has made the final since Rochdale in 1962 and the troubled club's first final since they won the FA Cup in 1911.
They've needed some luck along the way, such as the penalties which saw off Arsenal at Valley Parade, but is there more to their cup run than meets they eye?
It has emerged that the Dalai Lama offered his blessing to the club at the start of the season and hopes he can bring "good fortune" for this weekend's final against Swansea.
The 14th Dalai Lama, Tensin Gyatso, has reportedly been a Bradford supporter since last June following a trip to Yorkshire. While there, he was made honorary president of fans' group Friends of Bradford City.
The Dalai Lama sent Bradford a letter of support in the form of a short letter from the London-based Office of Tibet signed by his representative.
It read: "On behalf of His Holiness The Dalai Lama, may I offer you, and indeed the whole team of players for Bradford City, huge congratulations on your incredible success.
"If His Holiness' blessing has helped in any way towards your wonderful efforts, I hope that blessing will continue to bring you good fortune.
"He would hope that this tremendous achievement can be turned into an opportunity to help others, demonstrating the power of sport to bring happiness to others on and off the pitch.
"He remembers his time in Yorkshire with great affection and wishes you every success in the big match. Of course, we at the Office of Tibet also wish you the best of luck in the final!"
Friends of Bradford City chairman Mark Neale is quoted as saying: "When I opened the letter and found it was from the Dalai Lama you could have knocked me down with a feather.
"I have this vision of him sitting on a mountain listening for City's results. I know we have a great manager in Phil Parkinson in but any help we can get is great, and maybe the Dalai Lama has played his part in City's amazing success.
"My wife Julie, who is a season ticket holder, says she might become a Buddhist."
Join our new commenting forum
Join thought-provoking conversations, follow other Independent readers and see their replies