David Moyes defends substitutions after Manchester United's catastrophic penalty shoot-out defeat to Sunderland
Ryan Giggs was among the more experienced players available on the bench
Ian Herbert
Thursday 23 January 2014 01:25 Comments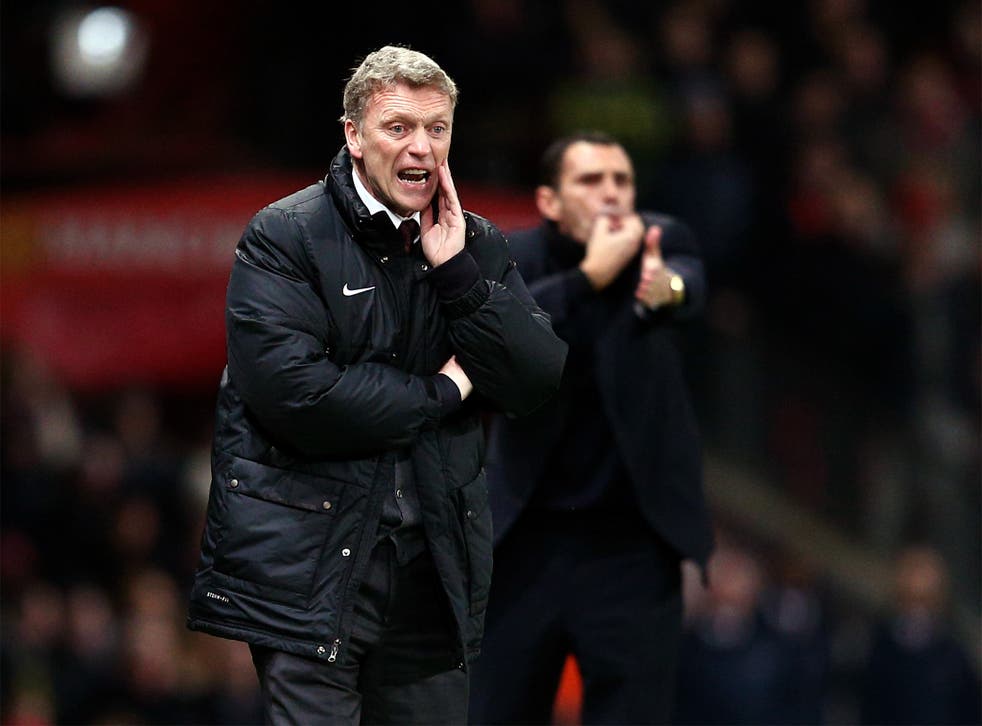 Manchester United manager David Moyes rejected claims that he had made a miscalculation with substitutions which left him short of good penalty takers for the catastrophic penalty shoot-out against Sunderland but admitted that his team are low on confidence.
The former United captain Gary Neville said after the Sky Sports transmission of United's losing Capital One Cup semi-final that he immediately thought about the shoot-out implications when Moyes decided to bring on Phil Jones, rather than established penalty taker Ryan Giggs, after Michael Carrick left with a twisted ankle early in extra time. "I thought 'penalties'," Neville said.
But Moyes rejected this, while admitting that his team did not deserve to win the match. "Our thought was we wanted Phil Jones. It was a straight swap," Moyes said. "Ideally, it wouldn't have been the group we had chosen. Chicharito would have taken a penalty but was injured and people like Michael Carrick would have been involved."
The contrast in the demeanours of the two teams' penalty-takers was unmistakable and Moyes, who refused to take questions on the imminent £37m arrival of Juan Mata, admitted that his own players' confidence was shot-at. "Of course [confidence is a problem] it is if you are not [confident]," he said. "[I'm] disappointed. We didn't play well enough over the piece to feel as though we should have won the game."
United seemed to have pulled off a typical Old Trafford rescue act when Javier Hernandez took them into the shoot-out, with a goal in the last minute of extra time - a minute after Phil Bardsley's strike seemed to have taken Sunderland through, by making the aggregate score 3-2
Sunderland manager Gus Poyet, whose team are second bottom of the Premier League, described how his players were desperate to take the penalties. "The players were asking for the penalties. There was a fight between [Phil] Bardsley and Ki Sung-Yueng for the fourth," he said. His players repeatedly apologised to him for conceding the late equaliser. "It as 'sorry gaffer, sorry gaffer… three times," he revealed.
Moyes, whose press secretary shut down any questions about the imminent signing of Mata, did not look as distraught as he might have been, when he gave his press conference. "[I'm] disappointed," he said. "With a minute or so to go we were almost there. We had opportunities to score a second goal and put ourselves in a better position.
"We had some chances to finish it off and we didn't. We had to defend a few corners. I don't know how many shots Sunderland had. I didn't think we played well enough. I think there are other games where we have played well and not won and had bad decisions that went against us. Tonight we didn't play well enough. If we were [to go through], we were going to stumble over the line. In a lot of games we have played well enough."
Despite putting on Jones for Carrick, Moyes declared: "I don't think we have ever tried to hang on [in the game]. We couldn't have put more attacking players on the pitch if we tried. The players tonight were fine. We played quite well at Chelsea [in Sunday's 3-1 defeat], gave away a couple of goals at set pieces but wasn't much, brought some fresh players in to give us some fresh energy."
On the decision of who should take the spot kicks, which Danny Welbeck, Adnan Januzaj, Jones and Rafael da Silva all missed, Moyes said: "We talked within the group who wanted to and these were the players who chose to. As a team we made a decision together who would take the penalty kicks."
Poyet said his team ha dbeen reward for taking risks. "It is very difficult to explain," he said. "I don't remember another game like this, to be involved as a player. Normally when you score in the last minute you get through, you don't expect to concede after one or two minutes. Then, when you miss your first two penalties, you don't expect to win. How we done it, I think we have to ask [goalkeeper] Vito Mannone. He is the only person who can answer that. He has been getting better and better and today I think he was the difference.
"I was proud, even with the 1-0. Even if the game finishes 1-0 and we were out. I was proud. I was feeling it was my team playing there all night, believing, taking risks, passing the ball around, trying to put Man United on the back foot. We were going and going and going, so credit to the players. They put an extra bit there at that level. It was difficult to pick them up for the penalties. They all said 'sorry gaffer'. I think it is a great night for a group of players and fans who have had a difficult season.
"You need to have luck. I didn't play 17 years just because I was lucky. I wasn't the quickest but I was more intelligent than most on the pitch. I was not the most slikful but I had the ability to see things before you. It is the same as a manager."
Register for free to continue reading
Registration is a free and easy way to support our truly independent journalism
By registering, you will also enjoy limited access to Premium articles, exclusive newsletters, commenting, and virtual events with our leading journalists
Already have an account? sign in
Join our new commenting forum
Join thought-provoking conversations, follow other Independent readers and see their replies