George Moncur, son of a former Spurs player, hopes golfing buddy Harry Kane is below par when they meet in FA Cup
LIFE BEYOND THE PREMIER LEAGUE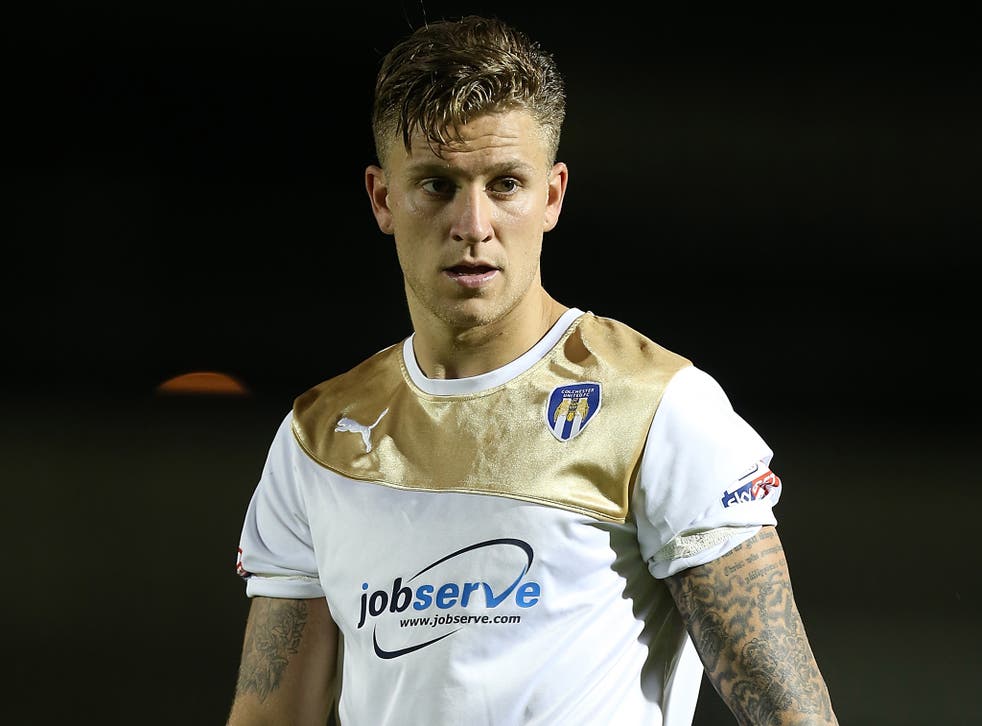 When Tottenham Hotspur visit League One's bottom club, Colchester United, for their FA Cup fourth-round tie on Saturday lunchtime, Harry Kane will be hoping for a happier outcome than when he last crossed paths with U's midfielder George Moncur.
The 22-year-old is a golfing buddy of the Spurs and England striker and, as he tells The Independent, has the beating of his famous friend – at least with a set of clubs. "I think I've got the edge on him there and I think he will say that himself," he claims with a grin.
Moncur, whose father John was a skilful midfielder with Spurs, Swindon and West Ham, is a month Kane's junior and they have known each other since their days as young schoolboys at Tottenham. "We play golf now and our friendship has developed," he explains. "I did know him then but not as well. I spoke to him a few days ago about the game and am not sure if he will be starting because he might be rested, but if it is quite a tight game I am sure they will bring him on at some point. It will be good to play against him. My dad says he could always score goals as he has shown throughout his career."
While Kane's trajectory needs no retelling, Moncur, once an England Under-18 international, has taken a more scenic route to this weekend's televised on-field reunion. He left Spurs when he was 13 and moved on to West Ham where he was eventually named Young Hammer of the Year in 2013. At West Ham he is remembered for his neat passing, bubbly personality and friendship with Dylan Tombides, the young forward who died from cancer in 2014 and whose name is etched in ink on Moncur's arm "in his memory".
His one start for the first team at West Ham came in a 5-0 FA Cup defeat at Nottingham Forest in January 2014 and later that year he joined Colchester where he believes he has truly grown up as a footballer. "I have developed more fitness and athleticism and that has enabled me to get forward more and obviously I have got the technique to put away the goals," says Moncur, Colchester's leading scorer this term with 10 goals.
He is enjoying working with Kevin Keen, who took over as manager of the struggling Essex club last month yet the influence of his father, an old team-mate of Keen's at Upton Park, is pivotal. "He is never really content with how I play on the pitch," says Moncur, whose teenaged brother Freddy is also following in dad's footsteps at Leyton Orient. "He tells me what I am doing wrong more than what I am doing right, which is really good because you need that extra push that makes you want to get better. It is good to have a dad who's played at the top level and hopefully I can do even better than him one day."
Moncur ended his first season at Colchester with the 82nd-minute winner against Preston that preserved their League One status on the final day. "It was unreal," says Moncur, who amid the excitement unleashed an f-word in a live interview on Sky Sports afterwards. "The emotions were all over the place," he smiles.
Moncur has a strong Christian faith and the preamble to those last-day heroics is an intriguing tale. He relates how a woman at a church he visits in Loughton had told him in a conversation the previous August to "write down Leyton Orient and Notts County"; come the final day, it was his goal against Preston combined with the results of Orient and Notts that saved Colchester.
An earlier meeting with the same woman was the catalyst, he adds, for his strong commitment to his faith. "I had a football game one day for West Ham Under-21s," he remembers. "I walked into a church beforehand and there was this woman standing there and she asked who George was. I was a bit shocked but she asked if she could pray for me and told me lots of stuff about my life no one would know. It changed my life."
It is not your usual topic of conversation in a football dressing room – at least not in this country – but Moncur is undeterred. "It helps me a lot because in football there are ups and downs and if it is going well I thank Jesus and if it is going badly I thank Jesus. It is about keeping a level head and trying to do more on the football pitch."
Starting, he hopes, against Spurs. "It is a big game, it is on telly and it would be good to get my name out a bit more and hopefully score one or two!" And get one over on his old pal Kane once more.
Join our new commenting forum
Join thought-provoking conversations, follow other Independent readers and see their replies