Manchester United 2 Chelsea 2 FA Cup match report: Rafael Benitez makes the right calls as Chelsea fight back to draw at Old Trafford
The visitors came from two goals down and should arguably have gone on to win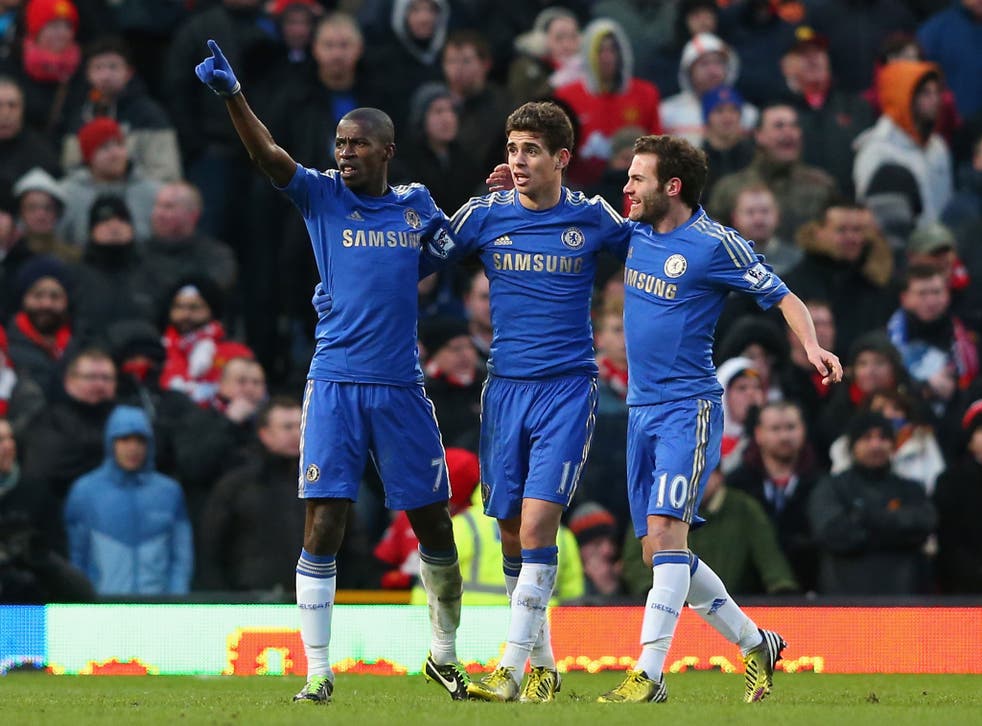 Berated, as ever, by the Chelsea fans, assailed by the Manchester United supporters who have never liked him either, Rafael Benitez looked like the loneliest man in football for the best part of an hour yesterday and then his luck started to change.
Luck? It was the Chelsea manager who brought on Eden Hazard and John Obi Mikel, both of whom had a major effect on turning around a tie that looked well beyond them with 11 minutes gone and United two goals ahead. And then a strange thing happened, Chelsea transformed into a team capable of winning the tie. In fact, they looked like a team capable of winning the FA Cup.
In order to do so, the winner of the replay, the date of which will be finalised today, will have to beat Manchester City in the semi-final, but given that they were as good as bagging up the remains of Chelsea 15 minutes into the match, it is an achievement they have got this far. It changes nothing for Benitez with the vast majority of the Chelsea support but given it is the most vivid sign of life from his team in weeks, it cannot be ignored.
An inspired turnaround in this tie? Benitez will be told that he picked the wrong team in the first place. What is not up for debate is that with 52 minutes played he brought off Frank Lampard and Victor Moses, an early substitution by his standards, to derision from his own fans – and from there Chelsea rallied.
There was a fine performance from Juan Mata who was brilliant in the second half and was only denied the winning goal by David De Gea's instinctive injury-time save. Mikel looked a much better fit than Lampard in midfield alongside Ramires, who scored the second. Hazard got Chelsea on their way with a stunning first goal. As substitutions go, that one will be tucked away for posterity in Benitez's tactics folder.
Chelsea are a strange collection of anger and recriminations these days. At the final whistle, Benitez turned his back on Ferguson for the post-match handshake, leaving it to his assistant Steve Holland and then doubled back to join his players on the pitch. But as they went off to applaud the supporters in the away end, their interim manager naturally had to hang back.
A lonely figure, but it could have been a hell of a lot worse had United not lost their way in such dramatic fashion somewhere around the mid-point of the first half. Chelsea were vulnerable and disjointed but United could just not find it in themselves to put Chelsea away.
Ferguson later claimed variously that his team's legs had gone and that the emotion of Wednesday's defeat was still affecting them before proffering the excuse that his full backs were "just ... knackered". Whatever it was, the weaknesses in United were evident. Jonny Evans looked exposed at centre-half, Michael Carrick and Tom Cleverley were overrun in midfield and even Robin Van Persie, on as a substitute, could not save them.
By the end of the game, United were hanging on and the frustration was showing. Ferdinand appeared to shove and kick substitute Fernando Torres, from behind, in the 86th minute when the ball had been cleared up the other end of the pitch. It caused no serious harm to Torres, whom Ferdinand hauled immediately to his feet, but it was needlessly aggressive and may yet attract the attention of the Football Association.
The scheduling of the replay will play havoc with this Sunday a possibility. That will require the league programme to be adjusted especially with Chelsea still in the Europa League, for now. The day ended with yet another handshake row, or Benitez's claim that Ferguson had ignored his hand before the match which sparked his refusal to do the same afterwards.
It started badly for Chelsea, and it got worse. John Terry was absent again in the central defence having returned to the team against Steaua Bucharest on Thursday. He was left to the mercy of the home fans as he warmed up on the touchline, while the Chelsea defence was left to the mercy of a United attack that started strongly.
Their first goal arrived in six minutes, a beautifully judged ball chipped from midfield by Carrick that beat Gary Cahill with its flight and drew Petr Cech off his line against the goalkeeper's better judgement. Between the two came Javier Hernandez who had time to direct his header into the far corner of the goal vacated by Cech.
It was dismal stuff from Chelsea and it got worse six minutes later when Wayne Rooney, restored to the team, scored the second from a free-kick from the left that crept past Cech into the same corner of his goal. Moses, who struggled throughout the first half, fouled Nani for the free-kick which Rooney angled towards the jump of Evans only to be rewarded with a cheap goal.
At that point you suspected that this could be a demolition job but United were not as relentless in their pursuit of Chelsea. Ragged though they were at the back, Chelsea got their act together. Lampard might even have scored when Mata cut the ball back onto his right foot on 22 minutes.
Impressive though United's start to the game had been, they did not take the opportunities in the first half to make an example of Chelsea. There was a near-post chance for Hernandez from a cross from Rafael Da Silva that the striker took with the outside of his right foot but could not steer in.
On 25 minutes, Patrice Evra's cross was struck by Rooney whose first shot was saved. Cech managed to get a hand to David Luiz's bizarre follow-up header which was going in before the goalkeeper's intervention. United would regret passing up so many chances.
Hazard's goal was curled beyond De Gea's reach. Demba Ba and Oscar got clear to play in Ramires on 68 minutes who stepped back past Evans for a superb finish. Mata and Oscar were later denied by De Gea as United found themselves clinging on. From being two goals up, United must now beat Chelsea at Stamford Bridge where life will be only slightly less intolerable for Benitez.
Man for man marking
Manchester United
David de Gea: Criticism over second goal would be harsh, while the Spaniard was bombarded throughout the second half. 6/10
Rafael da Silva: Never completely in control, particularly after introduction of Eden Hazard, but assured in short patches. 6
Jonny Evans: Consistent for most of the game and, despite Chelsea's comeback, looked reasonably assured. 6
Rio Ferdinand: Superb performance in the face of the waves of pressure that United's defence came under after the break. 8
Patrice Evra: Tired in the second half and failed to track back at times after attacking well from his flank in the first half. 6
Michael Carrick: Wonderful defence-splitting ball for the first goal, showing why he has been so important for United this season. 7
Tom Cleverley: Linked up well in the centre of midfield with Carrick in the first half, but went to sleep after the break. 5
Nani: Bright before the winger was brought off for Valencia and the side ultimately suffered and lost momentum. 7
Shinji Kagawa: Plenty of industry, but some lax first-half passing was followed by an invisible display in the second period. 5
Wayne Rooney: Showed glimpses of what United were missing against Real Madrid, but ultimately lost his grip on the game. 6
Javier Hernandez: Took his goal well and showed his predatory instinct in the first half, but went missing after the interval. 7
Best off the bench: Antonio Valencia
By no means at his best, last season's bright spark was uninspiring again. 4
Chelsea
Petr Cech: Made a hash of the first and second goal, wrongly choosing to come for one cross and not the other. 6/10
Cesar Azpilicueta: Solid in patches, weak in others. The full-back is hot and cold for Chelsea and did not bring much to the game. 6
David Luiz: Solid in Chelsea's defence in the second half after a dreadful first. Lucky not to score an own goal. 6
Gary Cahill: Not tight enough for Hernandez's header, but came into the game and was well-positioned for United breaks. 6
Ashley Cole: Prepared to venture down the left, but his delivery was poor, playing a part in Demba Ba's weak performance. 6
Ramires: Burst into life in the second half with some driving runs and took his goal superbly well under pressure. 7
Frank Lampard: Substituted in second-half after a silent first 45 minutes, constantly crowded out with few options in midfield. 6
Victor Moses: Was bullied out of the game in the first half by Evra and was substituted for the more dynamic Eden Hazard. 6
Juan Mata: Looked to go forward with the ball at every opportunity, but was often crowded out well by United's midfielders.7
Oscar: Despite being deployed out wide, the Brazilian did produce some craft when on the ball in tight areas. 7
Demba Ba: Squandered what rare time he had on the ball and lacked the poacher's instinct when in the six-yard box. 5
Best off the bench: Eden Hazard
Scored a brilliant goal to halve the deficit, and caused Evra problems. 8
Join our new commenting forum
Join thought-provoking conversations, follow other Independent readers and see their replies