Southampton vs Liverpool: Jose Fonte left out after handing in transfer request, confirms Claude Puel
Puel is not willing to consider the Southampton captain while his future remains uncertain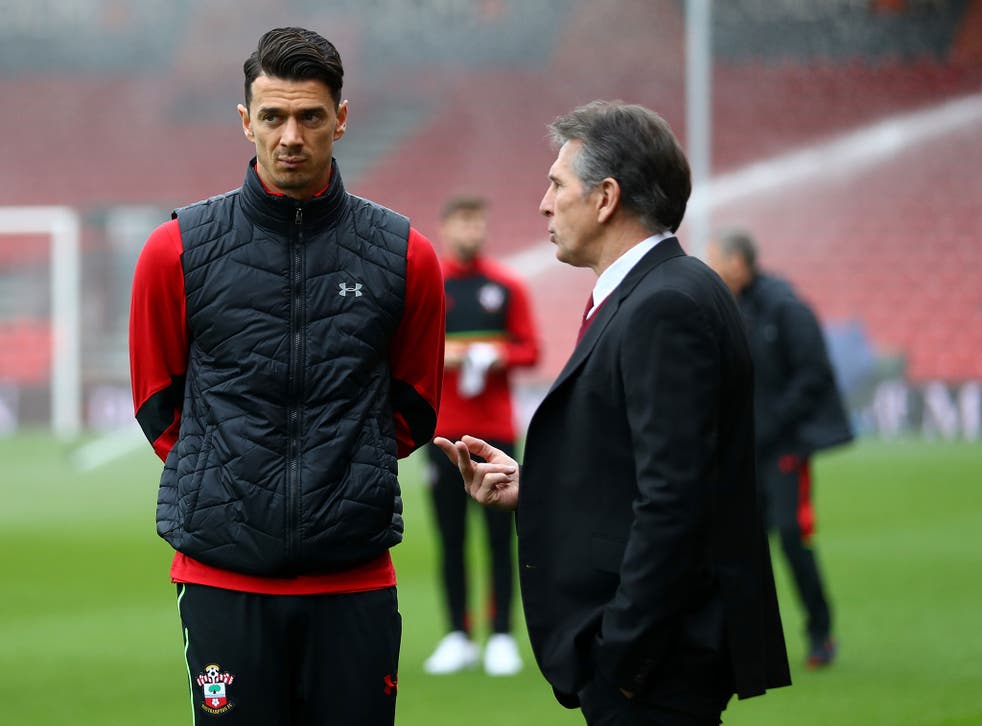 Jose Fonte has been left out of Southampton's EFL Cup semi-final first leg against Liverpool, with manager Claude Puel willing to omit his club captain due to his desire to leave the club during the January transfer window.
Fonte has already handed in a transfer request, having been denied a move away from the south coast club during the summer transfer window. The defender was absent from the FA Cup third round draw with Norwich City at the weekend, and he will miss a second match in succession after Puel confirmed on Monday that he is not being considered for selection this week.
"Jose won't participate for this game.
"We will see for the next game. It is important to keep stability.
"We will see (about including him in the future), I do not comment on the possibility (of him moving). I think it is important to respect the other players.
"It is an opportunity also for Jose to view different opportunities and it is important to respect this.
"For me, it is important to keep stability in defence first, and second, we will see what the situation of Jose in this market is.
"If Jose came to leave the club, it is normal for us to look at other opportunities (to buy players to replace him).
"It is important for us to remain open in the market and look at other opportunities, we do not know about other opportunities yet, it is difficult for the club to improve the squad this month."
The Euro 2016 winner has turned down a contract extension from the Saints, and with his current deal set to expire in 2018, Southampton could find their hand forced in the transfer market. The 33-year-old arrived at Southampton in 2010, and promptly helped the south coast side win promotion from both League One and the Championship before solidifying their Premier League status.
With Puel attempting to take Southampton through to their first major final since 2003, the Frenchman insists that the entire club is focusing on the two games with Liverpool, with a place in the final against either Manchester United or Hull City on the line.
The unwanted distraction has left Puel with a decision to make, and he confirmed that the situation means he cannot select the Portuguese international because he is not focussed on Wednesday's first leg at St Mary's.
"I respect Jose and this is not easy for him, the squad or the staff," Puel added. "He is a good professional, but we have to respect this situation."
Manchester United were linked with a move for Fonte shortly after he helped Portugal to success in last summer's European Championship, although manager Jose Mourinho has since played down the likelihood of United signing a defender this month, with his attentions believed to be on Benfica's young centre-back Victor Lindelhof, but both Manchester City and Chelsea are also looking at options to strengthen their defence.
Puel also elaborated on the Moroccan Football Association's announcement that Southampton's record signing, Sofiane Boufal, will miss the African Cup of Nations after suffering a knee injury that requires an operation.
"Boufal is injured with his knee. His knee needs operating and he cannot do the African Cup. He will stay with us to recover.
"I hope he can come back in a few weeks.
"He cannot play for his country but I hope he can recover.
"It is not a bad injury, after the operation the reaction will tell. It is important to get a good recovery.
"He can stay calm because now he is an important player for the club, he has quality and it is important he comes back strong."
Join our new commenting forum
Join thought-provoking conversations, follow other Independent readers and see their replies