Theo Walcott rescues Arsenal from the brink to inspire unforgettable comeback against Reading
Reading 5 Arsenal 7 (aet)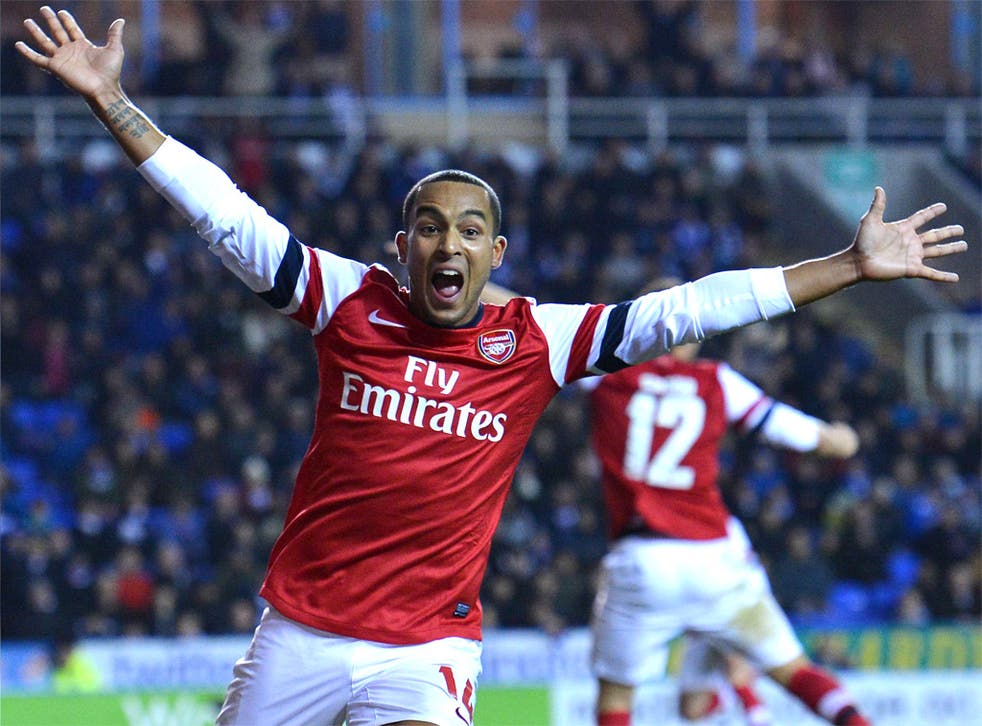 It is easy to forget at the moment but football is one of the best things so far invented by man. Arsenal's collapse and then comeback, within 90 astonishing minutes of Capital One Cup football, ought to be how the 2012/13 season is remembered.
This game had 12 goals, four of them in extra time, a Theo Walcott hat-trick, two for Marouane Chamakh, and some of the best and worst football that either side will play this season. Arsenal scored in added time at the end of the first half, the second half and of extra time as they recovered from the worst first-half performance of the Arsène Wenger era.
It would be wrong to say this game had everything you might have hoped for. Who could have had the imagination to hope for this? Arsenal, as it happens, will be in the quarter-finals of the League Cup. But the stakes barely seem relevant when the game is this good.
This season's best contest started with its most one-sided 45 minutes. Reading started with hunger and purpose and focus. Arsenal played like confused strangers, looking lazy, clumsy and not fully worthy of their famous shirts. Reading blitzed Arsenal, taking a 4-0 lead that was as shocking as it was warranted. "I thought we were extraordinary," said Brian McDermott.
The first three goals came in an eight-minute spell. If it was not a brief nadir of the Wenger era it certainly looked like it. All of the goals were simple, purposeful and preventable. Hal Robson-Kanu crossed to Jason Roberts at the far post for the first. Laurent Koscielny turned in Chris Gunter's cross for the second. Mikele Leigertwood shot through Damian Martinez's fist for the third. After 16 quiet minutes Noel Hunt headed the fourth, from Garath McCleary's cross.
"We want our Arsenal back" sang the fans, seeing their silverware shots this season cut from two to one. "I don't remember a performance like that," Wenger said. "I did not feel great."
When Walcott scored with the last kick of the first-half, the 4,000 travelling fans cheered ironically. McDermott, who described it as the turning point, was not quite so jovial. "I wasn't happy. It made me uneasy."
Momentum is a powerful thing. The second half was a very different place. Suddenly Arsenal started to play, passing and moving, attacking the goal in front of their fans. There were some missed chances and Wenger turned to his bench, for Olivier Giroud and the 19-year-old Thomas Eisfeld.
In his second minute on the pitch Giroud headed in a corner. "At 4-2 you suddenly realise it is not over, the panic kicks in," explained Wenger. He must have recognised in Reading what he saw from Arsenal in the first half. "We didn't play," said McDermott. "It was suicide."
With one minute left Koscienly headed in a corner kick. The board went up, four minutes left. Four minutes passed, the game looked gone. But Chamakh flicked to Walcott who completed the recovery. Giroud and Francis Coquelin, presuming the game would be replayed, threw their shirts into the crowd.
Extra-time was manic. All 44 legs were tired but Arsenal had more in their hearts and they went ahead. Arshavin, had the ball on the edge of the box and set up Chamakh, the perfect hero on a night this strange, and his shot was beyond Adam Federici. Arsenal had the lead.
But it is difficult to impose order on chaos and Arsenal's attempts failed. With five minutes left Gunter's deflected shot flew to Pavel Pogrebnyak, who headed past Martinez. McDermott had his penalties list ready.
The board went up for the fourth time. Two minutes left in this two-hour epic. For the third time, Walcott answered it. Koscielny started a break, finding Arshavin, who shot. The ball broke to Walcott, who scored. Reading, naturally, pushed for 6-6. Arsenal cleared and Chamakh lobbed Federici. "You always see new things in our game," said Wenger. "That is why it is never boring."
Man of the match Walcott.
Match rating 10/10.
Referee: Kevin Friend (Leics).
Attendance 23,980.
Join our new commenting forum
Join thought-provoking conversations, follow other Independent readers and see their replies