Inside AFC Fylde: The former 'pub club' with its eyes fixed on the Football League
AFC Fylde take on Wigan in the second round of the FA Cup on Friday night in a clash that shows just how far the Coasters have come since the turn of the century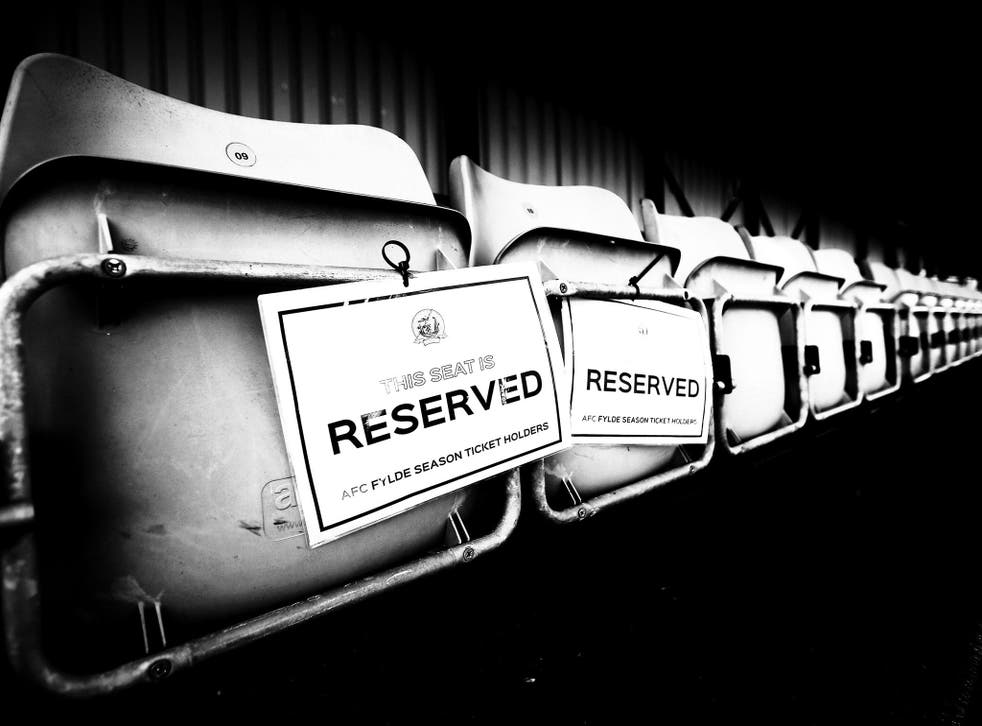 Had Dave Challinor quite literally tried to propel Tranmere Rovers single-handedly into one of their famous cup runs at the start of this century, he surely would have been remembered as the worst foul throw-in offender in the history of the football. More accurately, it was his two arms and paintbrush sized palms that contributed enormously towards the Wirral club achieving what were some sensational feats under John Aldridge, especially when you consider where Tranmere are now, three leagues below the Championship and just three points above A.F.C Fylde – whom Challinor has managed to three promotions since his appointment six seasons ago.
A measure of Tranmere's fall and Fylde's rise is marked by the gap of eight divisions that separated the clubs in 2000 – back when Tranmere lost narrowly at Wembley in the League Cup final to Leicester City and Fylde (then known as Kirkham and Wesham) won the West Lancashire League but did not have the financial means to seek promotion into the North West Counties.
The possibility of that happening improved when David Haythornthwaite started investing in what he recognised then was essentially a pub team, having had his approaches to buy into Blackpool turned down by the Oyston family on two occasions.
Haythornthwaite, who made his fortune in animal feed, is a supporter of UKIP and has controversial views on the benefits of fracking that are certainly not backed by everyone in the Fylde region but this has not been to the detriment of his club's popularity, who face Wigan Athletic in front of the television cameras on Friday night at their resplendent new home, opened in 2016. Haythornthwaite has capitalised on the disenfranchisement at Blackpool and average attendances at Mill Farm are higher than they've ever been. It helps too that Fylde are a successful and enterprising side.
Since entering management at Colwyn Bay, Challinor has fought against the perception that his teams play a certain way because of his own background. The reality at Fylde is different and should they find a way to beat Wigan it won't be because their opponents have been kicked off the pitch.
"There's a saying about it being better to be remembered for something rather than nothing at all, so I don't get bored of being asked about it," Challinor says when the subject of his throwing ability is raised. "If you have a player at your disposal who can throw the ball, you'd be daft not to use it. Ninety odd per-cent of goals are scored within 12 yards of the centre of the goal. At Tranmere from around the 2000 mark it detracted from the footballers we had, because some of them were really talented.
"Long throw-ins weren't the team's only strength but there's no doubt it put opposition on the back foot massively. If you have someone who can cross a ball, you ask him to take corners and free-kicks don't you? For some reason, throw-ins aren't viewed in the same way. It's synonymous with the long ball, physical game. At Fylde, we try to be aggressive in everything we do but we're known as a non-league side that tries to play a bit."
There are connections between Fylde and Wigan which offer this tie extra spice. Challinor and Wigan's manager Paul Cook spent a season playing together at Tranmere in the mid-90s. Their relationship has endured and currently Fylde have a player on loan from Wigan, Luke Burke. Meanwhile, Challinor and Andy Proctor, Wigan's physiotherapist, spent four years at Salford University on the same course. Then there is the presence of Max Power in Wigan's midfield, someone who spent time on loan at Colwyn Bay under Challinor's guidance as a 16-year-old. Fylde's captain is Josh Langley, a former Wigan defender who was selected by Roberto Martínez to travel with the first team before his release. Langley, though, is currently injured.
"Wigan is just down the road, there couldn't have been a better draw," Challinor believes. "In the second round of the FA Cup, you go for extremes: you either want the lowest ranked team to give you an opportunity to progress or you want one of the biggest clubs because that gives the potential opportunity for a TV game and lots of intrigue. We've got the latter."
The associations do not end there. Like Wigan, Fylde have been through the Northern Premier League and have dreams of playing at a much higher level. You only need to look around Mill Farm, described as a 'sports village,' to sense the ambition, the same ambition once seen at Wigan's stadium back when it was sponsored by JJB in the years after Dave Whelan bankrolled the relocation from the ramshackle Springfield Park.
Both Haythornthwaite and Challinor recognise, however, that the level of backing required to reach the top has increased dramatically since Wigan's emergence. It might seem odd to hear a National League manager talking about the financial environment of the Championship with some authority but it is a reflection of Fylde's wishes. There might, indeed, now be a ceiling for clubs like Fylde and nearby Fleetwood Town, who have been pushing for the last few years to reach the Championship under the ownership of Andy Pilley – who like Haythornthwaite is a Blackpool supporter that decided to start something of his own elsewhere because of frustrations with the Oystons. Both Haythornthwaite and Pilley have said they see Burton Albion's achievement of staying in the Championship as something to aspire to. Like Fylde and Fleetwood, the story of Burton involves the Northern Premier League, a title they won in 2002.
Challinor describes the landscape he sees: "The financial gap is growing between the Championship and League One. The desire to reach the Premier League and the financial rewards there has seen huge investment in the Championship and this leads to more pressure on clubs that have been promoted out of League One, particularly the smallest ones that haven't been there before."
"There are some parallels with what is happening in the National League and the desperation to reach the Football League," he continues. "There is even more investment in the National League than there is at League Two level. Why? The Football League brings clubs extra money through central funding. For just being in the League you get close to a million pounds whereas in the Conference you receive very little. Many club chairmen are having a real go just to reach the promised land. The National League is super competitive as a result and it means you've got very little chance of staying in it if you aren't full-time."
Non-League is presented and received as the antidote to the business driven Premier League but really, you have to go incredibly low to find a standard where injections of cash do not impact upon the balance of competition. It is suggested to Challinor that the quest to reach the Football League has gradually eroded the importance of the FA Cup, especially amongst the full-timers of the non-League.
He admits that the pressure to achieve promotion from the National North last season made league form the priority. It is slightly different this year because Fylde are 13th in the National League and the campaign is accepted as one of discovery for Haythornthwaite, with stabilisation at a new level the aim. Challinor says that having to play only two FA Cup games to earn the chance to play Wigan (last season in the National North, it would have been at least a minimum of four) means it feels as though Fylde and their supporters have been on less of a journey to reach this point and therefore, it might be considered a less noteworthy accomplishment.
That would be to ignore totally what has happened before at Fylde, especially since Challinor's arrival. He was appointed above more experienced candidates by Haythornthwaite because Fylde's owner was impressed by the articulation of his hand-written application letter. It would be unfair to say Challinor has since spent his way through the leagues. Though he has usually had one of the biggest budgets to work with, his recruitment has often involved players considered lost to the ruthlessness of the game, including Danny Rowe who has become the leading scorer in Fylde's short history with close to 130 goals in three seasons. Rowe had been the subject of a £136,000 move from Preston North End to Manchester United when he was 12-years-old. In January, Rowe will be 28.
"Managing in non-League opens your eyes to lots of things because you have to have an input in absolutely everything, jobs you wouldn't necessarily have to do in the Football League," Challinor concludes, ending with an observation that leads back to work with his infamous hands. "You have to get them dirty at this level," he reminds. "And so, when you achieve success it makes it all the more rewarding. I think it sets you up for Football League management and that's certainly where I want to be. Ideally, I'd like to do that here."
Join our new commenting forum
Join thought-provoking conversations, follow other Independent readers and see their replies