Bournemouth promoted: Eddie Howe - the miracle machine
Bright, young, workaholic manager behind club's amazing promotion to the top flight is measured, thoughtful and polite - but also has a hidden steel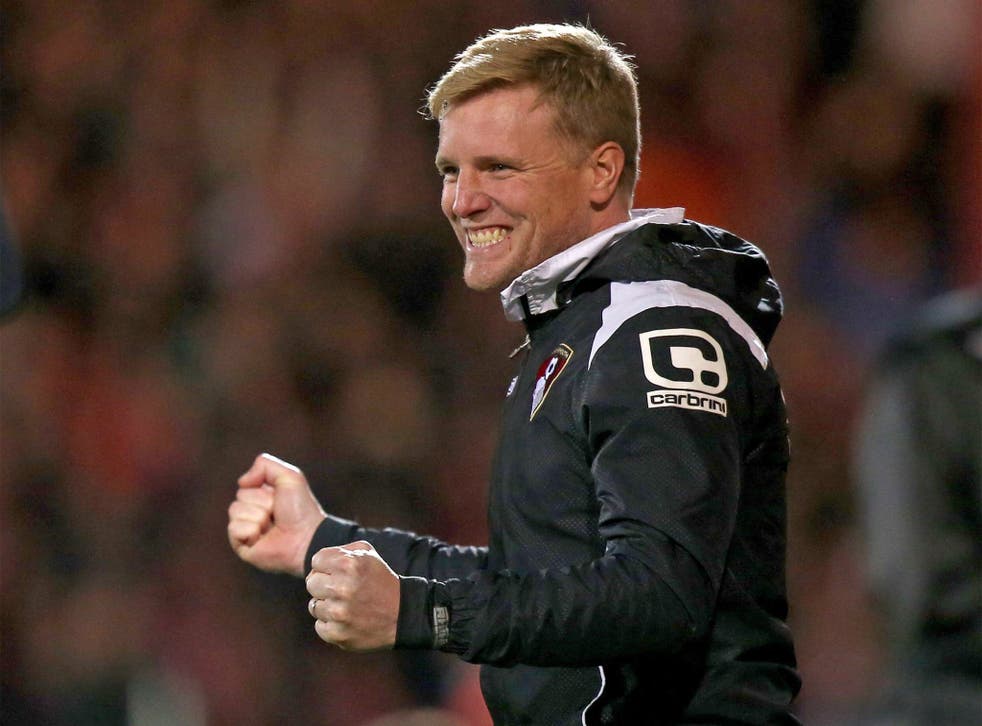 It has been clear for a while that Eddie Howe would one day manage in the Premier League, the only question being with which club. On Monday night that question was answered in the most satisfying way: it would be AFC Bournemouth, the club where he played most of 300 or so career games and then took his first steps in management. The Cherries' 3-0 victory over Bolton Wanderers confirmed that Howe had led his club on an astonishing journey from the brink of oblivion to a place among the elite of English football.
Described by Gary Lineker on Monday as the "English Special One" and recently linked with the possible vacancy at West Ham United, Howe, 37, has long been recognised as one of the English game's brightest young coaching talents. He was only 31 when he took over at Dean Court in January 2009 with the club 10 points from safety in League Two after a 17-point deduction and facing extinction if they dropped out of the league.
The "young" part of the description was a given, and he wasted no time proving the "bright". A 2-1 win over Grimsby Town ensured Bournemouth would stay up with one game to spare – Brett Pitman, a substitute on Monday, is the lone survivor from that team – and he took them to promotion the following season despite a transfer embargo.
He later admitted that he had not felt ready and described the club's decision to give him the job after two defeats as caretaker as "a huge risk". But it was a risk that paid off, perhaps too handsomely. Howe's success had attracted attention and, after much agonising, he agreed to join Burnley, then recently relegated from the Premier League, in January 2011.
However, although he put everything into the task at Turf Moor, it was not the hardest decision to return when Bournemouth came calling in October 2012, even though crowds on the South Coast were poor and the team were struggling. The chemistry between Howe and the club worked once more and promotion to the Championship followed at the end of the season.
"It wasn't really a good place to be," captain Tommy Elphick recalls of Bournemouth before Howe's return. "But when the manager came back, things just turned around dramatically from day one and I can't speak highly enough of what he's done for the team and for me personally. The man is unbelievable. He's a machine. He's the first one in and the last one out every day. We owe all this to him."
Howe is always measured and thoughtful in media interviews and a stranger to touchline histrionics, but there is steel under the polite, well-spoken exterior. Elphick knows that Howe's youth will not prevent him from taking tough decisions this summer as he attempts to improve the team to Premier League level. "He'll assess things pre-season, see where we are, and if you're at it, sharp and fit as you possibly can be on the training ground, then he'll back us like he has over the last years," he said. "But if we're not and someone is being sloppy or not pulling his weight then he'll be quick to replace them."
Howe's man-management has been allied to good coaching and a belief in progressive, attacking football, the team continuing to set new club records for league goals and goals scored in all competitions. Howe has credited Harry Redknapp as an influence, having watched his predecessor in the Dean Court dugout work on the training ground during long spells injured after Redknapp made him his first signing for Portsmouth.
That was Howe's first experience of football life away from Dean Court. He had become a Bournemouth trainee in 1994 and made his debut in October 1996, winning two England Under-21 caps before a £400,000 transfer to Fratton Park in March 2002. A promising defender, he sustained the first of a series of injuries on his debut from which he never fully recovered, and his final game was back at Bournemouth on loan in January 2007. He had already begun to coach under Kevin Bond and then Jimmy Quinn, whom he eventually replaced.
Although the situation in 2009 was dire, it was nothing new to Howe. "I remember when I was a youth-team player, fans putting money in buckets at the Winter Gardens," he said after Monday's win. "To look back where we were six years ago, how difficult it was to run the club with bailiffs coming in every day, people not getting paid, people being made redundant, and now to be in this position – it doesn't seem real.
"A lot of people deserve a lot of credit for how we've risen almost from the ashes. It's almost a unique club because the supporters kept the club going. People outside won't really understand where the club was at, but those around the club know how it felt. We were going to cease to exist. It's great to see some of the people involved still here, sharing in the success, knowing their hard work paid off."
He has made sure the players understand. "He's always sitting us down and showing us inspirational videos," Elphick said. "We had the most recent one on Sunday. It just went through the whole history of the club and it also highlighted what we've done for Bournemouth. We all came out of there pretty emotional and [the Bolton match] was the opportunity to go and grab it with both hands.
"We just wanted to do it for him and the people who have been involved for so long, people like [chairman] Jeff Mostyn, the press and radio guys who have followed us around the country, the owner [Maxim Demin], who has given us a lot of backing. It's such a great story."
Howe is unquestionably a leading character in that story, whose next chapter will be played out on the biggest stages that Bournemouth have trodden so far. But he rejects the suggestion that his achievements are extra special for having been accomplished at "his" club.
"I don't think it's anyone's club," he said. "I'd never be arrogant enough to say it's mine. I have huge affection for the club. Bournemouth don't owe me anything. I owe it all to Bournemouth. They believed in me as a player and a manager, so I feel very grateful to have been given this chance. To do great things means so much because of our journey together. It's been a fantastic experience for me."
10 things you may not know about Bournemouth
Boscombe boys
The club can trace their roots back to 1890 when they were called Boscombe St John's Institute. They became AFC Bournemouth in 1972.
Redknapp's giant-killing
Harry Redknapp's first managerial job was at Dean Court and, in 1984, he led the club to a 2-0 win against holders Manchester United in the FA Cup third round.
Second tier for first time
The Cherries played their first season in the second tier of the Football League in 1987-88 under Redknapp.
Jermain Defoe
The then teenage striker scored in 10 consecutive league games for the Cherries while on loan from West Ham in 2000-01. He scored 19 times in 36 appearances for the club.
Famous faces
Other well-known club alumni include Darren Anderton, Rio Ferdinand and Adam Lallana.
Fletcher to the rescue
Beat Grimsby in April 2009 to keep Football League status thanks to Steve Fletcher's winner. He had a stand named after him and now works as a scout for the club.
Marvellous Mostyn
Despite his service to Bournemouth, chairman Jeff Mostyn is a lifelong Manchester City fan and is looking forward to a trip to the Etihad next season.
Building for success
Former chairman Eddie Mitchell introduced current owner Maxim Demin to the club after being contracted to build the Russian a house on the luxury Sandbanks development.
New highs
Last season's 10th place in the Championship was their highest league finish.
Record buy
The club's record signing is striker Callum Wilson, who joined for £3m from Coventry City last summer.
Join our new commenting forum
Join thought-provoking conversations, follow other Independent readers and see their replies