Demin funds redesign to make lowly Bournemouth fashionable
After years of struggle, the Cherries are thriving due to Russian millionaire, so why isn't everyone happy?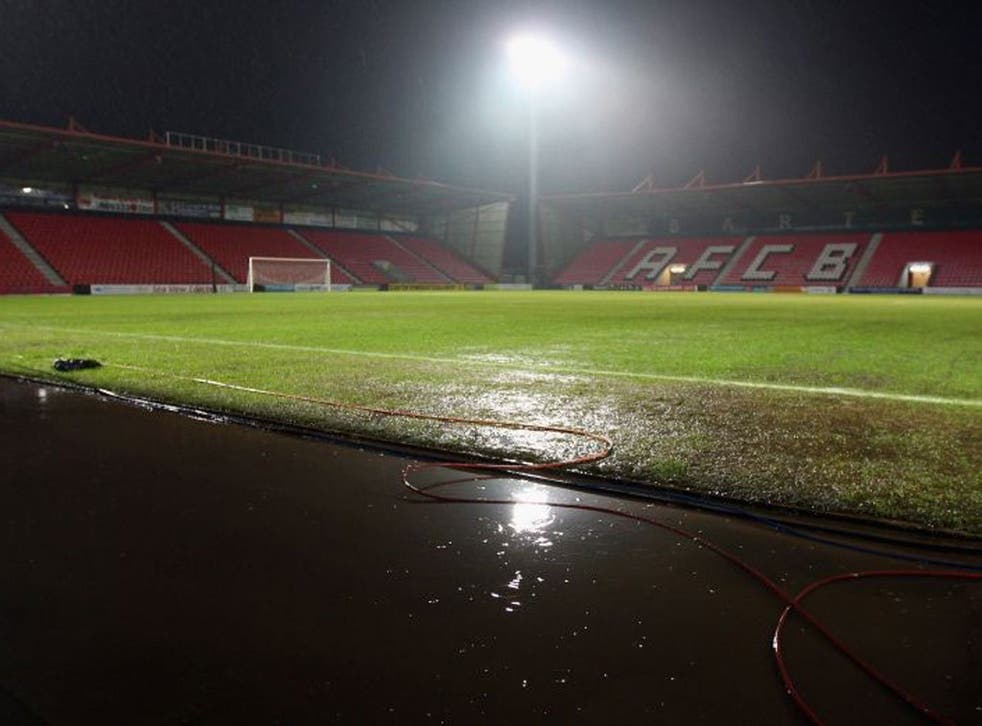 With all the talk of football's finances hitting the buffers, one League One club have been spending money like it is going out of fashion.
After years of hardship, Bournemouth somehow spent more during the January transfer window than Manchester City, Manchester United, Tottenham, Arsenal and Liverpool combined.
Last month was like no other for their fans, who are more used to fearing which players they will lose, rather than who they might buy. Manager Lee Bradbury laid out an estimated £1.65m – including £800,000 for Crawley striker Matt Tubbs. Reports also suggested Bradbury had a £1.2m bid rejected for Swindon winger Matt Ritchie.
Considering Bournemouth's previous transfer record was the £210,000 they paid for Gavin Peacock in 1989, these are astounding figures and a far cry from the dark decades of debt that have hung over the club since former manager Harry Redknapp splashed out money to attain second-tier football in the late 1980s.
So what has changed? The club appear to have had an influx of money from a mysterious Russian businessman called Maxim Demin. Little is known about the multimillionaire petrochemicals trader, who owns a £5m mansion in Dorset's exclusive Sandbanks district, and he has said nothing publicly since buying a 50 per cent stake in Bournemouth last October.
Signs on and off the pitch appear promising, though. The club recently made two bids to buy back their Dean Court stadium – sold in 2005 to raise money – which has also been spruced up. Around £600,000 is being invested on training facilities, while chairman Eddie Mitchell, who brought Demin into the club after spending 18 months wooing him, has plans to build a fourth stand, complete with hotel.
On the playing side, other recent signings include current top-scorer Wes Thomas (£175,000 from Crawley), Leyton Orient left-back Charlie Daniels (£175,000), Brighton defender Steve Cook (£170,000), former Manchester City winger Donal McDermott (£175,000) and Wolves' England Under-19 midfielder Scott Malone (£150,000).
The new recruits should form the basis for an assault on the Championship, if not this season then next, and have helped the side rise from relegation candidates to play-off hopefuls in League One. But how far can a club this size go? The average attendance this season is under 6,000, with the maximum possible until a fourth stand is built less than 10,000.
Bournemouth are the perennial third-tier club, and have spent just three seasons above it. But, considering the size of the catchment area, fans have long believed they punch below their weight. They watched enviously as lower-league opponents such as Blackpool and Reading were transformed into Championship clubs who then enjoyed spells in the top flight.
But will Bournemouth be a success story like those, or overspend and wilt like Leeds and Plymouth? Mitchell – who came in for criticism earlier this season for coming on to the pitch at the end of a game to challenge supporters, and told critics if they didn't like what he was doing to the club they "should go and support Southampton" – is now making all the right noises with Demin's apparent backing.
He said: "The club belongs to the supporters – and myself and Max are managing it. We have a bigger conurbation than a lot of Championship clubs and need to get people through the turnstiles. That would enable us to build the fourth stand and help us continue to go through the leagues. It is probably far-fetched to talk of anything above going into the Championship but I have always aimed as high as possible and nothing is impossible."
Unsurprisingly for a club that has lived through plenty of turmoil, fans cannot agree whether this new investment is good or bad. Views range from blind optimism to out-and-out cynicism, with many in between who believe there is little to lose.
Charlie Squires, a 48-year-old site manager from Bournemouth, has been supporting the club for 36 years. He said: "We have had years of being poor, and on the verge of going bust. I'm delighted to see us making bids for quality players, rather than hoovering up ones who aren't wanted elsewhere."
However, there will always be those who do not want to see the club spending beyond its means. IT consultant Stuart Bramley, 37, has been a supporter since 1985, and admits he enjoys supporting the plucky underdog. "I didn't like seeing Wigan, Reading, Fulham, Crawley or anyone else buying their way up leagues and I don't like seeing my club apparently heading down the same path" he said. "I don't care for chasing rainbows – I just want my club to be run in a sustainable way so it will still be there for my children and grandchildren to support. The game is littered with examples of what can happen when investment dreams turn sour."
Many Bournemouth fans hope for the best while expecting the worst.
Derek Timoney, 57, is a former chairman of the AFC Bournemouth Supporters' Trust. He speaks for many when he said: "As long as the money invested in the club is not down to loans that can be called in at any time risking the club's existence I suspect most fans are happy to see the investment after long years of struggling and constant fear of financial problems. It would be nice, however, to actually see Mr Demin address the fans and answer some of the questions that need answering."
Over to you, Mr Demin.
Join our new commenting forum
Join thought-provoking conversations, follow other Independent readers and see their replies